Last Updated on 26th August 2010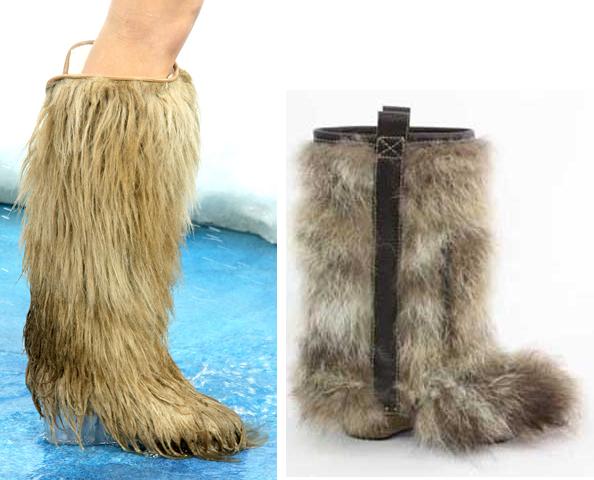 There are some things, like aviator jackets, that the high street does well, and there are some things, like faux fur boots, that it should leave well alone. A case in point above: look to the left and you'll find Chanel's AW10 creation, to the right, Irregular Choice.
The thing is, no one worth their wardrobe really likes the Chanel versions in the first place – even Karl's probably sniggering at the die-hard Chanel suckers cooing over them – and if they say they do, it's only because they were a part of Lagerfeld's winter wonderland which, we guess, attaches some kind of luxe exclusivity to them.
But okay, their complete impracticalness aside (come on, that soggy blonde hair at the bottom is enough to make you weep), at least Chanel's yetti boots are kind of chic – perspex wedge and all.
Now look at the more, er, affordable versions from Irregular Choice. We're sure we don't need to tell you our feelings on these, but what the hell. A clumpy round toe, a wooden heel and a strip of brown trim down the side who's only plus is hiding some of that mottled fuzzy fur that looks fresh from a mongrel. Still, they live up to their Chewbacca name, at least.
Let this be a lesson to us all.