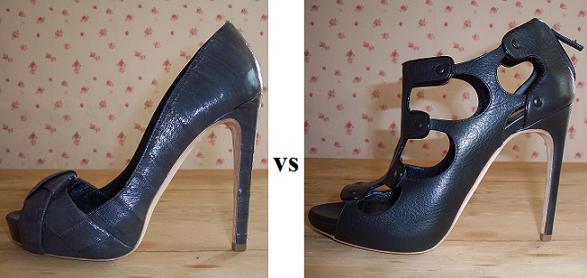 If you want haute heels with high-octane glamour fit for a Friday evening, you've come to the right place – today we're playing with platforms again as we put the highest heels yet through their paces. Ladies, it's the Muscadet vs the Diamond.
Two platforms, both with sky-scraping stilettos, but both very different in design – one's a classic peep-toe, the other's a cut-out caged boot. Who'll win today's footwear face-off? Let's take a look…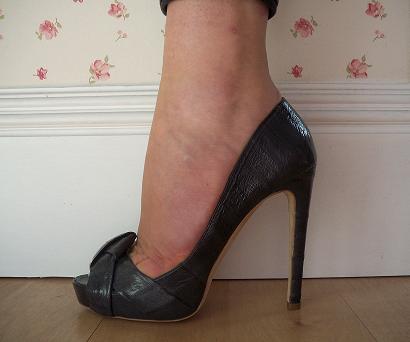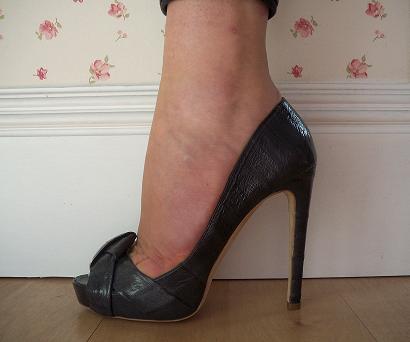 The Muscadet
This is, without a doubt, one for all of you who like your platforms big and your heels even higher. With a tear-inducing 120 mm heel, the Muscadet's the tallest I've tried on to date – and my head and I don't half know it. A classic peep-toe court it may be, but the Muscadet is anything but boring – shiny grey eel skin, a low-cut side and a knot detail at the toe can vouch for that. If I'm honest, I can't imagine actually wearing these (I'm rather happy to remain seated in mine, thanks), which might have more to do with my 5ft 11inches than anything else, but I can imagine a certain Cheryl Cole will be snapping them up without a second glance, and plenty of other ladies with a red carpet to walk on, too – that luxe texture is something special.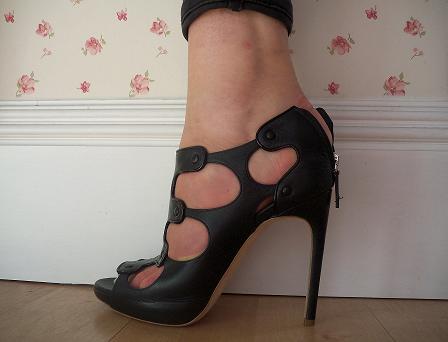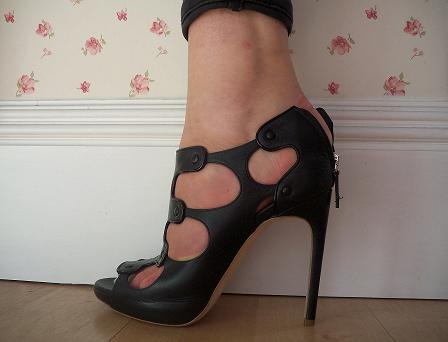 The Diamond
I wish my feet fitted better in these; alas, my heel hangs on the edge with the zip undone and I wobble to hold a pose. I'm sure I couldn't quite capture the full caged effect with my size 5s, but they're pretty darn slick, let me tell you. With a heel a smidge lower than the Muscadet but still high enough to make me nervous, the Diamond's design is cool and contemporary, featuring grainy leather cut-out details along the front and sides and a zip closure at the back. They're sleek and modern, and glamorous though they are, they've got just enough edge to boost your outfits on special occasions.
The result
I've been umming and ahhing all morning over this one – the Muscadet, because it's classic, the Diamond because it's contemporary – it's quite a tough comparison, you know. But, I can feel you pushing me, and with that I'm opting for the Diamond Muscadet – it's not often I'd pass on a rock, but the Muscadet's sheer, unadulterated elegance.
The Muscadet and the Diamond are both available at rupertsanderson.com for £585 and £675 respectively.
Psst, our last review will be here tomorrow – yes, a Saturday – so make sure you log on so you don't miss it. We'll give you a clue… there's sheepskin.