Last Updated on 20th September 2010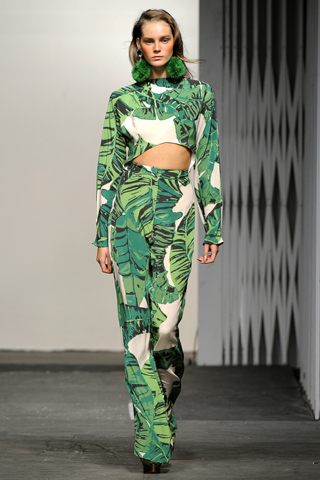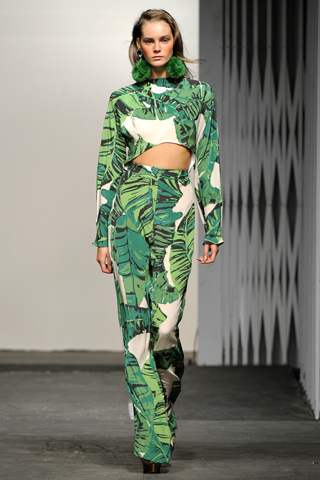 Saturday not only saw House of Holland's Spring/Summer 2011 show, but also the launch of the new Blackberry Torch 9800- as promoted by Henry himself in an exclusive post-catwalk screening. My Fashion Life, amongst other bloggers, were treated to a breezy Holland swanning into the upstairs room of his namesake pub (where he had his 21st birthday, apparently) an hour late, having gone for a stiff drink after the well-received show closed.
Still, to be kept waiting by Henry isn't too disheartening- as he's soon delighting us all with his charm and fashion quips(apparently Aggy left his show stuffing a standout leaf motif jumpsuit into her bag). He quickly played us all a video of the show, and it's clear Henry and his House of Holland girls are all growing up- there's new silhouettes in the form of flared trousers and razor sharp pleated skirts, and long line column dresses a la Aggy's new favourite look.
Henry told us how the House of Holland consumer is more "cocktail party than squat party" these days, and that the Miami beach style collection, complete with marabou doughnut earrings and banana leaf prints, perfectly fits this glamourous transition. Of course she's still as fun as ever- clips of Jaime Winstone bopping to the tunes on the front row gave a great context to Holland's fringe overlays and curtain tassel accents strutting down the runway.
We loved the metallic pleat skater peices, and batwing denim shirts- very accessible stuff from Mr Holland this year it seems. Greens, aquamarine, gold and purple all hinted at a disco vibe, and overall we were chuffed to get a sneak peak at the man (and team)'s work.
"Me too, this is the first time I've seen it, " he looks a tad bashful and nervous in his seat at times, noticeably when his favourite look- the opening outfit- loses a doughnut earring (we were instructed too much work had gone into them to call them 'pom pom') on the steps straight off. Henry Holland bashful, never!
But sure enough that side of the designer had fully disappeared by the time the after party rolled around. Him and Aggy laughed their way around the room as Nick Grimshaw treated us all to a spot of old school hip hop on the decks. Great show, great party. And we got to play with a pretty cool new phone too!