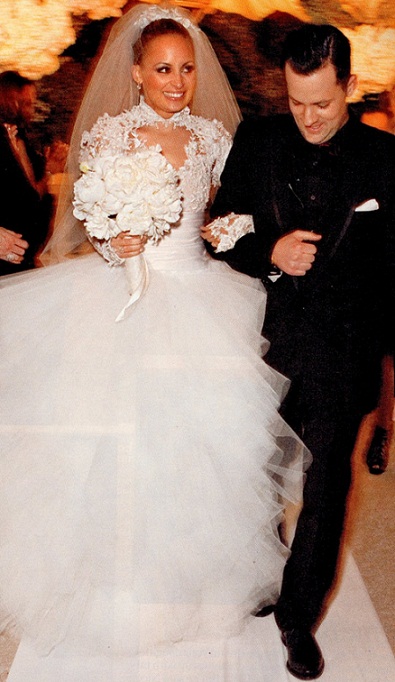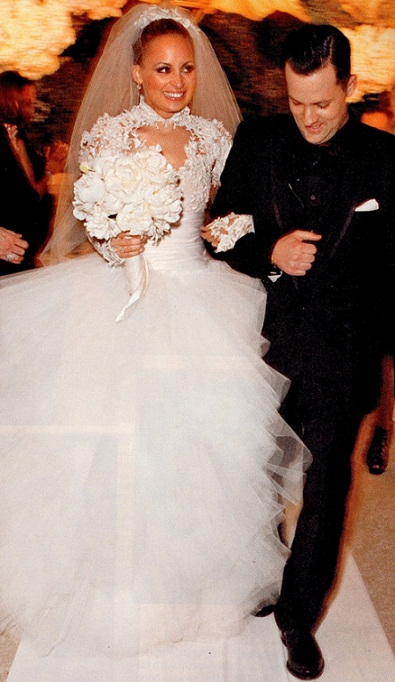 It may have been almost two weeks since Nicole Richie married Joe Madden, but finally images of her dresses – and yes, that is plural, because she wore no less than three on the big day – have been sourced and scanned onto the web.
Wearing a bespoke Marchesa gown made from intricate lace and 100 yards of tuelle, no less, the stunning white dress features an impressively poofy (and removable) skirt – which Ms. Richie unravelled after the ceremony to reveal a full-length dancefloor-friendly fitted lace dress (number two) – a high scalloped neck, chic cut-out panels at the back joined by a track of pearls and delicate embroidery of the couple's names on the arm.
Yep, their names are actually embroidered on the lace sleeve, taking the old 'wearing your heart on your sleeve' addage to a whole new level. Sweet.
Still no images have emerged of dress number three, but here's an elephant to keep you entertained in the meantime – the most special of the couple's guests.
Our verdict? Absolutely gorgeous. Congratulations, Nicole!
[Fashionista]