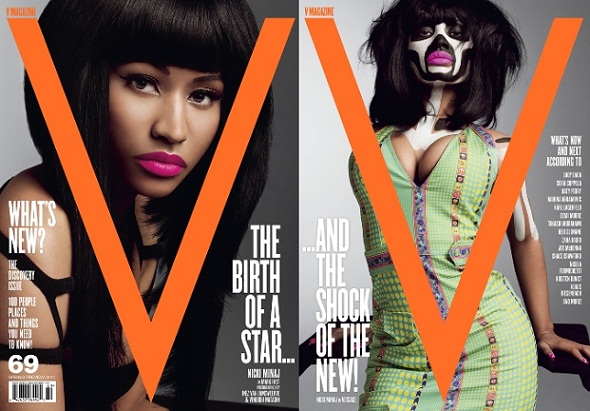 Possibly one of the most fascinating musical figures to emerge of as late, the sharp-tongued, tough-talking hip-hop princess Nicki Minaj has certainly put a profound feminine stamp on a male orientated world – and we're always game for a bit of girl power.
With an equally eccentric style to match, Ms. Minaj has now found her way on the cover of this month's V Magazine – suitably titled 'The Discovery Issue' – shot by Inez Van Lamsweerde and Vinoodh Matadin, and this hard-hitting lyrical genius has certainly gained a huge amount of new-found respect in the music industry (heck, we think she'd even give Lady Gaga a run for her money).
The dual cover issue sees the Trinidadian rapper dressed in a series of extravagant and theatrical designer outfits – all thanks to Mark Fast and Versace that is – with some rather strange Kiss-like make-up to match, all of which had to reach her personal approval first.
"Everything I do has been approved by me personally," she tells V. "My team is mostly made up of guys, but none of them would ever think about telling me what to wear or what to do with my hair. They know that ultimately I'm gonna do what I'm gonna do."
And with her debut album Pink Friday just a mere few months old, this femme fatale makes her own music and doesn't care if you don't like it.
"I'm an entertainer – I like to make people laugh," she says. "Some will hate it and some will love it, but all will remember it. And that's what I want: to be remembered."
It's always refreshing to see a strong-willed and determined female. The January issue of V magazine hits newsstands today – take a look through our gallery below to see more of Ms. Minaj…