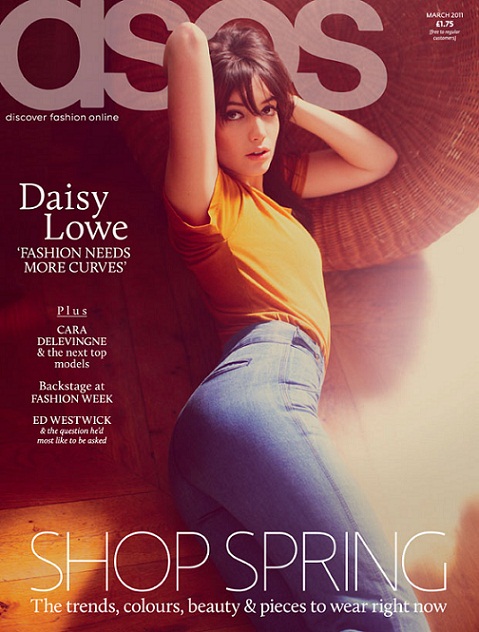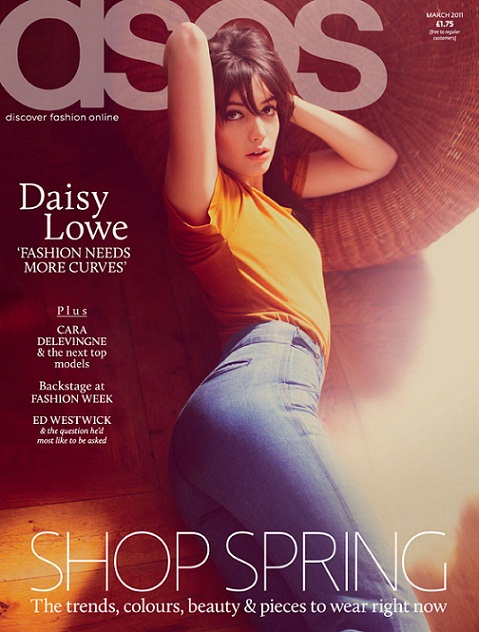 ASOS magazine's cover stars are rising, and its bagged itself a winner for its February cover. With a mother like Pearl, an achingly cool rock 'n' roll childhood and curves to die for, Daisy Lowe is undoubtedly an increasing fashion icon, and she's gracing the pages of ASOS magazine this month.
The 22-year-old British model-newly-turned-Peacocks-designer is no stranger to the high end fashion scene after walking for Chanel and appearing in Agent Provocateur campaigns, not to mention modelling for Marc by Marc Jacobs and Tommy Hilfiger, so it's no wonder she's got a lot to say about the industry.
And, Lowe and Behold, Daisy's starting with the fashionable curve – or lack thereof.
"My dream is to see a lot more female shapes in ad campaigns when I look through magazines," she says. "My friend was working with Crystal Renn and said she thinks she's only got a 38-inch hip. Karl Lagerfeld said he was going to embrace her womanly shape and then he just put her face on the ad campaign. Girls are starting to have tits in pictures, but I think it still needs to be about the curve… Real women have hips and an arse, yet loads of models in shows seem to have neither."
She, of course, has both, which she accentuates with her ever-impressive sartorial choices – but her personal style shouldn't be pigeon-holed.
"Most of my wardrobe is taken up by white floaty or long floral dresses," she explains. "I like to dress like a fairy and a doll quite a lot, but I do like wearing black too. I don't think I have a particular style, I think I go for a lot of different things."
And if you're a young model looking to get into the industry, take a tip from Ms. Lowe.
"My advice to anyone starting out would be to not take anything personally. I had to learn that," she says. "If you're an option and you so desperately want it and then you don't get it, you have to go, there were a million girls up for this and you just weren't what they were looking for, but that's OK. Don't get disheartened about that stuff."
Read the full issue at ASOS.com/magazine when it lands online on Friday, February 4th.