Last Updated on 23rd February 2011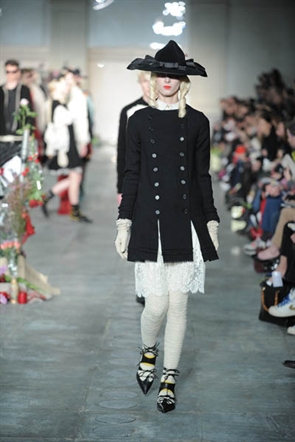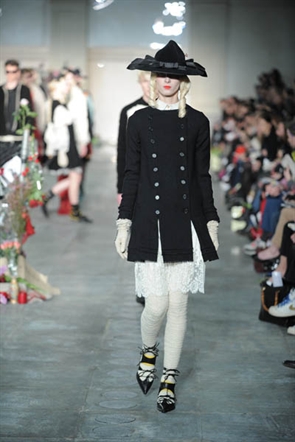 Who: Meadham Kirchhoff
What: Eerie Pagan school girls, shrines, and sinister dark layers
Thoughts: We're not sure if what we witnessed was a runway show or a ritualistic march at Meadham Kirchhoff yesterday, but we're rather fond of what we saw.
Starting with a finale, the designer duo put on what must be a record short show of about four minutes with all models storming the catwalk at once in army-like precision – they appeared again, briefly, before Ben Meadham and Edward Kirchhoff popped out with a thanking wave, alerting the audience they should've clapped at the second stomping.
It was actually very effective, and very clever. With shrines to the designers in the centre of the runway and a piercing Psycho soundtrack, the label's autumn/winter 2011 collection is signature-sinister with models that look part Pagan, part peasant, part school girl hitting the ground in heavily layered looks.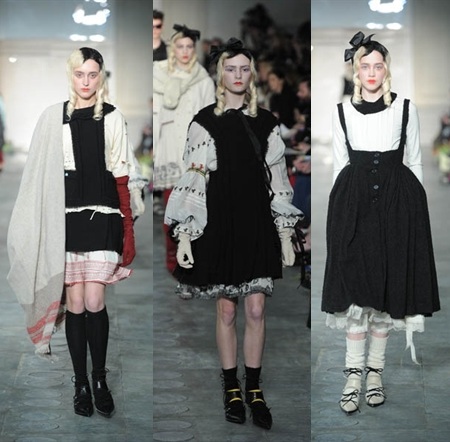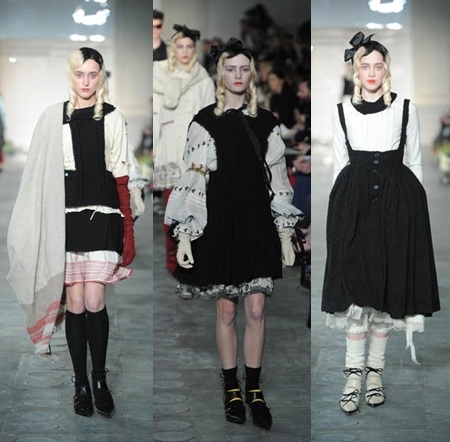 Black pinafores were layered over white ruffled shirts and smocks were worn with white collars tied with black velvet ribbon; peasant blouses had ethnic-looking embroidery, exaggerated puff sleeves and frayed, fringed edges; demure white lace dresses peered out of black slit coats or were layered over black versions.
Vibrant red interjected the macabre monochrome palette in little woollen jackets, shapely smocks, knits and hits of lace. Long-hanging crucifix necklaces on black and white beads added to the religious-like effect, while models' hair, coiled into two bunch-like halves, came tied with black lace or velvet bows.
It was dark, decadent and, to be honest a little confusing, but its shell-shock factor is a resounding success, especially at second glance.