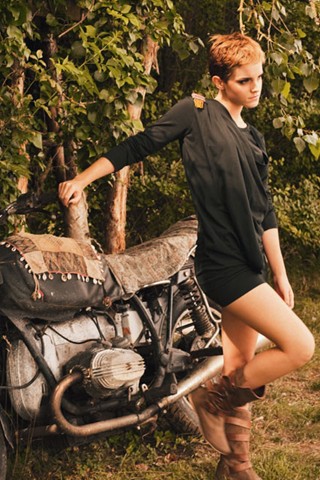 Emma Watson may have designed her third and final collection for ethically produced clothing range People Tree, but with Fairtrade Fortnight just around the corner, the Elle Style Icon Award winner has one last sartorial installment up her sleeve.
To celebrate Fairtrade Fortnight (which starts next Monday, 28th February), Emma will launch her spring/summer 2011 collection with the brand, but in the mean time the young British star's homing in on her acting talents to give us a smouldering performance in her own People Tree short fashion film.
The video montage sees Emma and her pixie crop posing all sultry like for the camera, with a sunshine backdrop, corn fields a-plenty and even some good old country music; the whole thing screams laid-back hippy chic.
"The design process continued with me trying on each and every piece to get the fits just as I wanted them," said Emma of her final collection, "and then I visited Bangladesh to see the clothing actually being made and meet the people making it.
"It was an incredible and life-changing experience – I really wish everyone had the chance to see the difference Fair Trade makes with their own eyes," she told SkyShowbiz.
Click here to watch the video for yourself.