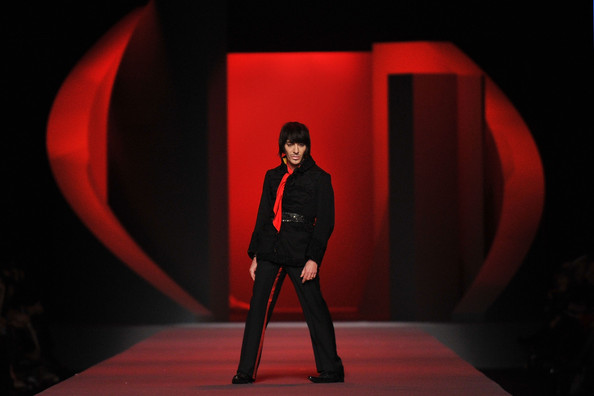 So Galliano's out. It's a sad, sorry shame, but it was inevitable (and necessary) in light of his recent racist ramblings. Naturally, the fashion sphere has already begun speculating who'll replace the enfant terrible – but let's face it; those are some pretty big pirate boots to fill.
With Dior standing by its schedule to show its autumn/winter 2011 collection at Paris Fashion Week on Friday, the pressure's never been so high to perform – rumour has it some top editors are anxious of attending the house's show because it's been tainted with bad publicity – especially with the all-too realistic problem of poor sales looming.
Suffice to say, we reckon Dior's looking to find a new front (wo)man to direct its design pretty pronto, so let's take a look at the names being thrown around already as possible replacements.
Who: Riccardo Tisci, creative director at Givenchy
Why: Riccardo Tisci has garnered increasing acclaim since heading Givenchy in 2005. He's a design genius and he's bold, but he's also a safe bet, seeing as he's already working within the LVMH staple (Givenchy belongs to the luxury conglomerate). And if you believe in history repeating itself, you'll like this – Galliano was himself heading Givenchy before landing creative director at Dior.
Who: Marc Jacobs, creative director at Louis Vuitton as well as his eponymous empire
Why: Louis Vuitton also lives under LVHM alongside Dior – if the powers that be want to keep it in the family, Marc could be in the running. Question is, is he ready to leave Louis Vuitton?
Who: Phoebe Philo, creative director at Celine
Why: Another designer working under LVMH's bracket, Celine is also owned by Louis Vuitton Moet Hennessy, making Phoebe Philo another close contender. But Philo also belongs to the triumphant trio of minimalism – a signature not, perhaps, best associated with Dior.
Who: Alber Elbaz, creative director at Lanvin
Why: Elbaz's name keeps cropping up in the replacement circle – he's long been rumoured to replace Karl Lagerfeld at Chanel when the time eventually comes, but this career move could at least come sooner. His classic, feminine, couture-like collections fit well with Dior's aesthetic, and he's got that element of showmanship without being a loose cannon.
Who: Christian Lacroix, creative director of his eponymous couture collection before it bust in 2009.
Why: Though his own house fell victim to the economy, Christian Lacroix's understanding for extravagance and uber-glamour goes hand in hand with Dior's. The industry felt collectively crushed when Christian's label buckled – this could be the greatest comeback in fashion history.
The outsiders
Some say it'll be an inside job, with someone already at Dior taking Galliano's place, but we don't buy it. A house like Dior needs a big name to front its brand.
Stefano Pilati is the bookies' favourite, especially as he's rumoured to be leaving Yves Saint Laurent (again). But his collections for YSL have become increasingly unimpressive to critics – he may be a little bland.
Others in the bookmakers mix are former YSL designer Heidi Slimane, Dior Homme creative director Kris Van Assche, Haider Ackermann, Giambattista Valli and Tom Ford.
Stay tuned for an update…