Last Updated on 19th October 2013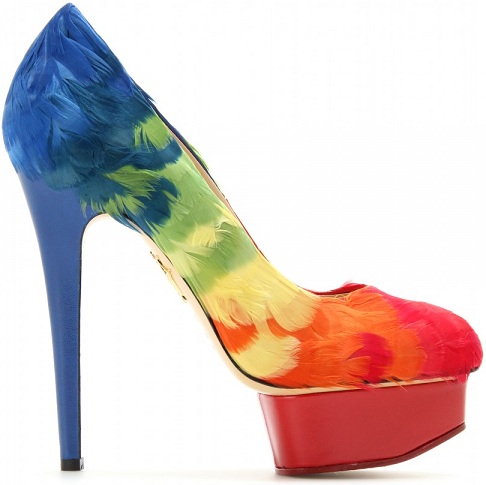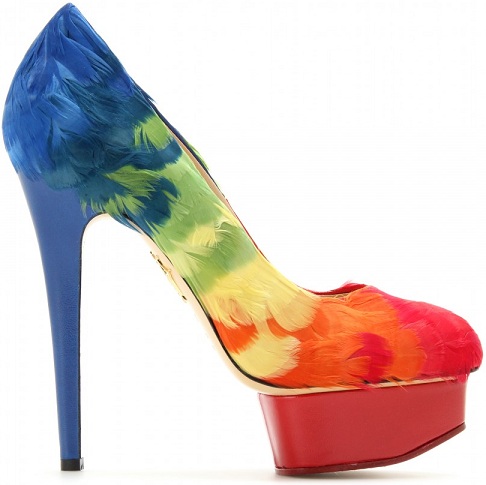 Her box clutches, Alexa-approved Kitty flats and the instantly recognisable gold metallic platform underlining her quirky designs have acquired a cult following. And taking you into new season, Charlotte Olympia's creativity once again knows no bounds.
It's safe to say that the Dolly Feather platform pumps more than caught our eye! Exploring a rainbow spectrum of colour, these heels are conversation starters, and we can only suspect to see a few pairs popping up around fashion month.
Adopting the classic Dolly shape and heels, goose feathers artfully line the shoe's exterior to give that 90s tropical tie dye look (see how she expertly revived the era of grunge with not a single plaid shirt or Kate Moss reference in sight?), whilst a red suede platform and blue leather heel amp up the colour credentials.
But such out-there shoes do come with their limitations, especially if you're not a repeat (fashion) offender. Although statement shoes are considered an investment, where do you draw the line with footwear that makes both your imagination and wardrobe run wild?
We round up the reasons we're screaming YAY, and why sensible Sally who lives in the part of our brain dedicated to shopping (that's almost all of it, then) is quietly whispering NAY to these wake-me-up CO's:
Yay
Perfect for amping up an LBD: Yes, just that. If you don't like to veer into colour territory when getting ready to go out, and prefer an understated outfit, then loud heels or accessories could be all you need. The Dolly Feather Pumps would be the perfect way to pep up a simple party look without adding anything else.
Shoe investor paradise: Remember all those times when your mum would gently advise you to stop spending your life savings on in-then-out, bunion-inducing footwear, and instead save up like a good girl for the best pieces? Well, the Dolly Feather pumps clearly aren't your average heels, and, for shoe lovers would make the perfect investment if flamboyant footwear is your forte.
Nay
Too loud: We're always aware of a one-wear-then-despair situation, and the Dolly Feather pumps fall firmly into that category. If you were immediately drawn to click on said shoe to understand how it was humanly possible to merge all of those colours in one shoe, and then your eyeballs pained after five minutes of staring at them in awe, its time to reconsider. It'll be a rainbow riot on your feet if you don't approve of anything other than an Emmanuelle Alt wardrobe palette.
Sky high: Well, we're not just talking about the 5.5 inch heel and 2 inch platform, but we're all not blessed with a bottomless shoe fund either. So if you're not keen on splashing upwards of £1,000 on a pair of carnival-perfect heels, look away now. The £1,031 price tag that accompanies the Dolly Feather pumps is equally as big as the heels' personality!
Are they a YAY or a NAY for you?
Shoe addicts, snap up the Charlotte Olympia Dolly Feather Platform Pumps at My Theresa.