Last Updated on 19th October 2013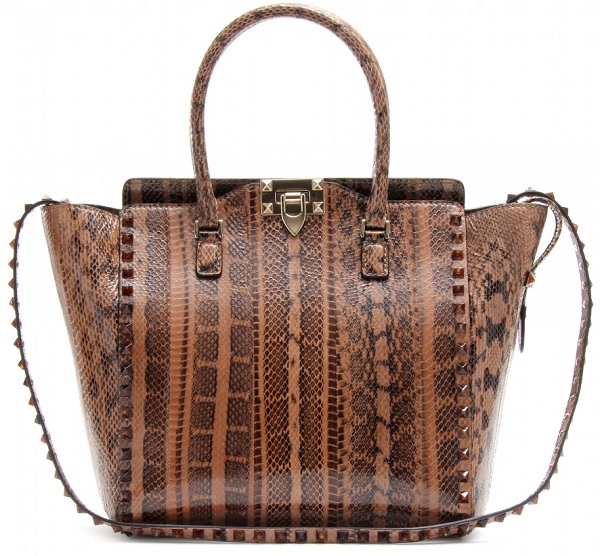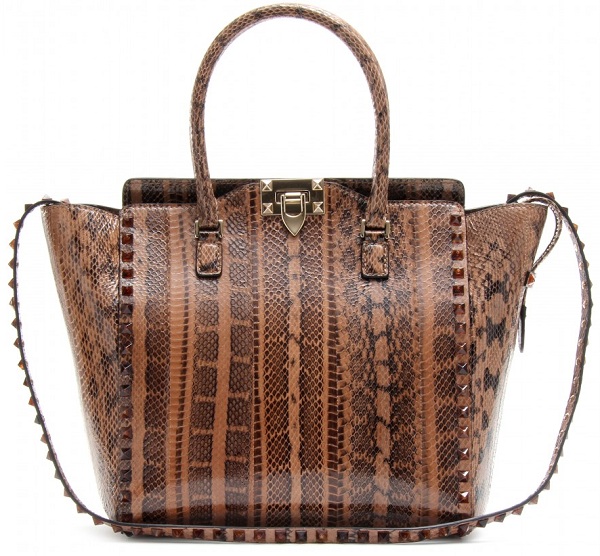 The final word in luxury, no one does uber-glam quite like Valentino. Accented with an understated sexiness, we love how the brand has perfected the tough-luxe mix, and keeps up coming back more!
Having cooed over the PVC Rockstud Shoulder Bag, another equally desirable version has just landed on our bag radar! Enter the Snakeskin Rockstud Bag; a spacious and office-appropriate offering from one of the most popular Valentino collections.
Crafted from luxe snake leather, the Snakeskin Rockstud bag boasts a handy detachable and adjustable shoulder strap, gold-toned hardware and numerous zippered pockets for maximum carrying capacity, not forgetting the overspill of arm candy hotness!
The signature rockstud adornment and tortoiseshell exterior instantly afford this bag must-have status, but before giving into temptation, consider the reason's we're saying Yay and Nay to snapping up the Snakeskin Rockstud bag.
Yay
Luxe factor: The snakeskin exterior elevates the Rockstud bag to uber-luxe status, and if that's what you're looking for when splashing out on a handbag, then it is the ideal option.

Versatile: The detachable shoulder strap makes the Snakeskin Rockstud Bag ideal for slinging over your shoulder on a day trekking around the city, and smart enough for the office, thanks to the structured double top handles.
Spacious: With a zippered back wall pocket and front wall slot pockets, it's safe to say you won't be running out of space to fit the essentials!
Nay
Price: At a whopping £2,380, expect to be bankrupt, or at least financially crippled for a year. Ouch.
Trend-centric: As much as we love a dash of animal print in our wardrobes, splashing the cash on such a statement option could prove problematic – especially if you're a classic handbag hopper, and tire of your latest arm candy easily.
Colour: The tobacco-black turtle colourway, although flattering, isn't the easiest to pair with a wide and varied wardrobe. You many want to try out the '3 ways' rule before taking the plunge.
Valentino Snakeskin Rockstud Handbag, £2,380, available at My Theresa