Last Updated on 19th October 2013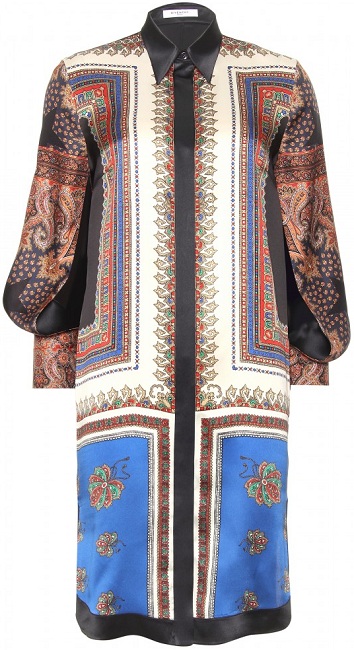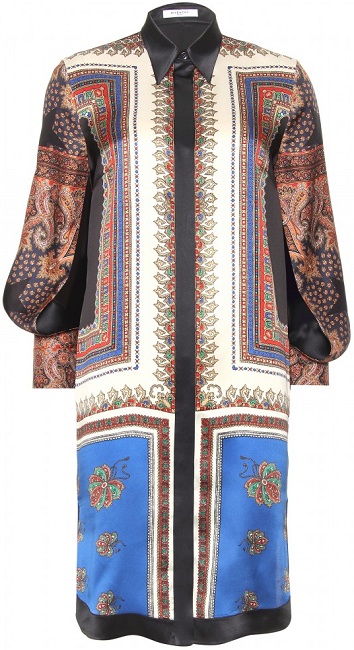 Versatile and a worthwhile investment, a silk shirt dress will easily serve as a day-to-night option. Throw a delectable print into the mix, and you've got a stylish winner on your hands!
Packing a print-tastic punch this week, the Givenchy Print Silk Shirt Dress fell on our Yay or Nay radar for more than one reason. The beautiful Byzantine print, sumptuous silk fabric and interesting sleeve detail had us cooing over its wardrobe worthiness, and its office-to-bar potential made us weak at the knees.
But ever the savvy shoppers, we're not about to give in to Givenchy, credit card and all, and we think you should exercise some will power too (as hard as it may be). Before awarding it must-have status and clicking it into your basket, check out our reasons for and against snapping up the Givenchy Print Silk Shirt Dress  below.
Yay
Quality: If you go for luxury, then this 100% silk beauty is perfect for upping the glam ante.
Print: Combining star and paisley pattern with a Byzantine print, if you're not one to slip into a subdued dress then the Givenchy Shirt Dress is ideal. It's even great for you black/navy hoarders, looking to punctuate your wardrobes with a dash of excitement!
Versatile: Wear it with pumps and a tote for work, and slip into sexy heels and swap the tote for a clutch, come 6pm!
Nay
Price: Cashing in at a whopping £1,350, you'll be left with a dent in your pocket equivalent in size to a crater on the moon! Bye-bye mortgage instalment/rent/life savings…
Delicate: 100 per cent silk means racking up expensive dry cleaning bills, as well as dodging the over-accessorised best friend, whose vicious-looking spike cuff and ring are lethal for silk Givenchy every time she leans in for a hug. Lethal.
Statement piece: Although our addition to anything splashed in a pretty print in incurable, the Givenchy Silk Print Shirt could end up in the dreaded one-wear-then-despair pile. After all, how many times can you re-wow? (We totally made that word up.)
Will you give in?
Givenchy Print Silk Shirt Dress, £1,350, available at My Theresa