Last Updated on 19th October 2013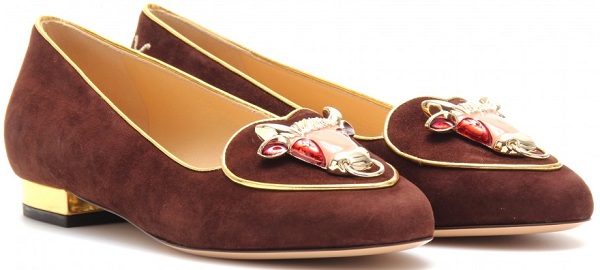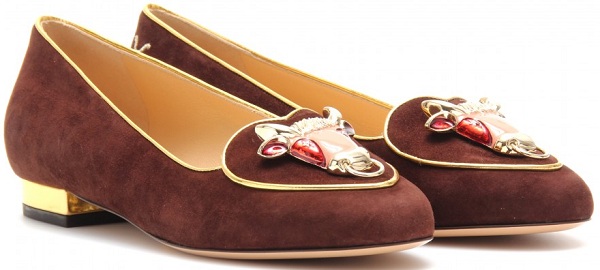 The purveyors of lustful accessories and shoes, Charlotte Olympia is a fashion name to be reckoned with. Dressing fashion disciples in the iconic island platform, and getting everyone hooked on those dinky-yet-desirable Perspex clutches; we're willing to shed the pounds (literally) for a piece of CO.
This week, trying to find its way into our already-bursting shoedrobe is the Taurus suede slipper-style loafer; a new spin on the classic and comfortable shoe fashion bods have to come to love from this brand. And considering we're in the middle of May, only the horoscopically apt Taurus would do – even better if you're an actual Taurean!
Available in delectable chocolate suede; the almond toe, handmade Taurus loafer is adorned with a hand-painted and Swarovski crystal-embellished zodiac motif, promising a glam polish to any off-duty ensemble, and even comes complete with a horoscope book!
Predict your fashion future by taking stylish steps in the Taurus loafer, but before you do so, consider our Yay's and Nay's for bagging these beauties below …
Yay 
Comfort factor – The slipper-style design and 0.5 inch heel makes the Taurus Loafer an ideal option for those looking to balance comfort with style.
Dress up, or down – The embellished motif design and gold-coloured trim elevates the Taurus loafer from off-duty option to evening ensemble completer in a flash. Just add a CO clutch for extra oomph.
Luxe detail – The handmade element, 100 per cent goat leather upper and delish gold leather-covered heel give bring a luxe feel to an otherwise simple shoe design.
Nay
Novelty factor – Although the brand's iconic Kitty flats have remained a fashion favourite, this zodiac-inspired collection could well be a short-lived tale. Would you consider wearing them regularly, or put them under the fashion fad category?
Price – At £536 a pop, you'll be digging deep into your pockets to picks up a pair of these. Expect money problem predictions in next month's horoscope…
Colour – Although we love it, chocolate isn't the easiest colour to incorporate into your wardrobe, and mixed with the gold detail, lends itself more to a winter palette than summer.
Charlotte Olympia Taurus suede slipper-style loafers, £536, available at My Theresa
Shop other zodiac sign loafers by Charlotte Olympia here.