Last Updated on 19th October 2013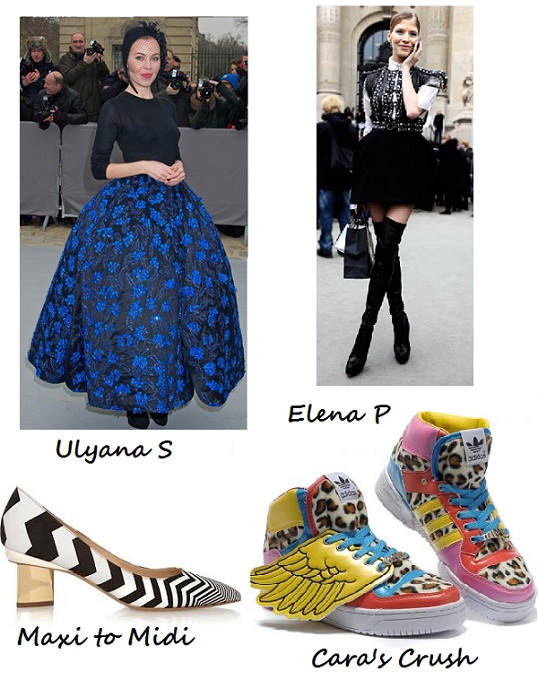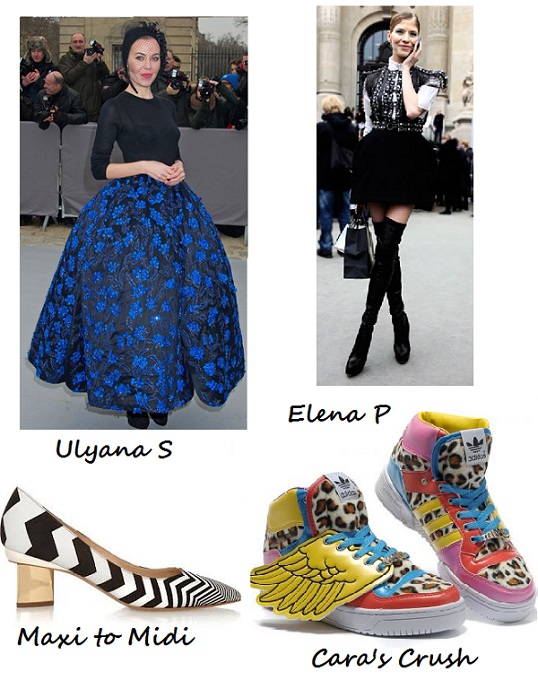 Want a one stop shop for all things HOT and NOT this month?
Our fashion chart rounds up the most talked about things in the frantic world of fashion, from the 'Russian pack' to Rihanna at River Island on Oxford Street, to Cara Delevingne's questionable footwear choice and the headgear revolution that's getting out of control.
We're pretty sure we haven't missed out any vital fash flashes, but if you're in the know, and think we could do with extending our list of what's au fait, and what's strictly non, non, then go ahead and let us know!
UP
Elena Perminova
The 26-year-old wife of Russian media mogul Alexander Lebdev, and darling of every credible street style blog, Elena Perminova (and her formidable wardrobe) is a lady after our own hearts. Wearing couture like it ain't no thing, snagging exclusive FROW seats and a model herself, it's safe to say she outdoes rival street style mavens and models, alike! Catch her gallivanting through the fashion capitals with the 'Russian Pack (see Ulyana below), donning every designer you can imagine, from the haute to the avant-garde. Come next season, our beady style eye will be firmly fixed on this beauty.
Rihanna for River Island
Yes, the hype has been circulating for a while now, but yesterday saw Rihanna's collection for River Island finally leap from the catwalk on to its concrete counterpart. The collection landed in stores, with Rihanna herself greeting fans for the launch at the Oxford Street store wearing a black dress from the collection (natch). Get your dose of urban 90s style while it's hot and available, or, in Rihanna's words, 'Phresh of the Runway'.
Swapping tonne heavy coats for tees
A gloriously sunny day was enjoyed by all in London yesterday, although most the fash pack have mostly been subjected to sub-zero temperature during Fashion Month, particularly in Paris and Milan. And if this sunny spell in L-town continues, maybe, just maybe we can finally pull out the summer-ready tees. And taking their place in our wardrobes, with pleasure, the blanket winter coat!
Ulyana Sergeenko
Another one from the 'Russian pack', designer Ulyana Sergeenko is breathtakingly beautiful. Yes, before we can even comment on the clothes, this woman has the face of angel quite literally. Doe-eyed, and with the most perfect pout and porcelain skin known to (wo)man, Ulyana rocks Christian Dior Couture like its part of her casual, off-duty wardrobe. And not to mention her head turning ('scuse the pun) headgear, which gets street style snappers playing their own game of photography Twister trying to snap her.
DOWN
Beanies
Fashion Month has the tendency to feel like a three-dessert helping. Making us feel sartorially nauseous is the woolly headed revolution that appears to have taken the globe by storm. Covering the colour spectrum of the rainbow, and festooned with everything from vintage brooches to veils and crystals, the beanie was EVERYWHERE this season. Yes, we know we've ranted before, but we'd like our head and hairdos back now. It's nearly summer!
Sky high heels
Look to Marc Jacobs, Jil Sander and Miu Miu for the last word on a well-heeled look. We're grateful for the return of the forgiving midi heel; a step down from back breaking, stratospheric sandals, but a step up from the sometimes unflattering loafer. And, anyway, hobbling was never really chic.
Gucci's cow passport handbags (erm, sorry, what?)
Gucci is going all eco-ethical on us and, in a bid to prevent deforestation through cattle grazing, its now launching a collection of three handbags with a zero deforestation production history, complete with a passport of the cow the leather came from. A moo-ve too far (cheesy pun alert), you think? Erm, no thanks, we'll just stick with our passports for now.
Cara D's 'fright' or flight sneakers
OK, we know the deal with sneakers: the comfort they offer knows no bounds, the fash pack has greeted them with open arms and, they're ideal for hotfooting it around fashion week without a shoe change. But how crazy can comfort get before it becomes, well, uncomfortable? As much as we love M.O.M (Model of the Moment) Cara Delevingne, we'd like her to leave those winged atrocities in the shoedrobe and, maybe, pull out some sensible Marant's. But, we have a feeling, Cara being Cara, this may prove impossible.