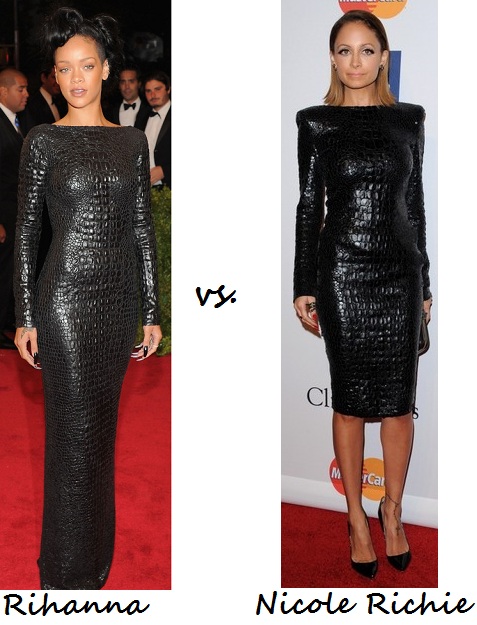 When Tom Ford's crocodile dress debuted on the red carpet last year, courtesy of Barbadian beauty Rihanna, we knew it was going to be a massive hit.
Well, not many people can successfully replicate Rihanna's style with the same level of bravado. But then Nicole Richie, too, made her croc debut in the same dress, (albeit a slightly modified version) and a fash-off naturally ensued.
Taking to the red carpet at the 2012 Met Gala, Rihanna wowed us in a floor-length, Fall 2012 Tom Ford crocodile dress that showed off her enviously toned body to perfection. The stunning singer kept her makeup to a minimum, opting for a dark nail colour and a flawless complexion, letting her personality escape through a retro-fierce up do.
Putting a spin on the Good Girl Gone Bad's look was Nicole Richie, who wore a cropped version of the same dress, complete with power shoulders, to Clive Davis' 2013 Pre-Grammy Gala back in February. Looking every inch the fashionista we know her to be, a swept back bob cut and signature strong eyes, accessorised with a black clutch, Louboutin pumps and a slick of red on the nails completed the look.
But who is the official style trophy stealer here? It's a difficult decision given both ladies' serious style credentials, but there's only room for one fash-off champion…And it's Rihanna, hands down.
Her every style move (when she is clothed, that is) makes us go gaga and she even appeared on our Met Gala Best Dressed list (natch), so we couldn't really betray the high priestess of cool! Nicole, we love you, but Rihanna's daring approach to dressing wins over your vanilla rendition of the croc dress!