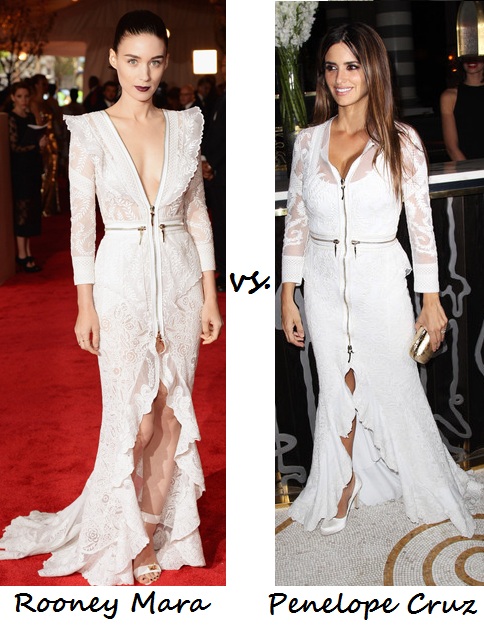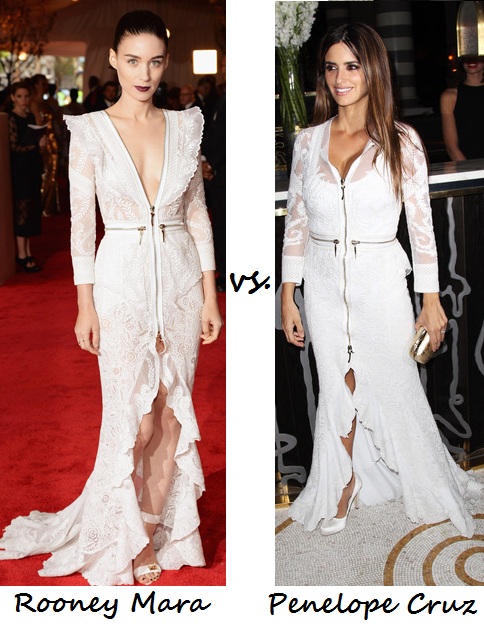 Fash-offs, to a certain extent, can be seen as form of fashion recycling. As soon as a celebrity is out of a particular look, another's already jumped into it, ready to put their own spin on it.
This week's fash-off is quite an interesting case of fashion recycling, and one we couldn't wait to include in a frock-off!
Looking striking in Givenchy Couture, Rooney Mara made quite the entrance at this year's punk themed Met Gala, in a white lace dress from the Fall 2010 Couture collection.
But this isn't the first time we've seen this near-angelic look on the red carpet. Penelope Cruz gave said dress its first outing back in 2011, when she wore it to the London premiere of Pirates of the Caribbean: On Stranger Tides. Penelope went down the vanilla route when it came to her entire look, opting for sleek hair and a box clutch.
On the other hand, Rooney had a touch of the rebellious Lisbeth Salander about her look – which was slightly modified to add lace inserts at the shoulders – going with a dark lip and slicked back hair; almost sinful (pardon the pun) in comparison to Penelope's angelic take on things.
Whose look do you prefer? We're going with Rooney's suitably harder look on this one.