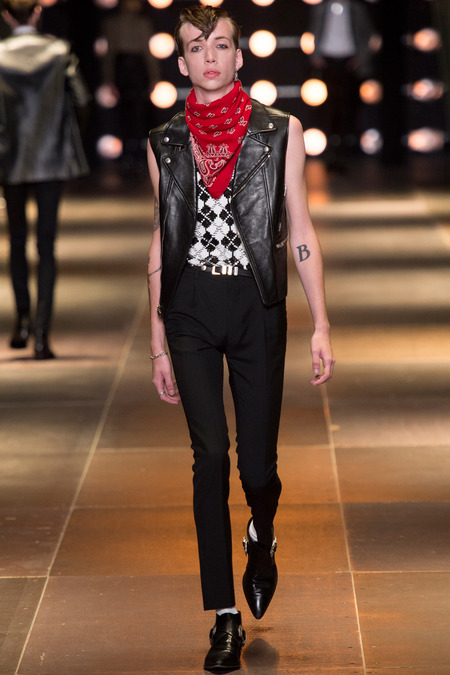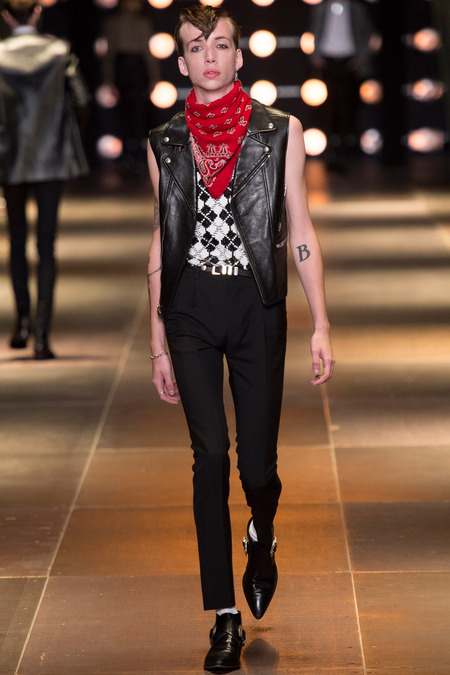 Desensitised to seeing otherworldly bodies stretched across the pages of our favourite glossies, mooching on the size zero debate doesn't really illicit the same reaction it used to.
Media, advertising and popular culture all promote the 'ideal' physique, leaving many women so baffled by the (lack of) choice, that when a new(ish) target arrives on the fashion scene, we're a little oblivious to its reception.
Continuing to gallop ahead at frightening speed on his high (end) horse, Mr. Hedi Slimane decidedly caused a stir during the menswear spring 2014 shows. Casting a range of near-malnourished, almost elongated elfin-looking boys caused for much heated debate this week, with noted writer Tim Blanks of Style.com dubbing the Saint Laurent line-up as 'wasp-waisted, shrunken-chested boy band members', suffering from the famed rock 'n' roll 'appetite deprivation.'
Alluding, almost, to the emaciated bodies of bygone rock stars, with his most recent (distant) muses being found in the likes of sweaty, failed public bodies such as Pete Doherty and Blake Fielder-Civil, it almost appears as though Slimane doesn't see past a 24 inch waist when he takes to the drawing board with those skinny trews.
The male models looked in need of a hearty meal, or three, but judging by the backlash to his choice of physique for the show, Hedi's the winner here. Generating such hype for his latest collection by taking a fashion taboo and effectively toying with it to his heart's content, Hedi almost forces us to ignore the real underlying issue here: the masculine side of the size zero debate. It's not just the girls with shrunken waists, y'know.
Criticised for sticking to his signature but dated drainpipe silhouette, the emphasis that critics have placed on his choices for this collection distract us from the fact that the boys are too skinny. Discussions have revolved around how other brands are using wholesome and muscular male models, as opposed to the drug-addled mod-rock lovechild Hedi favours.
What we're trying to emphasise is this: much like the health initiatives, talks and discussions surrounding female size zero models, male models don't appear to be receiving the same support. BuzzFeed referred to Hedi's consistency being so influential, it seems to have 'worn the industry down into submission'. This is a dangerous statement in itself, almost leading us to think that skinny male models aren't under the same pressure as the sisterhood.
Slimane dangerously indulged in it for Fall 2013, and once again repeated his affection for muscle and meat-less men this time, too. But how long do you think he can continue as the enfant terrible of fashion taboos, (and no, we don't mean that in the positive Gaultier-Westwood way) before someone runs onto the runway, mid-finale walk, and offers the gaunt models a much-needed burger?
Do you think enough is being done to raise awareness of male body issues?
[Image: Style.com]