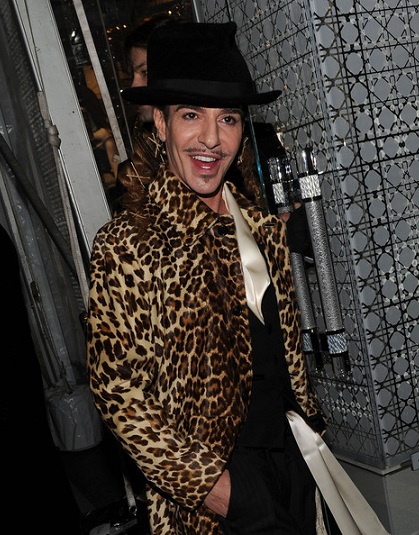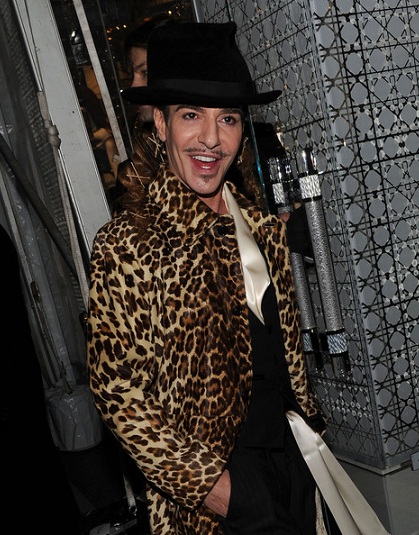 After what seems like a whirlwhind week of events, the shock of John Galliano's dismissal from Dior is slowly starting to sink in.
He's now headed to rehab to resolve issues with alcohol, but will be facing trial for his anti-Semitic actions of last Thursday later this year, which could land him in prison. Meanwhile, Dior's show is going ahead as planned this afternoon, without the designer and his famous bow.
Reactions to this are still rolling in, but while much of the internet is full of "serves him right" quips to Galliano's racist scandal, some of fashions big shots are being criticised for defending the designer.
Here, we take a look at the industry's reactions to Galliano's sacking and the events that led up to it, and delve into why it's excusing the enfant terrible.
Franca Sozzani was the first to kick-start the designer's defence on Monday, when she wrote this on her blog:
We aren't clear about one thing: the video starts right at the moment when Galliano launches his tirade. So one or the other must be true: either whoever took it was a master of timing, or what we are seeing is a video created for this purpose. In other words, possibly it was made by holding the mobile in the hand waiting for the celebrity – evidently provoked – to explode… An explosion was more than probable when you add together the amount of alcohol Galliano had consumed and the provocations of the people speaking to him.
When Hilary Alexander interviewed Giorgio Armani, he responded with the following:
"I'm very very sorry for him. It's obviously a difficult time for him. I am also very sorry that they videotaped him without him knowing."
Chanel Iman responded to the events on Tuesday this week:
"I love John Galliano. I've been working with him for years and he is one of the most amazing, genius men in this business. He is one of the most creative, genius designers that I've worked with and he's so open to all types of people. He's loving and he's caring and I wish him all the best."
Before the release of Galliano's incriminating video, Roberto Cavalli said:
"I know John since many years, he's such a wonderful person. I can't believe that he makes some racist [comments] toward somebody, because he's so international . . . I think that somebody wants to try to be bad with him. I think la Maison Dior should make [for] him [a] big red carpet because he helped Maison Dior to be what it is today. I don't want to judge anybody, but I love John and John, I am with you."
Also prior to the video, Stefano Gabbana tweeted:
"I'm so sorry for John Galliano!!!"
The list is growing – Patricia Field sent an email blast to 500 friends, calling the video a "farce". And as Dior plans to go ahead with its show – without Galliano – as normal at Paris Fashion Week today, Galliano's namesake label has cancelled its Sunday show. Here's what Alexandre Malgouyres, Galliano's spokesperson, had to say below:
"We just felt it wasn't appropriate to do a classic fashion show. But we're doing John's collection, for John, so that he returns quickly."
So what's the deal? Why isn't the fashion community condemning Galliano?
For one, Franca Sozzani and Giorgio Armani sound like they're making excuses for Galliano, lessening the impact of his offensive words and apologising for the fact he was caught. But drunk and set-up doesn't a racist make. However, there is a sad side to this story – let's dig deeper than surface level.
No one can excuse the inexcusable or defend the indefensible, but maybe the industry's empathy doesn't convey compliance. The fact is, what Galliano said was viciously ugly and incredibly offensive, but what he, one of the world's most famous – and best paid – designers, was doing alone in a bar with only a glass for company is poignant food for thought.
Perhaps, in this case, defence is replaced with pity. Pity for a man who's given his life to this industry, only to fall victim to its never-ending pressures that have sent some of our greatest talents into self-destruction.
Galliano's 'odius', as Dior's statement put it, outbursts of racism will unlikely be forgiven – nor forgotten – and rightly so, just as Dior's decision to dismiss its creative director of 15 years was unequivocal. But the house has a duty to ensure Galliano gets the professional help he so clearly needs – and we're glad he's getting it.