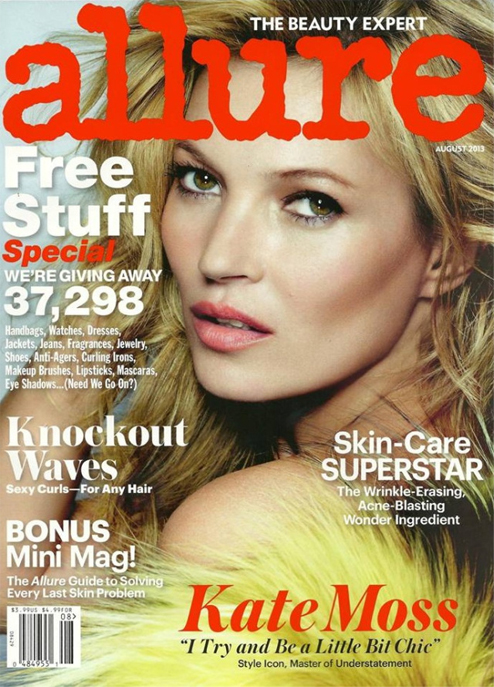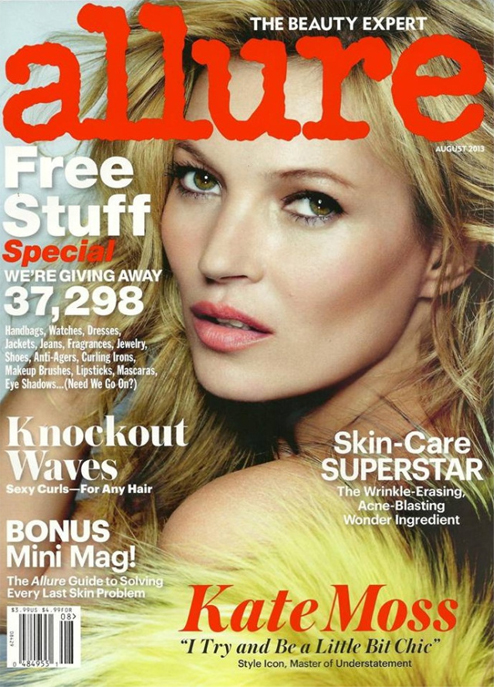 Kate Moss and her flawless age-defying supermodel body have landed many an ad campaign and magazine cover in the past (in fact she has scored several this year alone – click here to check her out posing nude for Versace, and here to see her flash her pins for Stuart Weitzman), but this time round it's all about her face. And what a beautiful face it is!
Mossy has been chosen as the Allure magazine August 2013 cover star, showing off her super-high cheekbones, ultra glossy blonde locks and trademark pout in the process! She also opens up for a pretty candid interview, including nearly getting a boob job, self-tanning, and her fashion philosophy…
"With confidence, I think anyone can get a dress and make it their own," she said. "I don't think you should have it off the runway and wear it like they want you to wear it. You know, with their hair and makeup—their woman. I just think it's boring. You have to make it your own. That's what fashion is all about."
This is one issue of the mag we will undoubtedly be picking up to flick through in the sun! And hopefully we will pick up some handy beauty tips too! Anyone else think Allure should have saved this shot for the September issue though?