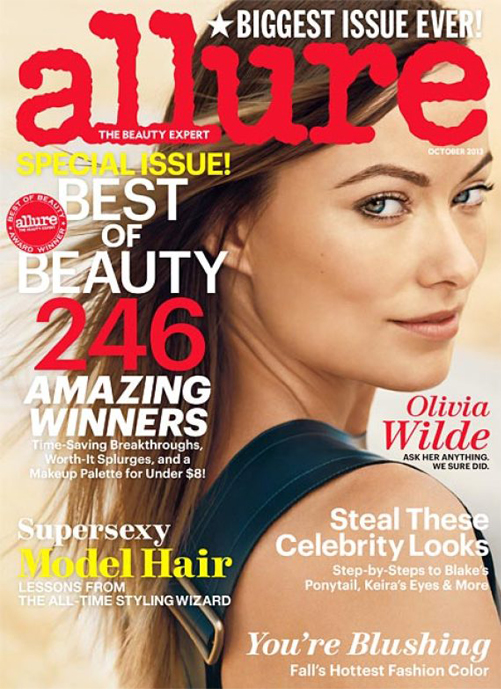 We can't seem to get enough of Olivia Wilde these days, and it looks like the magazines of the world feel the same way, as here she is on the cover of yet another glossy.
This time round Olivia Wilde is gracing the cover of Allure's October issue – no bells and whistles, no gimmicks, just her naturally beautiful face!
It's not just her flawless face we're ogling at though, as she's modelling some fierce fashion ensembles too, from Calvin Klein to 3.1 Philip Lim to Tom Ford and more. We've said it before and we'll say it again: her SNL fiancé Jason Sudeikis is one lucky man. Although if Olivia's interview is anything to go by, she thinks it's the other way round…
"I met Jason, and I thought he was so charming. He's a great dancer and I'm a sucker for great dancers," she gushed to the mag. "But he didn't even get my number. Over the next six months we kept running into each other. One night my best guy friend walked up to him and said, 'This is Olivia's number. Use it.' That was the beginning."
Aww – what a great story to tell the kids and grandkids! You can read the rest of Olivia's interview and see her unmissable editorial pics in Allure's October issue, out September 24th.