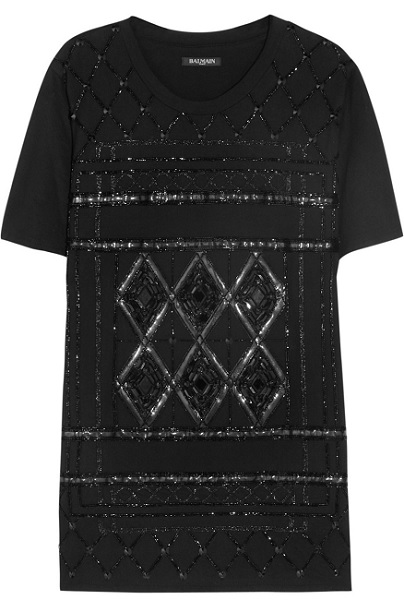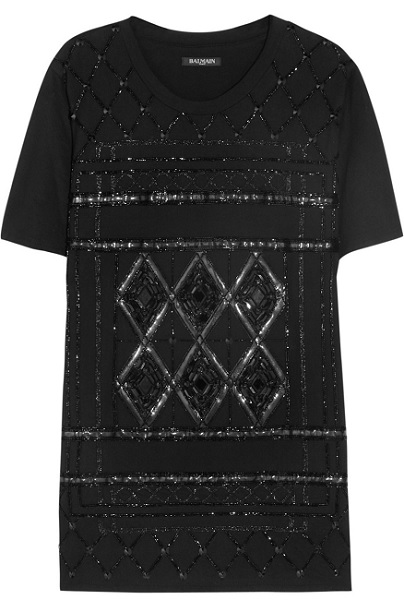 After the priced-induced furore J.Crew caused with its overpriced and over- embellished t-shirt for autumn/winter 2013, earlier this year, sceptics started to fish out basics with unjustified prices to slate like they were going out of fashion (pardon the pun).
So when we landed on this week's Yay or Nay option, we couldn't help but think of the above mentioned top troubles, except, this time round we were dealing with a high fashion heavyweight, Balmain. Yes, you know the brand with ballsy price tags and a whole lotta intricately embellished, hard-to-lift dresses and jackets?
Making us gawk at its fine existence, and mentally battle out the possibilities of adding it to our wardrobes, is the Balmain embellished cotton-jersey T-shirt (£1,165). An all black affair, the slightly oversized t-shirt is decorated with sequins, crystals and strips of metallic faux patent-leather. Eyes already popping out? Read on to see this show-off tee's basket-dropping credentials…
 Yay
Great alternative to an evening dress: Please your inner tomboy by slipping this t-shirt over leather leggings, and accessorising with killer heels and a clutch. What LBD?
Classic colour: Black is always going to be 'in', regardless of how much colour and print Diane von Furstenberg throws at us every season! Timeless and chic, this t-shirt is guaranteed to go with almost anything in your wardrobe.
Day-to-night investment: For work, pair with a blazer, smart pants and suede pumps. For after-work cocktails leading to the dance floor, ditch the blazer and swap the pumps for show-stopping sandals.
Nay
Price: A hefty price is certain for all Balmain pieces, so were not particularly shocked by the rather expected £1,165 price tag this t-shirt comes with. Although, were not too sure bank accounts are designed to absorb such financial shock…
Faux leather trim: Hmpfh! Paying a grand fee of £1,165 (if you are so lucky) should at least translate into real leather! If you're looking for your money's worth, this t-shirt isn't making any promises.
Easily damage: Although we expect nothing short of expert craftsmanship, delicately embellished pieces are prone to falling apart with the slightest snag. If you're partying it up in this tee, or wearing it to a glitzy lunch with the girls, beware of the friend with a penchant for studs, spikes and all manner of dangerous jewellery!