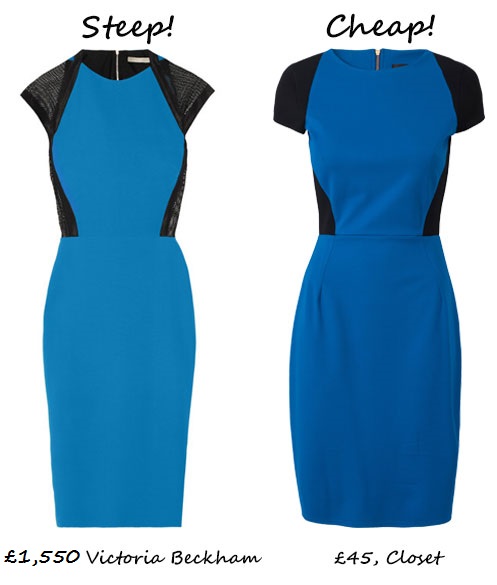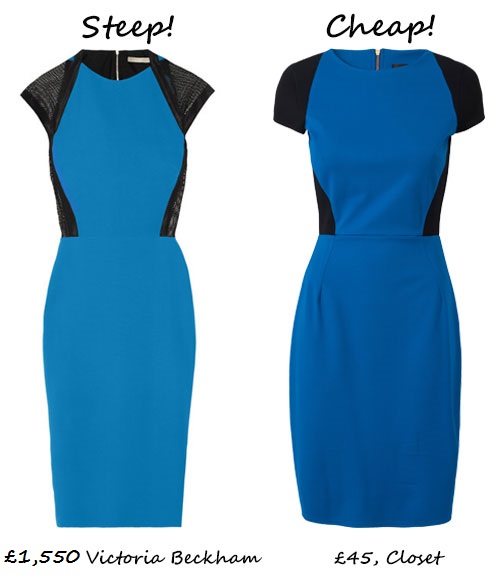 There's nothing more mundane than boring office wear. Agreed? But thanks to certain designers taking it upon themselves to make our work wardrobes a more stylish affair, the days of formal greys and boring cuts are fading fast.
This week's steep vs. cheap option is a winner, even if we do say so ourselves! Not much beats the promotion-bagging qualities of a form-fitting, brightly hued dress; and when it also fits in day-to-night appeal, resistance (to purchase) is futile.
First in at the steep end this week is the mesh-trimmed silk and wool-blend dress from the very woman who balances style with a fiercely entrepreneurial spirit to perfection: Victoria Beckham. Spliced with sheer mesh, the kingfisher blue, silhouette-skimming dress plays into the sports luxe trend with ease, yet still boasts slick boardroom appeal.
Looking to splash out? Shop the steep option right here: Victoria Beckham mesh-trimmed silk and wool-blend dress, £1,550, available at Net-a-Porter.
However, if your bank balance refuses to stretch to VB's price tag, fear not! Allowing you to step into work in style is the equally flattering, contrast panel bodycon dress. Nipped at the waist for a cinched effect, the contrast panels and back-zip detail give it high end allure with a very satisfying price tag. Want to go from work to sipping waboritas in less than 30 seconds flat? Just add a simple clutch, and you're good to go.
Feeling the pinch, and want to curb the spending? Thrifty option this way:  Contrast panel bodycon dress, £45, available at Closet.