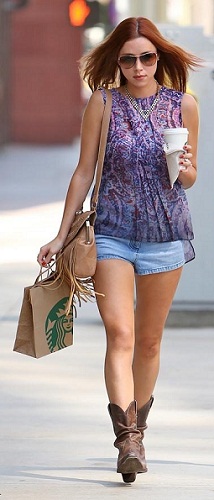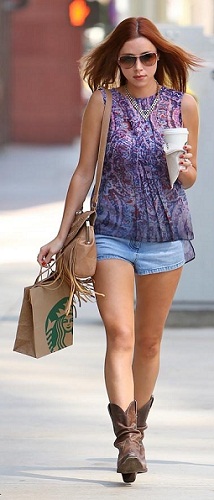 We're having a bit of a moment with cowgirl boots…basically we're slightly obsessed with the trend. If you are too, here's some tips to ensure you get it right the first time…
Choose Only Quality Boots
Don't give in to the temptation of buying a cheap pair of boots. Without the top quality level and craftsmanship of a good pair of boots, you'll lose out on comfort and satisfaction. Cheap boots will lead to blisters and discomfort.
Figure Out What to Wear With the Boots
You can wear just about everything you want with a great pair of boots. Do your favorite outfits come in a pair of jeans? Do you prefer dresses and skirts? Maybe you really like to wear tight jeans and leggings. Try out your boots with the different outfits in your wardrobe to see which combinations are your favorites.
Outside or Inside Your Pant Legs?
This is a question that has been around for a long time. Although debates over this question still crop up, there really is no answer. Decide whether or not to cover your boots depending upon the shape of your pants.
Wear Boots That Match Your Personality
Do you prefer classic and traditional styles? Are you always attracted to glitter and sparkle? Do you like to keep your friends guessing about your fashions? No matter what the answer is, there is a cowgirl boot that is just right for you. What are your options?
Fancy embroidery
Leather detailing
Buckles, braids, and other decorations
Classic colors
A rainbow of colors
Pointy toes
Rounded or square toes
High heels
Low heels
Ankle boots
Calf length boots
The list of choices can go on for a long time. In the end, if you have chosen boots that you love, then you won't have too much trouble planning outfits around them. Keep in mind that shorter boots make your legs look longer – often an important issue.
Socks or No Socks?
A quality pair of boots should provide plenty of circulation for your feet. They can be naturally breathable. Boots and bare feet can be good friends. However, athletic socks and ankle socks can be worn inside your boots in order to provide moisture control and to prevent your feet from slipping around. Choose low cut socks if you like the look of boots without socks.
Trends come and go, but cowboy boots have been around for a very long time. If you have ever wanted to add a great pair of cowgirl boots to your closet collection, then right now is the best time to do it. A single pair of boots can add a whole new level of interest to your wardrobe.