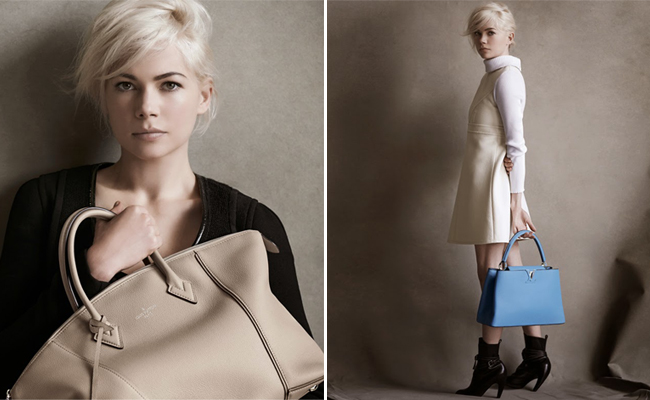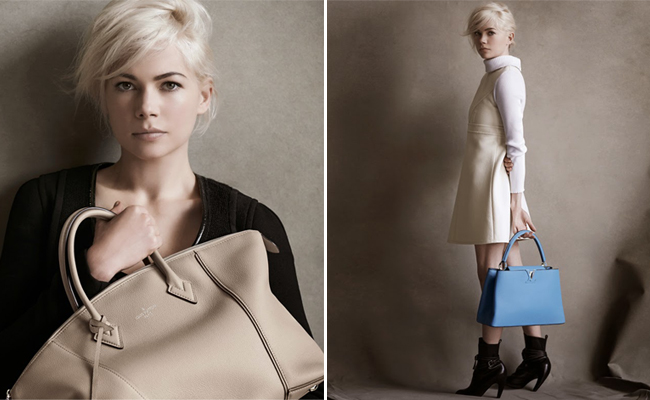 Michelle Williams has returned for Louis Vuitton for a glorious third season – and we couldn't be happier to see her beautiful face in the new ad campaigns! If it ain't broke…
The actress took time out of her busy Broadway schedule to pose for Peter Lindbergh's camera lens for the autumn/winter 2014 Louis Vuitton ads, which were styled by none other than Carine Roitfeld. So much talent in one photoshoot!
According to LV, the ad campaign aims to "hint at the woman behind the actress, revealing the intriguing balance of force and fragility that made Michelle Williams such a compelling choice as the face of Louis Vuitton." Quite!
As well as that, we can't help but lust after the gorgeous bags which Michelle is showcasing; the Capucines and The Lockit – two of the hottest bags of the new season! Michelle is also debuting a longer hair style in the ads, which we noticed once we'd stopped drooling over the aforementioned pieces of arm candy. Does this mean she is growing out her hair? We love it! And we love the new Louis Vuitton campaign!
Ps: Click here to check out the spring/summer 2014 ad campaign!