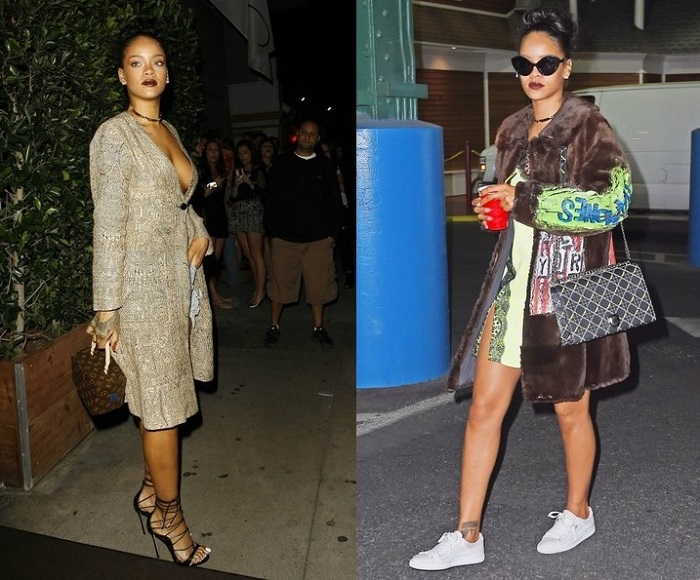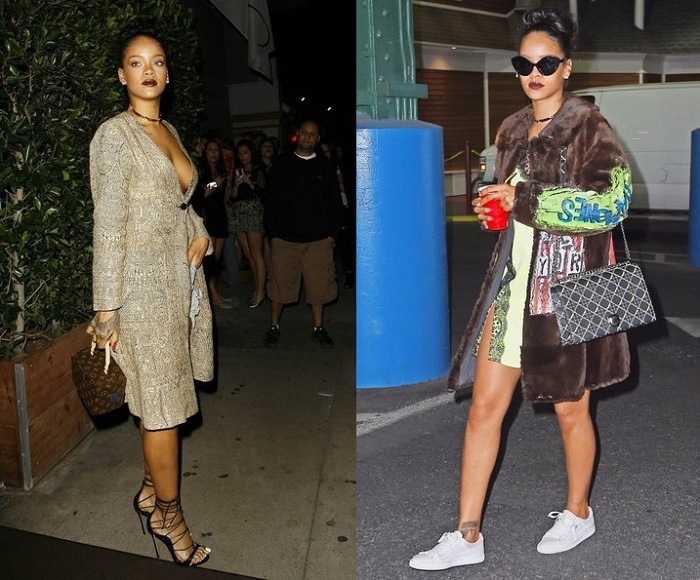 Rihanna's style is impossible to miss. It's not just her unmistakable voice, but she's got a take-no-prisoners approach to fashion and music that keeps her at the top of the charts… and keeps her trying new fashion ideas, even if they don't quite work.
Take her new album, R8, where's dropped her devotion to the current music trends and gone against the standard Pop Star audience tested grain entirely. Saying she wants to make songs that are "timeless" which she'll still be able to perform in 15 years, she's gone more acoustically driven and brought on Kanye West as producer, including guest appearances from some amazing musicians. (You've probably already heard the first single to be released from R8, FourFiveSeconds, which features Paul McCartney.) R8 is coming out sometime this year, and while you're waiting you can get your Rihanna tour tickets now (she'll be playing Rio on 26 September).
Yet while Rihanna is bucking the trend in the studio, she's been pulling out older trends to wear on the street. Lately that's meant bringing back some late-90s / early-00s stuff from the club girl scene but, since she's Rihanna, she's made everything look almost unworn.
Stirrup Pants
Take her stirrup pants, the latest zombie trend she's tried to resuscitate. It's hard to say it's working, but it's also hard to say it's not working. Am I going to wear it? No, but if you can figure out how make it look fantastic… go for it.
Technicolor Fur Coats
You can almost hear the techno pumping in the background. The pink faux fur coat just screams "rave queen," but it's hard to hate it. The peachy pink shade is nice and it's either got some cool split sleeves or built-in mittens. Either way I kind of like it.
Athletic Sleeves and… Whatever
It's kind of a Sporty Spice flashback.. that girl didn't get out of the Nikes until around 2008. Now Rihanna's pairing blinding white sneakers and a column dress that screams Calvin Klein… on mushrooms.
90s Gwen Stefani and Tank Girl
Look, there's nothing to complain about when anything Tank Girl starts getting more socially relevant, and it's definitely true the early days of No Doubt were Gwen Stefani's heyday — she kind of took the look and absolutely ran with it. I loved the all-over mini-buns back in the 90s and it's fabulous to see them Rihanna. Plus, there are some definite Madonna references in the mix too… and I simply can't get enough of her mermaid-green lipstick.
Teenage Mutant Ninja Turtle
Alright so maybe I'm never going to go anywhere near this one, but only Rihanna could pull off a Teenage Mutant Ninja Turtle costume like she did in NYC for Halloween last year. She and three of her friends walked around dressed up as, well, slutty Teenage Mutant Ninja Turtles, complete with weapons. Or are they? To anyone else she's carrying a sai, but to Rihanna it's a stainless steel, well, something that's just begging to find its way into her mouth. Hey, Raphael is a cool turtle, but he's also kind of rude.