The days are long gone when a garden was regarded as merely land attached to your house. It's now as much part of the living space as any interior room, and — whether you want to increase the property's value, make it attractive to tenants or guests, or just have somewhere yourself to enjoy — thought has to be put into its design.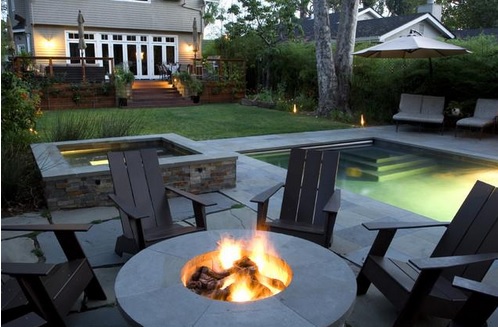 Match the Surface to the Need
You can choose various surfaces for your garden, but there's no reason why you have to stick to just one. If the space is large enough, it can be divided into areas for different uses.
Either decking or paving suits a patio area, where you can eat or entertain outside, or just chill out. Of course, if you're contemplating a barbecue or fire-pit, then paving's essential, but make sure it drains away from the house, not into it.
Gravel paths are ideal as a contrast with grass and flower-beds, but to avoid weeds growing through use an underlay of woven polypropylene landscaping materials.
It's good to have some grass in your garden, especially if you're aiming to make it child-friendly, but it can be a lot of work. To minimise the maintenance, keep your lawns square or rectangular, so there are no awkward crannies to cut. Alternatively, you could lay good-quality artificial turf, which needs no maintenance.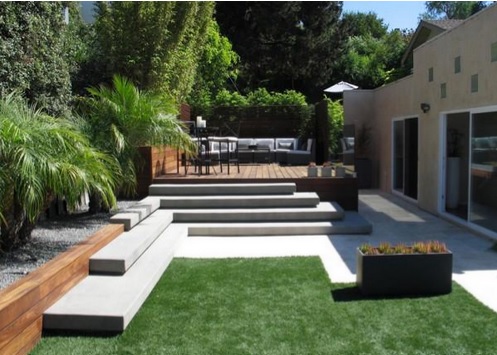 Create a Low-Maintenance Flower Display
A garden needs flower-beds, but they can take up even more time than the lawn. The best solution, as the BBC website advises is to use plants "that look good over as long a period as possible, but don't need a lot of fussing over." This includes slow-growing shrubs, grasses and anything that grows from a bulb.
A flower display can be enhanced by thinking about the colour coordination, not only between the plants themselves — whether that's a monochrome effect or contrasting colours — but also by matching the colours of fences, garden furniture and the like to the predominant shades.
Match Design to Use
It may seem too obvious to mention, but it's very easy to get carried away with what you want in a garden without thinking about how it's going to be used. Water features will enhance most gardens, for instance, but if you're going to have young children playing there, they need to be child-friendly, though any feature a child can incorporate into their imaginary landscape will help the garden function as a playground.
Although it's fine to stamp your design on your garden, it's likely to look best if you create in harmony with nature, whether that's following the natural contours or keeping existing trees. UK landscape architects Liz Lake Associates always take the ecological challenges of any project very seriously, so the landscape will enhance nature, not compete with it.
Bio of Author
David Newman is the owner of Flow Ink Digital, a Boutique Digital Agency in Hertfordshire. David works with prestigious landscape architects Liz lake Associates to increase readership of their website via the use of guest blog posts on relevant and targeted websites. David is passionate about all things digital and helping to increase visibility of brands with the use of multi-channel digital marketing.