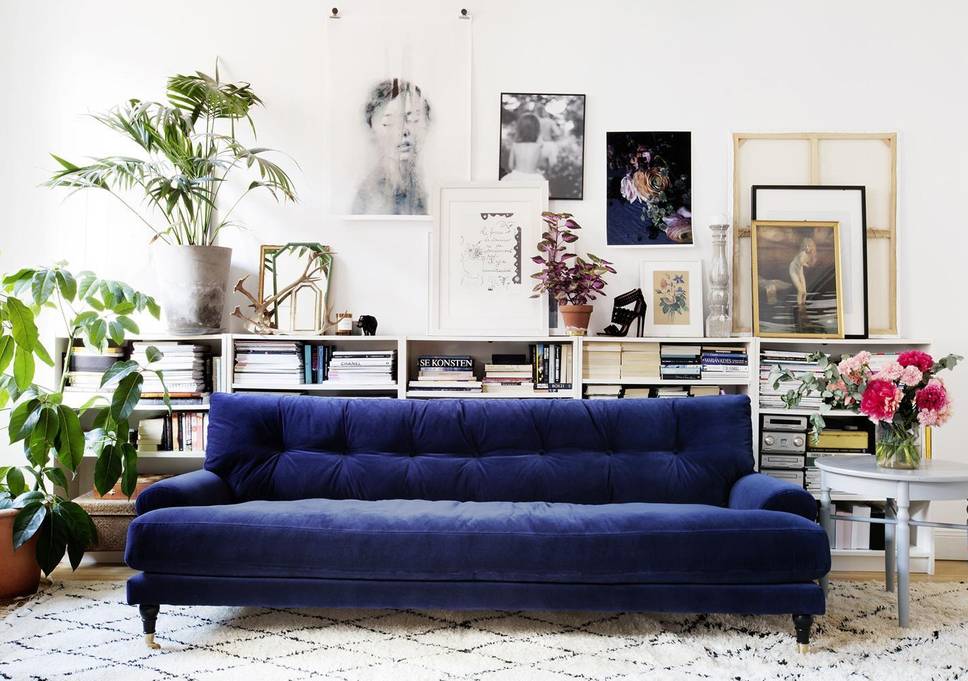 Sumptuous, decadent and stylish, velvet was a top interior trend throughout 2017, and homeowners' penchant for the plush fabric looks set to continue throughout 2018. If you're looking to bring a dash of luxury into your interiors with this opulent material, read on to find out how you could incorporate velvet into the design of every room in your home.
Living room
Your living room is supposed to be a place for relaxation, so a luxe material like velvet will help to create a cosy and comfortable feel. If you want to make a statement, opting for a velvet couch is a bold way of bringing the trend into your living area: look for one in a striking contemporary colour for a modern feel. Colour experts Pantone have declared violet to be the colour of the year, so why not pick out a velvet sofa in a contemporary purple shade? This selection of classic sofas from Sofas by Saxon is available in a range of custom velvet fabrics, including a fashionable Winter Violet shade that's right on trend.
Just be careful not to overdo it, as it's easy to go overboard with a fabric like velvet. If you do opt for a sofa with velvet upholstery, just remember to pick cushions and other soft furnishings in non-velvet textiles to stop the room from looking OTT. Fabrics like linen will provide a stylish contrast.
Dining room
While the dining room may not be the first place you'd think of using velvet, it can look stunning when done properly. Chairs upholstered with velvet coverings will bring a regal feel to mealtimes, and they'll make your chairs feel even more comfortable, too.
Choosing a statement wallpaper is a simple but effective way of making an interesting feature out of a bare wall in your dining area, too. Flock wallpaper uses shavings of luxe fabrics to add a soft, velvety finish to the paper, so it's brilliant choice if you're too short on space to add extra velvet accessories in other areas of the room. This selection of flock wallpapers from Graham & Brown includes bold statement damasks for a grand, classical feel, as well as quirkier prints if you'd prefer a modern effect.
Bedroom
A relaxing space like the bedroom really lends itself to an opulent fabric like velvet, so you can get away with incorporating a few more pieces than in other areas of your home. As velvet is an especially soft and tactile material, it makes a great choice for bedding like cushions and throws. If you really want to commit to the trend, you could even opt for an upholstered headboard – perfect for snuggling up with a book at night.
If noise and outside lights are a problem in your sleeping area, velvet curtains could be the solution. As it tends to be thicker and heavier than other fabrics, a pair of velvet curtains in a dark colour will provide an extra layer of insulation, helping to block out artificial light and annoying noises. If you tend to be cold at night, it can also help to trap warmth inside your room.
If you've been looking for a fresh new update for your interiors, a few velvet accessories and accents could be the choice for you. Just keep these tips in mind when planning your new look and, before long, you'll have a luxurious pad that you'll love spending time in.
[Image]