Last Updated on 30th January 2023
A trip to Barbados can be an unforgettable experience. Prepare for a relaxing vacation filled with activities such as exploring Bridgetown, swimming with dolphins, and visiting amazing botanical gardens.
Tourists arrive here in the winter months to enjoy sand and surf. As for accommodation, one can choose from plantation homes, luxurious resorts and private luxury villas. You can also look for houses for rent in Barbados for a comfortable and memorable stay.
Before you pack your bags, it's essential to know what type of clothing is suitable for this tropical destination. With so many varied activities, you'll need outfits for the beach, nightlife and sightseeing. To help with packing, we've compiled a detailed guide to ensure you know what to pack on your trip to Barbados.
What to pack for a holiday in Barbados?
1. Summer dresses
Whether it's for enjoying sun-filled days or taking part in unforgettable adventures, summer dresses are a must-have! Here's an edit of the best summer dresses for Barbados.
Maxi dresses
Maxi dresses are an ideal choice for your Barbados vacation. Not only do they keep you cool and comfortable in the tropics, but their length also offers protection from damaging UV rays, making it a worry-free option when soaking up some sun. Their flowy shape allows breezes to pass through on those balmy days – perfect for exploring local attractions like Bridgetown's charming streets or strolling along its beachfront boardwalk. Dress them up or down depending on what activities await!
Wrap dresses
Wrap dresses are another great choice for a holiday in Barbados. They provide comfort and style while still being chic and elegant. The adjustable wrap fabric allows you to adjust the fit to your liking, so you can be sure that it won't be too tight or too loose, regardless of the temperature. You can easily dress up a wrap dress for an evening out for dinner and drinks. Just pair with strappy sandals and statement jewellery and you're good to go!
Linen Dresses
Looking for the perfect holiday outfit in Barbados? Linen dresses are just what you need! Not only do they keep you super cool on hot days, but with their versatility and durability, linen is ideal for both dressy occasions and relaxed beachside barbecues. They won't take up much space, so don't forget to pack those stylish pieces before your next getaway!
2. Swimsuits & cover-ups
It would be a sin to go to Barbados and not take advantage of the crystal-clear waters. Pack some stylish swimsuits and cover-ups like a sarong. A sarong is a great way to cover up after swimming and to protect your skin from the sun.
3. Comfortable footwear
Barbados is an island paradise with plenty of sun and sand! Choose flip flops or sandals with cushioned soles to keep your feet comfortable, and bring along a pair of trainers or walking shoes for when you're out exploring.
4. Accessories
Remember to bring sunglasses, flip flops, and a wide-brimmed sun hat to protect your face and hair from the sun's rays on those long days spent soaking up the rays. During the day, a crossbody bag is ideal for the beach and sightseeing. Bring a clutch bag, strappy sandals, statement earrings, and necklaces for evenings out.
5: Go For Layers During the Daytime
With temperatures during the day ranging from 30-35 degrees Celsius, it's essential to pack lightweight layers such as shorts and t-shirts paired with a light jacket or shawl should you feel chilly at night.
6. Pack Lightweight/Tailored Pieces For Dinners Out
When it comes to dinner, linen trousers, dresses, or skirts paired with breezy blouses and tailored jackets are an excellent choice for a smart casual look that will keep you warm in cooler evenings.
7. Cardigan and sweater
As temperatures can drop during evening hours, it's best to pack a lightweight jacket or cardigan that'll be perfect for going out in the evening without being too hot.
9. Raincoat and umbrella
The rainy season lasts from July to December, but there is still plenty of sunshine. Carry a travel umbrella or a light raincoat if travelling during those months.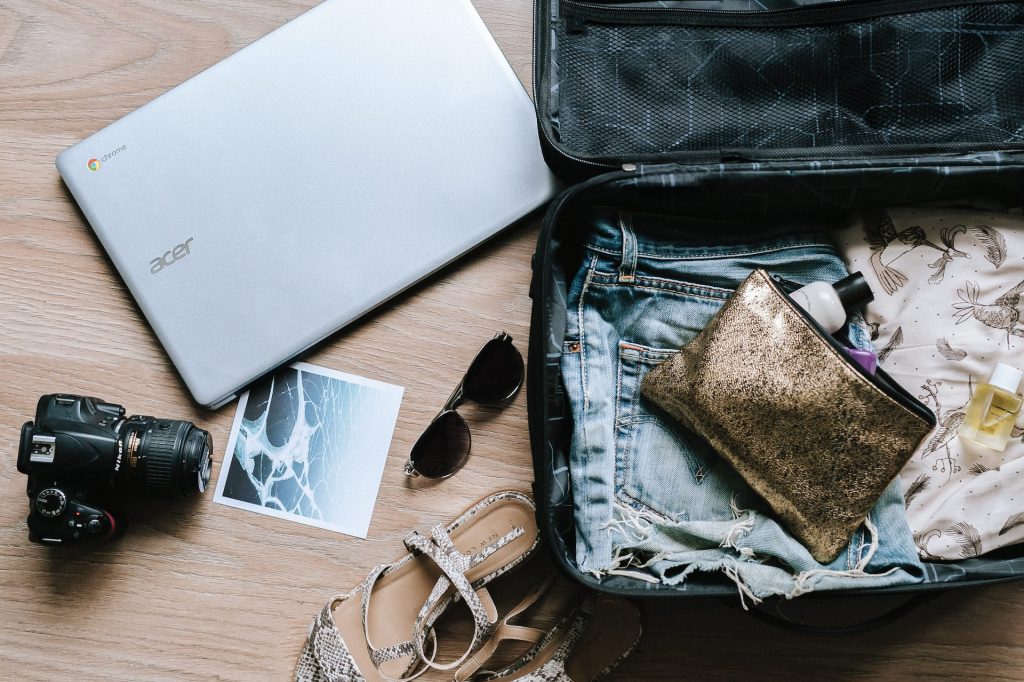 Photo by Anete L?si?a on Unsplash
Packing Tips For a Stress-Free Vacation in Barbados
1. Start packing early
Allow plenty of time to pack so you don't feel rushed and forget something important. Packing too close to your departure date increases the likelihood of forgetting something.
2. Pack light
If you find yourself overpacking, remember that many hotels and resorts provide basic toiletries such as toothpaste, shampoo, and conditioner to their guests. Take only the necessities. If you need something but don't have room for it, you can buy it in Barbados when you arrive. You can find stunning dresses and other pieces at fantastic boutiques that stock great Barbados clothing brands.
3. Opt for outfits rather than individual pieces
When packing for a trip, try to bring complete outfits rather than a random assortment of uncoordinated pieces. This will help to streamline the packing process and ensure you have items that match and look good together.
4. Create a packing list
Make a checklist of everything you need to pack in your suitcase to ensure everything is remembered. Begin by writing down all necessary items, such as clothes, shoes, toiletries, and electronics, and then cross each item off as you place it in your suitcase.
5. Roll your clothing
Rolling up your clothes rather than folding them saves space in your suitcase and helps prevent wrinkles. Plastic bags or packing cubes can also be used to organise different types of clothing, such as tops, bottoms, and swimsuits.
6. Wear your bulkiest items on the plane
To save space in your bag, wear bulky items such as sweaters and jackets on the plane instead of packing them in your suitcase. This way, you'll still have room for everything you need to bring!
7. Pack sunscreen
Protecting your skin from the sun's harmful UV rays is critical, so don't forget to bring sunscreen and SPF lip balm. Apply it for at least 20 minutes before going outside in the sun.
8. Store valuables in your carry-on bag
When travelling, keeping your passport, wallet and other valuables in your hand luggage is always a good idea. This will ensure that nothing gets lost or stolen while in Barbados.
9. Take photos of important documents
Before leaving for vacation, take photos of all your important travel documents, such as passports and visas. You can also store them digitally on your device if needed.
To recap
Barbados is a tropical paradise, and with suitable clothing, you'll be able to make the most of your trip and have a comfortable vacation. Stick with lightweight fabrics like linen or cotton to stay comfortable all day long. Don't forget an extra layer just in case it gets chillier at night. Now you know what to pack for Barbados, all that's left is to book your ticket and get ready for some fun in the sun!