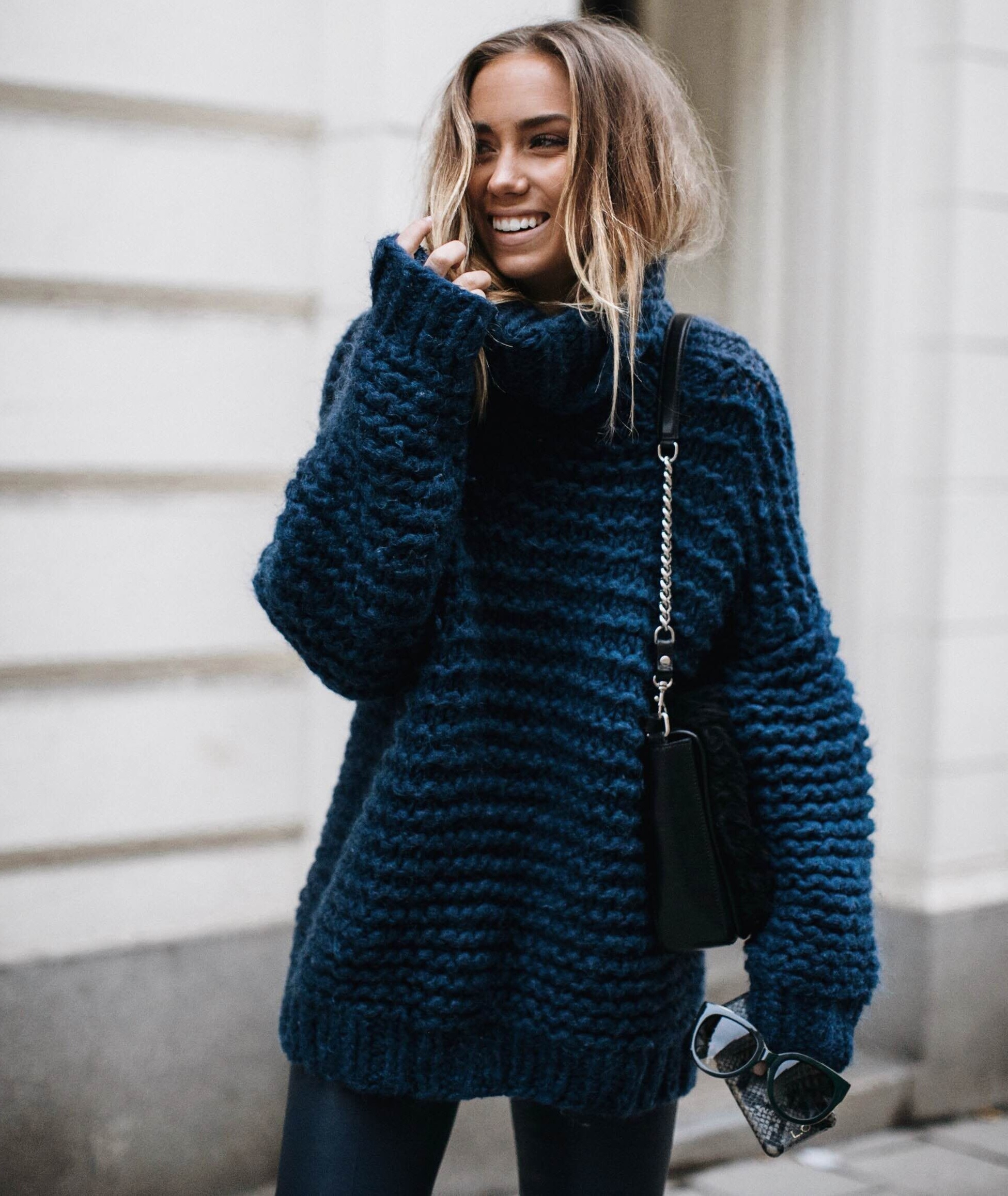 The weather outside is frightful and you would find it undeniably delightful to embrace your inner shut-in and stay hunkered down with nothing but your fur babies and Netflix to keep you company for the next several months. Sadly (or fortunately), this is not your life. You are a woman in high demand and your daily must-do's and want-to's aren't going anywhere, regardless of how quickly the temperature is dropping.
However busy this cold season finds you, do your best to keep comfortable this winter and relax. Or else risk turning into those characters from your favorite show that can't stop talking about winter (we get it, it's here).
The Uncomfortable Scenario
It seems as if your boss has resolved to make this year the most productive yet – which is good for her but totally puts a kink in your social life, what with all of those late nights an overachiever such as yourself is bound to put in.
The Comfy Solution
Stock your wardrobe with cute and comfy knit jersey tops that you can wear with leggings and some butt kicking boots to stay comfortable during those long nights at the office. (And an emergencies-only flask of a little something warm tucked away in your desk wouldn't be such a bad idea either.)
The Uncomfortable Scenario
Your college boyfriend is in town and won't stop texting you about meeting up. You are resolved to let him know that you have no hard feelings about the way things ended and you're happy to be his friend in real life – not just on Facebook. BUT you also want him to see how good you look and make him question every decision he's ever made since breaking up with you at a frat party.  
The Comfy Solution
Break his confidence into a million tiny pieces with a stunning off the shoulder sweater and your favorite effortlessly hot distressed denim. Don't forget the sexy but subtle ankle strap heels to really cinch this look – and keep him wondering 'what could have been' all night long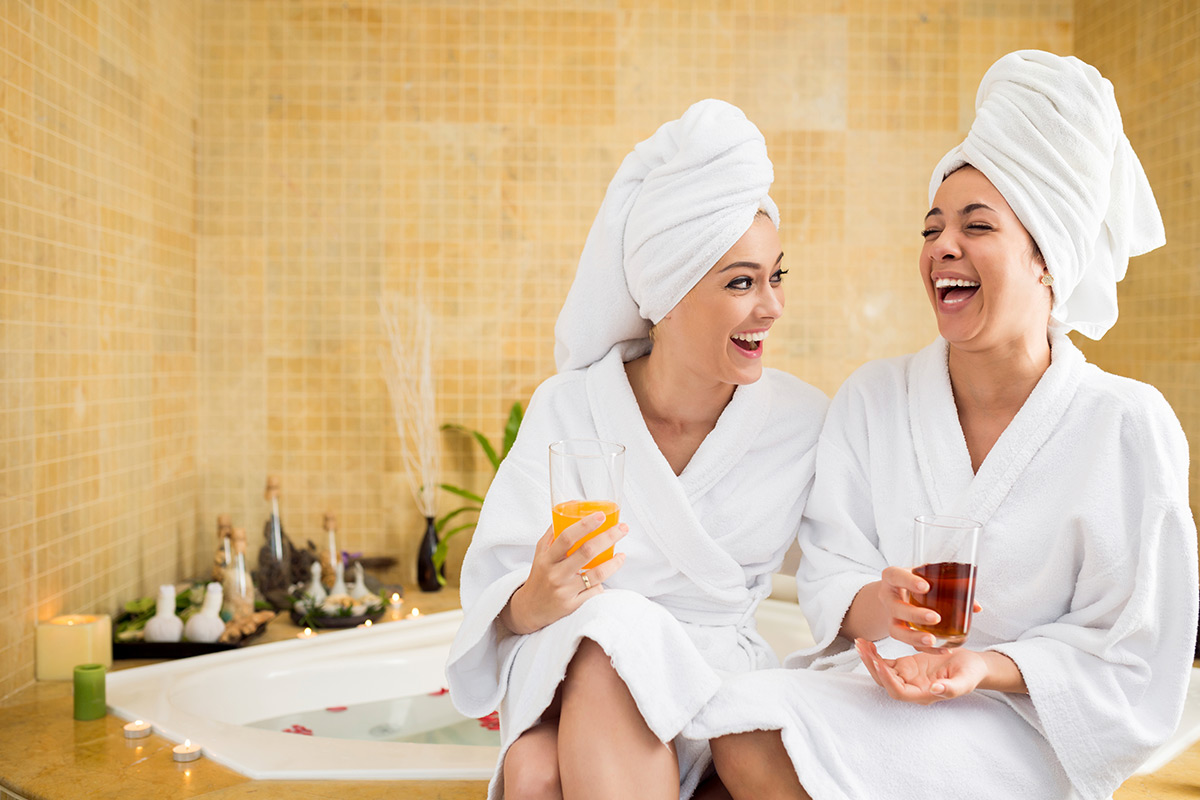 The Uncomfortable Scenario
Your gorgeous skin has seen a lot this winter and now your usual rosy glow looks less natural-beauty and more "oh no, tell me I didn't just Reply All to a company wide email with an 'I Hate Mondays' meme" kind of glow.
The Comfy Solution
We know it's hard fitting everything into busy weeks such as yours. Between work and family it's a pure act of magic when you manage to get a few free moments to focus on yourself. That's exactly why you need a skin rejuvenating bath bomb in your future STAT (we love the sweet and whimsical bath products from Feeling Smitten).
Use those few moments a day the world must wait and give yourself some much-needed pampering. Incorporate a fun bath bomb or sugar scrub into your morning ritual or take a few minutes to breathe in as you rub a delicious scented lotion into your now appropriately glowing skin. Whatever small service you choose to do for your body we're sure you'll notice a difference. Everyone else surely will.
The Uncomfortable Scenario
It's been a long week and the last thing you want to do this weekend is spend it trying not to fall on your booty balancing on two skinny pieces of wood while your BFF whizzes past you with some serious ski bunny form. But, alas, you are the world's greatest friend and when you make a promise to spend a weekend skiing with your bestie you follow through.
The Comfy Solution
We may not be able to help you learn how you ski (YouTube maybe?) but we can certainly help you look good trying not to fall. Pack your comfiest and most stylish sweaters to keep you warm on the slopes and then take that look back to the lodge to get you noticed by the fire.
The Uncomfortable Scenario
Lucky for you, your mom decided to surprise you with a visit and has spent most of the week rearranging (and judging) every item of furniture in your "cute in a shabby way" apartment. Needless to say, that New Year's Resolution of no more stress eating is a distant memory (better luck next year) and your usually trim waistline is threatening to go on strike if you don't get things under control soon.
The Comfy Solution
Leave mom with your Netflix password and take your earbuds and sparkly (but comfy) knit sneakers out for a spin to burn off a little stress-induced steam (and unwanted calories). We promise after a few laps around the block you'll be breathing – and buttoning – easier in no time.
The Uncomfortable Scenario
You begrudgingly ditched your evening in with Ben & Jerry and let your girlfriends talk you in to meeting them at that trendy-in-a-vintage-way new bar for happy hour. Now you're stuck in traffic in the back of an Uber with a less than appealing aroma and a pleasant – though chatty – driver.
The Comfy Solution
Take a break from breathing through your mouth and partake in some much-needed aroma therapy. Lather on some luxurious and beautifully fragrant hand cream and let the sumptuous feeling of shea butter transport you to a better head space. You are a woman who makes the most of an unpleasant situation and you're not about to let a little car ride get you down. Though, maybe still crack a window.