Summer is finally here! Time to plan your next BBQ party!
Whether you're a grill pro or this is your first time hosting, planning a successful BBQ can be tricky.
There are so many things to consider, like location, menu planning, decorations, and more!
So to help you get it right, we've put together some top tips on how to plan a summer BBQ bash that your guests will love!
Decide on the right location
When it comes to hosting a BBQ, one of the first things to decide is whether you want to have it inside or outside.
If you have a large indoor space, an indoor BBQ can be an excellent choice, especially if you're not sure about the weather.
But if you want to soak up the sun and enjoy the great weather, an outdoor BBQ is a no-brainer.
If you opt for an outdoor BBQ, it's important to plan for the weather. Check the forecast ahead of time and have a backup plan in case of rain or extreme heat.
If you decide to have your BBQ in a park or public place, be aware of any restrictions or rules regarding grilling.
Don't forget to consider the size of your guest list and the space you'll need. If you're inviting a big group of people, make sure you have a location with plenty of room for everyone to spread out.
On the other hand, if it's a smaller gathering, a smaller backyard or patio might be perfect.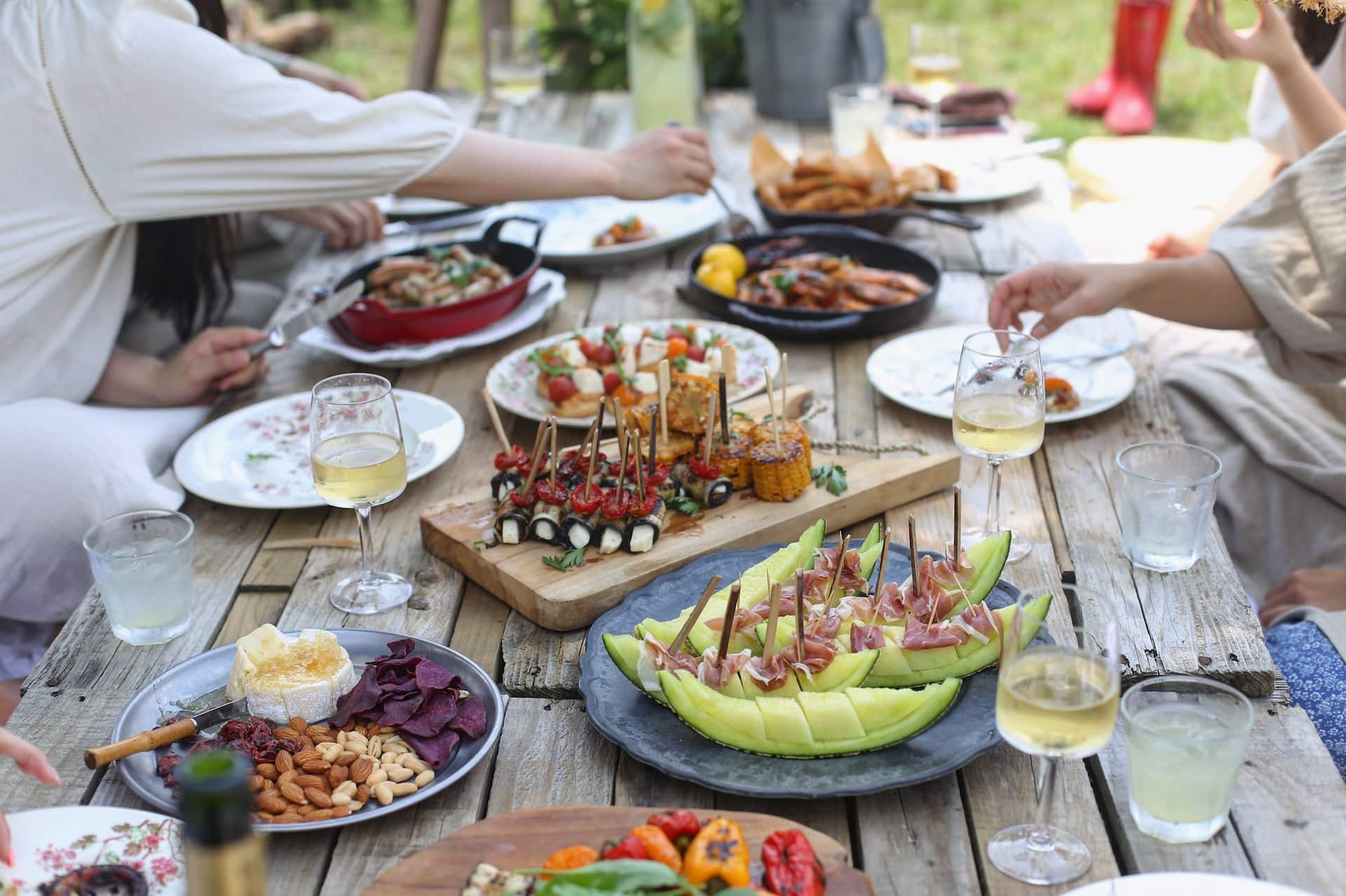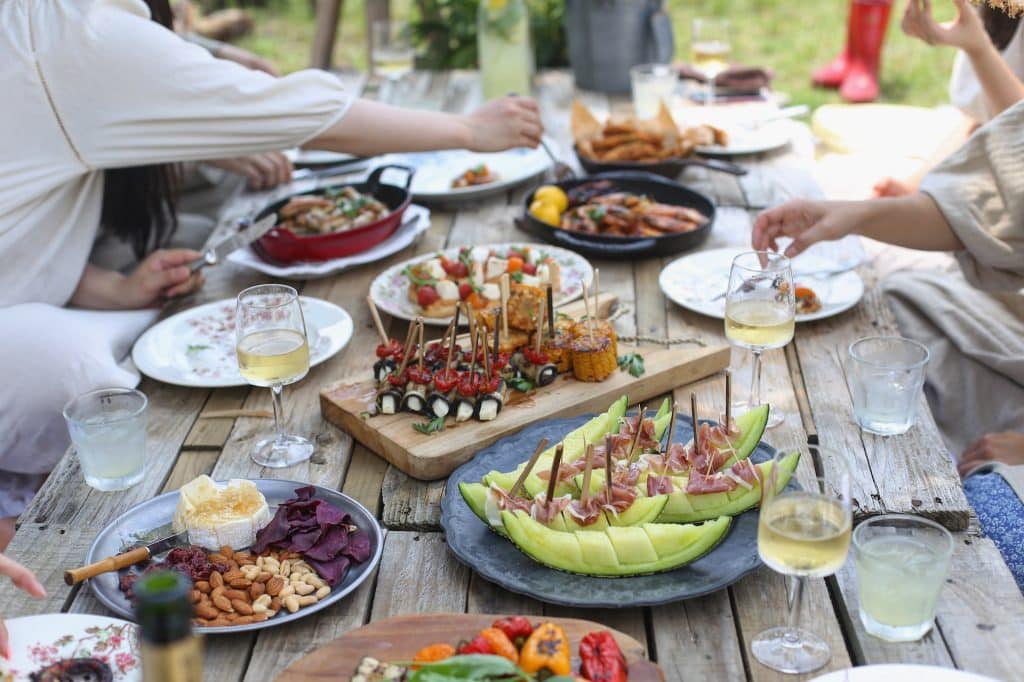 Create a guest list
Think about your space and how many people you can easily accommodate. Mix it up and invite family, friends, and neighbours.
If you want to invite colleagues, keep it casual.
Once you've got your guest list sorted, it's time to send out your invitations. You have plenty of options here:
If you prefer to go all traditional, go with paper invites. Make them yourself or buy pre-made ones, but don't forget to add all the important details like the date, time, and location. RSVP info is also important!
You can be eco-friendly by going digital! Try using websites like Evite or Paperless Post. Don't leave anything out and follow up with those who don't RSVP.
Or keep it simple and casual by using text or email. No matter which you choose, be sure to send it out at least two weeks in advance.
This way, your guests have enough time to plan and reply.
Plan your menu
Panning a successful BBQ is not just about firing up the grill.
Menu planning is super important. Your main course is the star of the show, so make sure to choose something that will delight everyone's taste buds.
Think: burgers, hot dogs, chicken, ribs, or steak. But don't forget about your guests' dietary needs – provide plant-based options too, like veggie burgers or grilled veggies.
Sides and salads are crucial too! They bring balance to the heavier main course and offer variety.
Classic options like coleslaw, potato salad, baked beans, corn on the cob, and grilled veggies are always winners.
Again, keep in mind your guests' dietary restrictions – gluten-free options like a quinoa salad or grilled sweet potatoes are a great addition.
Finally, let's talk about sweet treats and refreshing drinks! For dessert, go for something light and refreshing like fruit salad or sorbet.
But if your guests have a sweet tooth, brownies or cookies are always popular.
When it comes to drinks, make sure to provide a good selection – water, soda, beer, wine, you name it!
And why not create a signature cocktail/mocktail to impress your guests?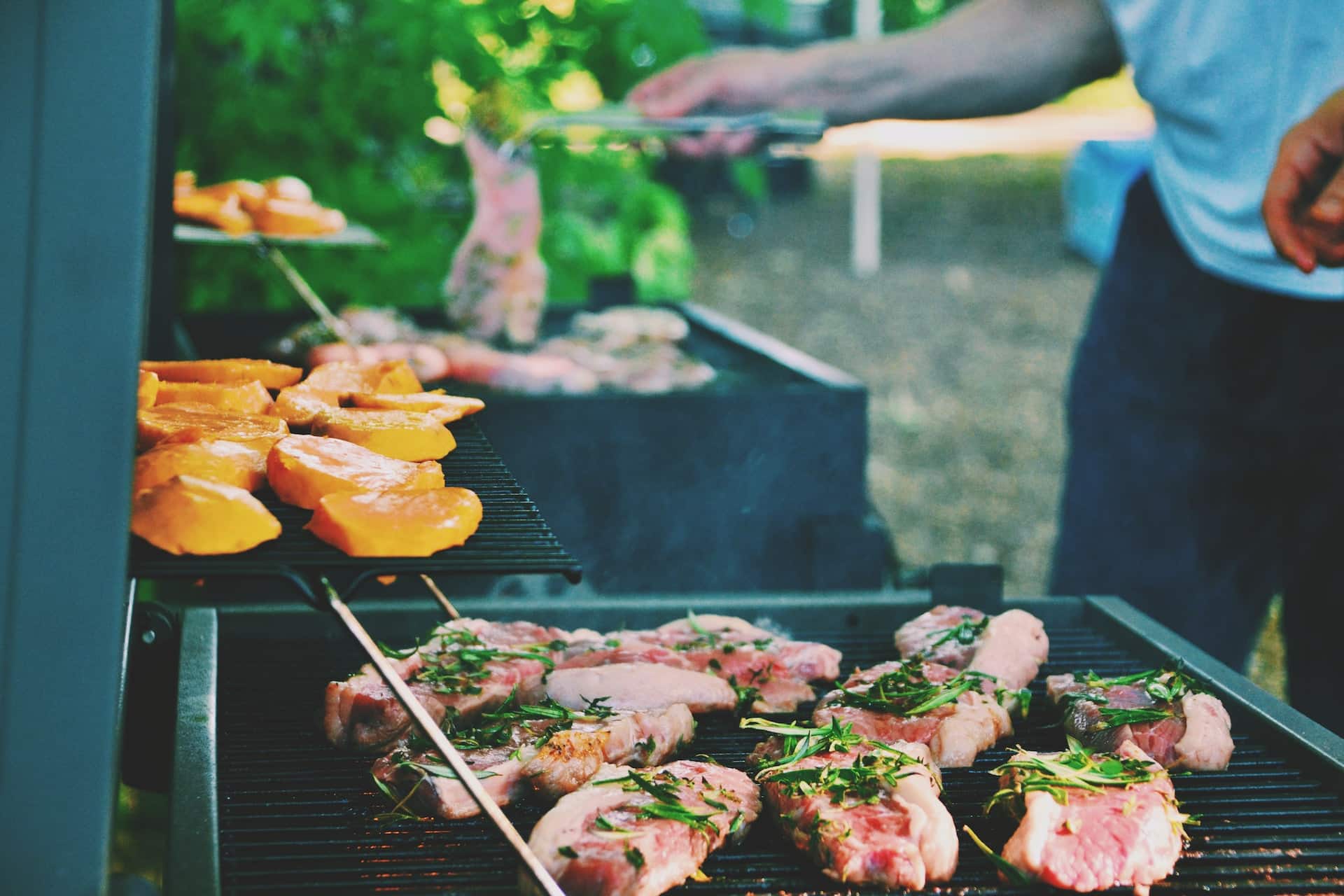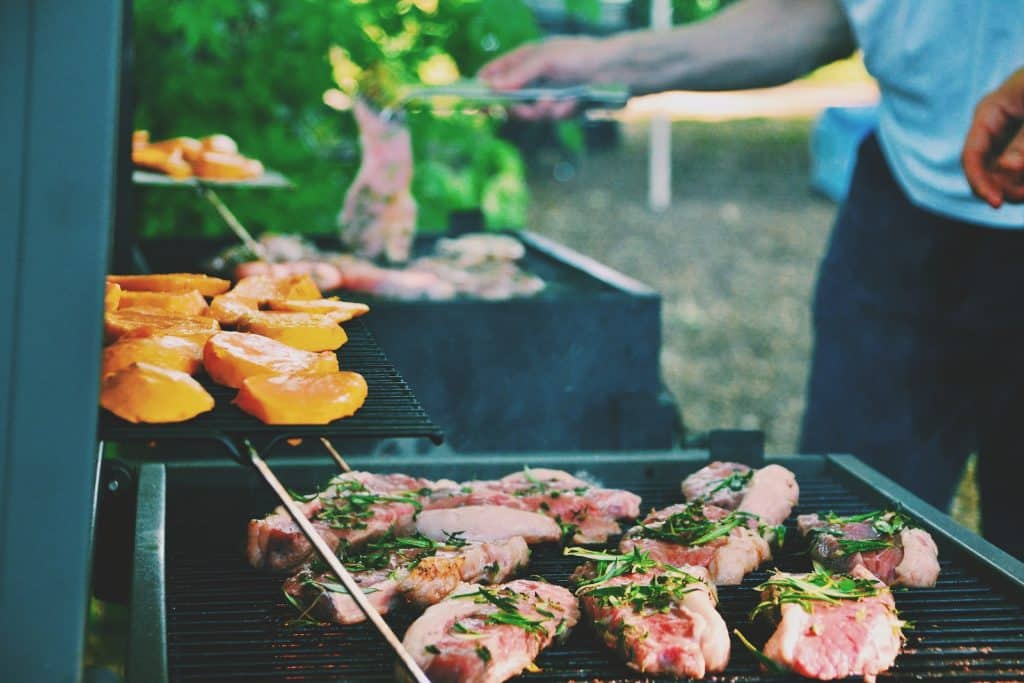 Invest in some table settings
With the right setup, your guests will feel comfortable and relaxed while they eat. Using a tablecloth or table runner is an easy way to add color and texture to your table, and it will help to hide any imperfections that may exist.
If you're planning to serve food family-style, consider using platters and bowls that can be passed around easily. You might also want to set out small plates and utensils for guests to use when serving themselves.
To make cleanup easier, use paper plates and napkins. Not only are they disposable, but they come in a variety of colors and patterns that are perfect for any BBQ.
And if you're really looking to add a rustic feel to your table, consider using mason jars or cups for drinks. They're both practical and stylish, and they'll help to create that summer vibe that everyone loves.
Finally, don't forget to add a centerpiece to your table. A vase of fresh flowers or a bowl of seasonal fruit makes a great addition, and it will add a pop of color to your table that your guests will appreciate.
Have the right grilling equipment on hand
Having a successful BBQ largely depends on having the right grilling equipment. Make sure you arm yourself with a good grill brush to scrape away excess charred bits and debris.
Tongs to flip your burgers or hot dogs comfortably and a spatula to handle delicate items like fish or vegetables.
Skewers are essential for kebabs, and meat thermometers are a game-changer in making sure your meat is cooked evenly and not over/undercooked.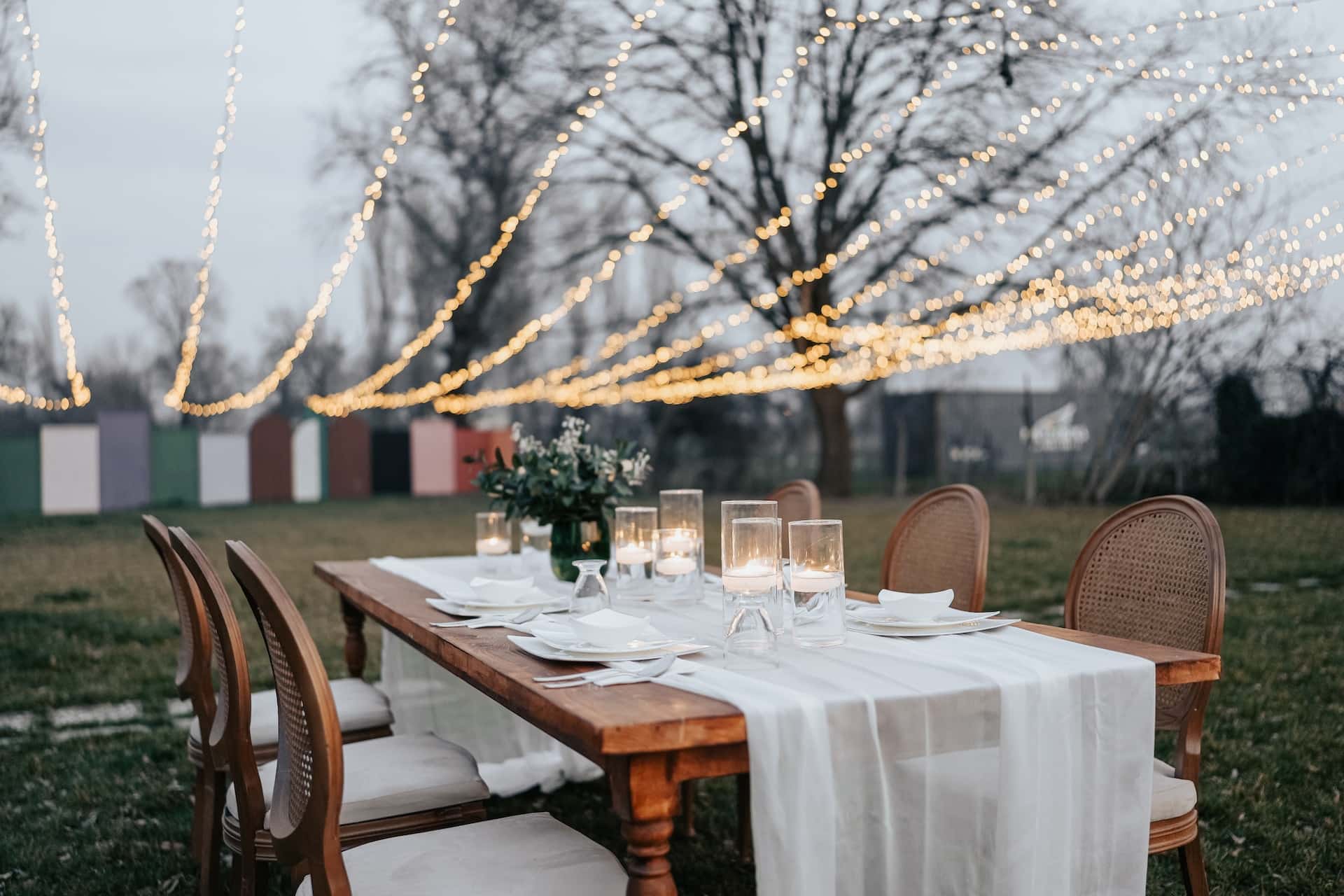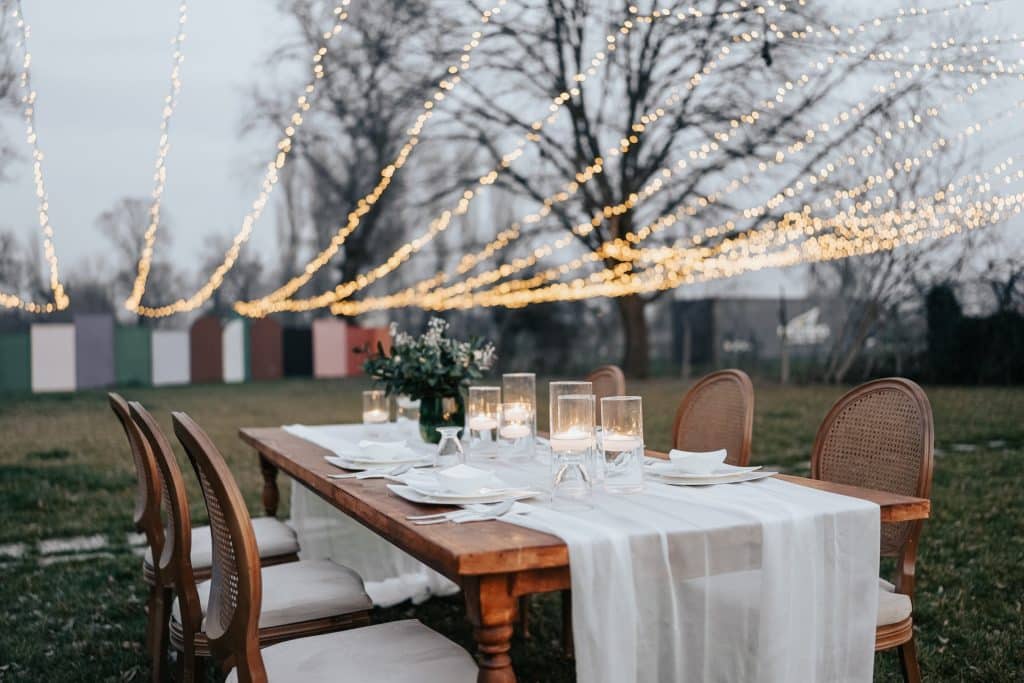 Set the mood with lighting
Want to set the perfect mood for your BBQ after the sun sets?
First up, why not add a soft and warm glow with some string lights or lanterns? They're beautiful, super popular and really easy to set up, and they'll create a really cozy and inviting atmosphere.
Next, keep those pesky bugs away with some tiki torches or citronella candles.
These will not only add a really sophisticated touch to your party but will also define the best areas of your yard for your guests to use and enjoy.
Finally, if you want to be eco-friendly, solar-powered lights are a great option.
They're charming and don't require any electricity, so they're perfect for remote areas of your yard.
Create a playlist
Music is a great way to create a fun and lively atmosphere. Create a playlist with upbeat songs that will get your guests moving and grooving.
You can also hire a DJ or live band to play music for your guests. Make sure to have a backup plan in case of bad weather or technical difficulties.
Entertain guests with games and activities
Games are such a perfect way to get everyone interacting.
You can set up a game station with classics like cornhole, giant Jenga, horseshoes, or add a volleyball or badminton net.
And if you have a pool, why not set up a volleyball net or basketball hoop? It'll be a fun dip with laughter and memories!
Consider setting up a photo booth with fun props or a cool craft station where you can make your own tie-dye shirts or exciting friendship bracelets.