Are you looking for the perfect girly drinks to order at the bar?
When you're out with friends, Sometimes you just want a drink that looks gorgeous and tastes delicious.
Girly cocktails are the perfect choice when you want something sweet, colorful and playful.
They're often mixed with vodka, rum or tequila along with fruit juices and liqueurs, so you get that nice balance of booze and sweetness.
From cult classics like the Cosmo to tropical blends like the Piña Colada, there are so many amazing girly drinks to choose from.
Some are simple enough to mix up at home for a girls' night in.
Others are best left to the pros behind the bar. Here are some of the girliest drinks you can order for your next girly night out!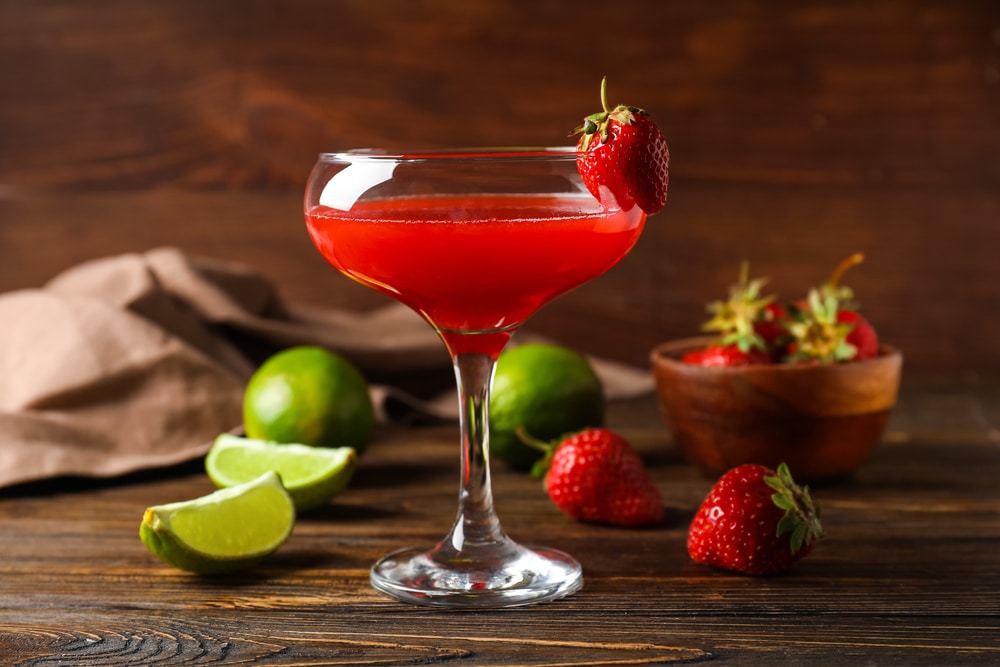 Best Girly Cocktails To Order At A Bar
1. Strawberry Daiquiri
Let's start with a classic cocktail – the Strawberry Daiquiri! This pink concoction is the ultimate summer treat. It's made with light rum, freshly squeezed lime juice, and sweet strawberry puree.
The combo of tart lime and juicy strawberry makes this cocktail sing. When you take a sip, you'll feel like you've been transported to a Caribbean beach – sunshine not required!
The Strawberry Daiquiri is usually blended with ice to create a slushy, frozen texture. But you can also ask your bartender to shake it up and strain it if you prefer a smoother drink.
Either way, it's best served in a chilled glass rimmed with sugar. Top it off with a bright strawberry slice for a pop of color.
This fruity cocktail goes down easy, so pace yourself! The rum sneaks up on you. But don't worry, with all that vitamin C from the strawberries, it's practically health food, right?
2. Cosmopolitan
You can't go wrong with a classic Cosmo. This pink cocktail is made with vodka, triple sec, cranberry juice and fresh lime juice. It's shaken hard with ice and strained into a chilled martini glass.
The tangy cranberry juice balanced with the sweet triple sec makes for an easy-drinking cocktail.
It's served with a twist of lemon or lime.
Fun fact – the Cosmo became super popular in the 90s thanks to Sex and the City! Carrie and her girlfriends always had cosmos in hand when out on the town.
3. Amaretto Sour
If you love the sweet taste of amaretto, try an amaretto sour. This girly cocktail combines amaretto liqueur with freshly squeezed lemon juice and simple syrup.
The sweet nutty flavor of the amaretto pairs perfectly with the puckering sour lemon. Give it a try if you like whiskey sours too.
It's shaken hard with ice and strained into a rocks glass. Topped with a maraschino cherry, this drink is sweet-tart perfection.
4. Pomegranate Martini
If you like a bit of sophistication with your cocktails, try a pomegranate martini. This elegant deep pink drink mixes vodka with pomegranate juice and a splash of triple sec.
Sometimes it's simply shaken with ice, while other bartenders will rim the cocktail glass with sugar for extra sweetness.
However it's made, the tart pomegranate and orange liqueur pair beautifully. It's classy enough for a nice dinner out, but sweet enough for a fun girls' night!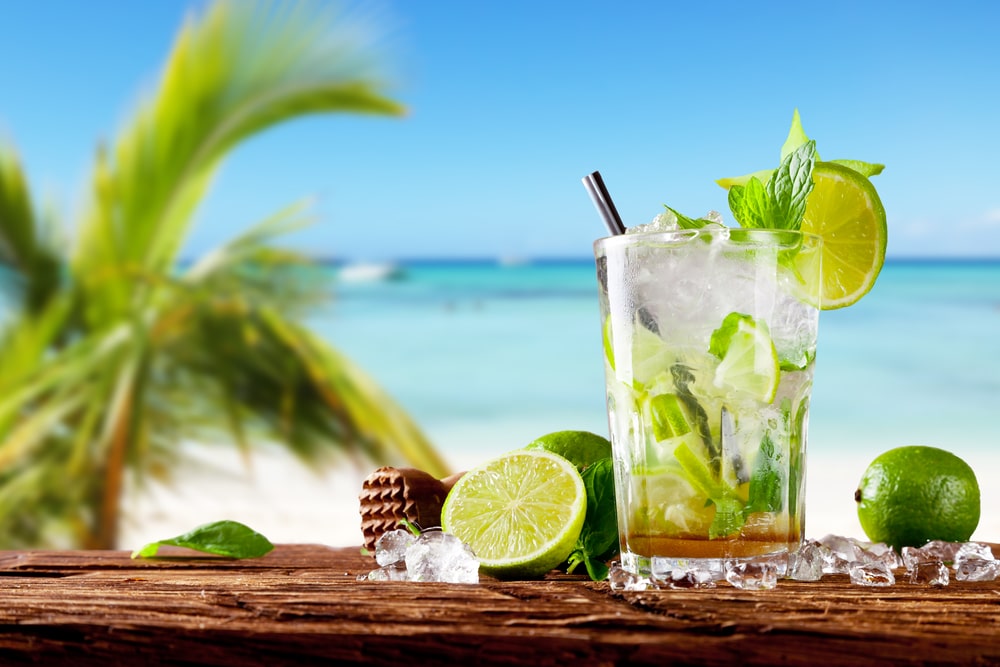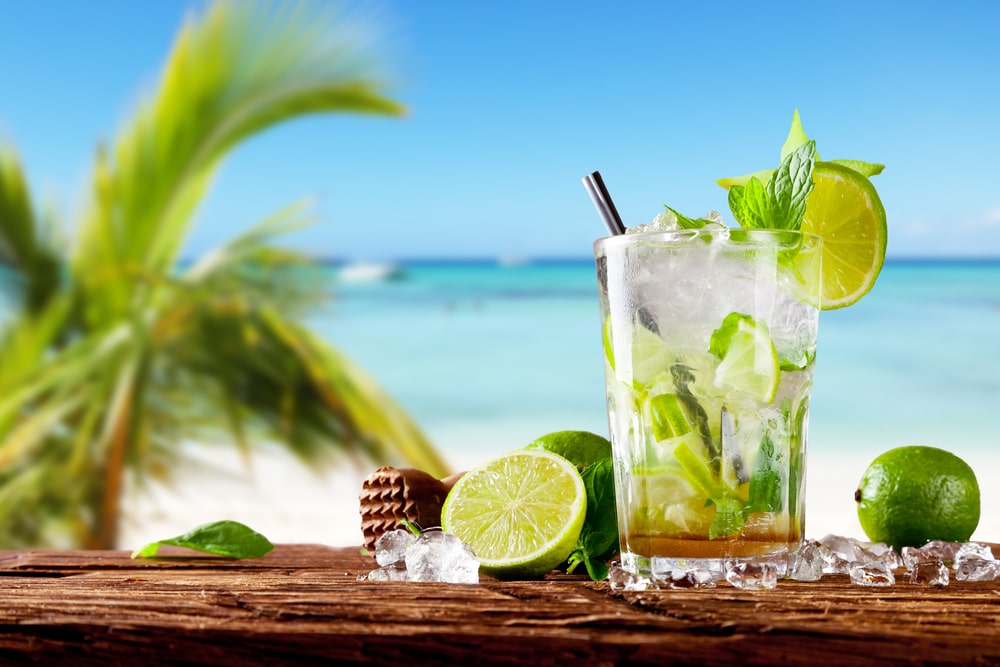 5. Mojito
When the weather heats up, nothing quenches your thirst quite like a mojito. This classic Cuban cocktail muddles fresh mint leaves with sugar and lime wedges, then adds white rum and soda water.
The fresh flavors of mint and lime are so crisp and refreshing. It's served over crushed ice with more lime and fresh mint leaves. The mojito is the ultimate summer cocktail. Kick back and enjoy!
6. Margarita
Of course, we can't forget about the classic margarita. There's a reason this tequila cocktail is so popular!
It mixes silver tequila with triple sec and lime juice, then coats the rim with salt for a sweet, salty and tangy flavor.
Margaritas can be made frozen or on the rocks, depending on your preference. Garnished with a lime wedge, a margarita truly hits the spot on a warm day.
7. Piña Colada
Love the flavors of coconut and pineapple? Then this tropical classic is the perfect drink for you!
A classic Piña Colada is a blend of light and dark rum, creamy coconut cream, and refreshing pineapple juice, usually served in a hurricane glass with a bright pineapple wedge perched right on the rim.
The first sip is like taking a vacation to a beach in Hawaii. You get the sweetness from the pineapple and coconut combining into the perfect harmony.
As you keep sipping, you'll taste the rum start to come through, though it still goes down smooth.
This is the kind of laidback cocktail that instantly relaxes you – a bit like lounging in a hammock with the sounds of the ocean in the background.
Some bars even serve Pina Coladas with little plastic monkeys or umbrellas which make for super cute pics.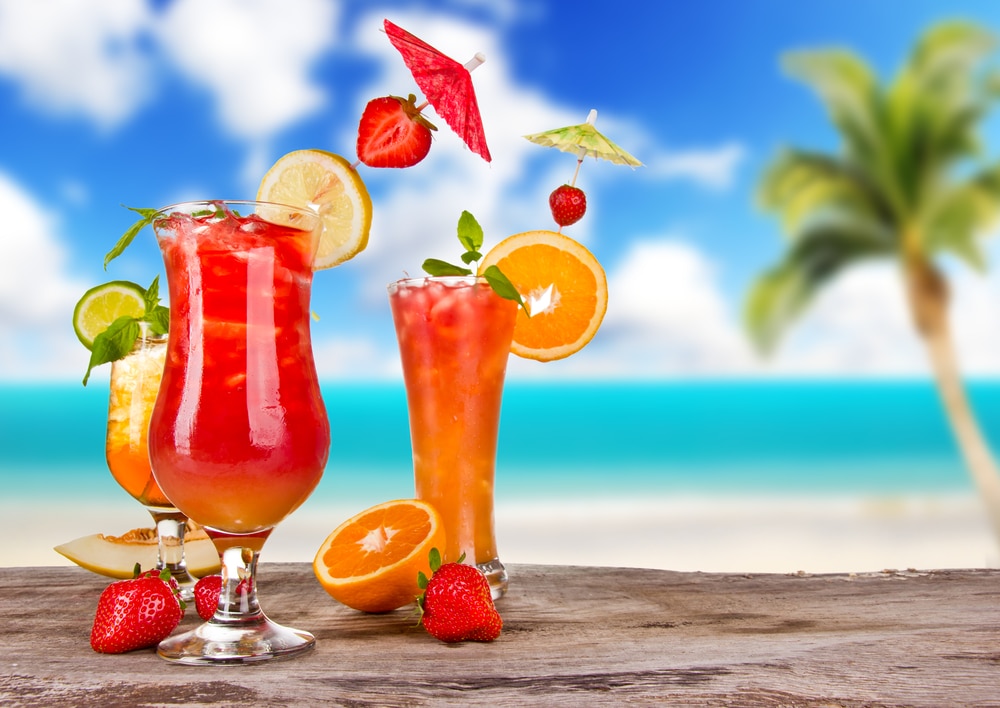 8. Sex on the Beach
Next up is a flirty classic with a scandalous name – the Sex on the Beach. This fruity concoction is made for any girly girl that loves peachy flavors.
It's typically made with vodka, peach schnapps, orange juice, and cranberry juice. When you order one, it'll arrive in a highball glass filled with ice and garnished with a slice of juicy orange.
You'll get sweet fruit flavors from the peach schnapps and orange juice, blended with the tartness of cranberry.
It's a fun drink with delicious fruity flavors. The name may be a bit naughty, but the taste is nice.
It's easy drinking, not too strong, and super refreshing.
Some variations use grapefruit juice or melon liqueur to put a different spin on it.
Either way, this is the perfect cocktail when you're looking for something sweet and peachy to sip on with your best girlfriends. It's just so fun and flirty!
9. Blue Lagoon
Looking to cool off with something pretty and blue? Enter the Blue Lagoon cocktail. This vibrant blend of vodka, blue curaçao, and lemonade is like a splash of tropical water in your glass.
The curaçao – a Caribbean orange liqueur – gives this refreshing drink its signature sapphire hue.
Its sweet orange flavor pairs perfectly with tart lemonade. Pour it over ice and garnish with a lemon wedge for an extra punch of citrus.
But watch out – that vodka has a kick. Sip slowly and appreciate the interplay of sweet and sour.
10. Fuzzy Navel
In the mood for something sweet and simple? You can't go wrong with a Fuzzy Navel!
This beginner-friendly drink is a perfect choice for someone looking for an easy-drinking, fruity cocktail.
It's made with just two ingredients – peach schnapps and orange juice.
Your Fuzzy Navel will be served chilled in a rocks glass filled with ice. You'll get juicy orange flavors complemented by sweet peach from the schnapps.
The flavors will remind you of a fresh, ripe summer peach. There's no alcohol taste at all, just sweet fruity goodness going down nice and easy.
Some bars will garnish this with a slice of peach or an orange wedge.
Either way, this fruity drink is so refreshing. The sweet peachiness makes it taste almost like sparkling fruit juice.
For a sweet alcoholic drink that's big on fruity flavor, a Fuzzy Navel is a fun, feel-good choice.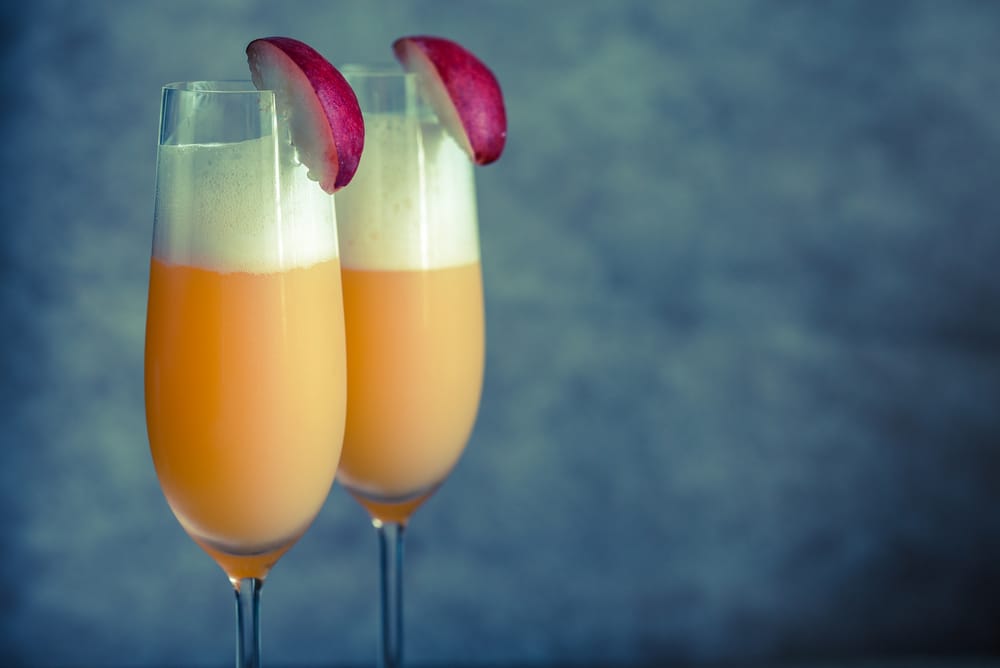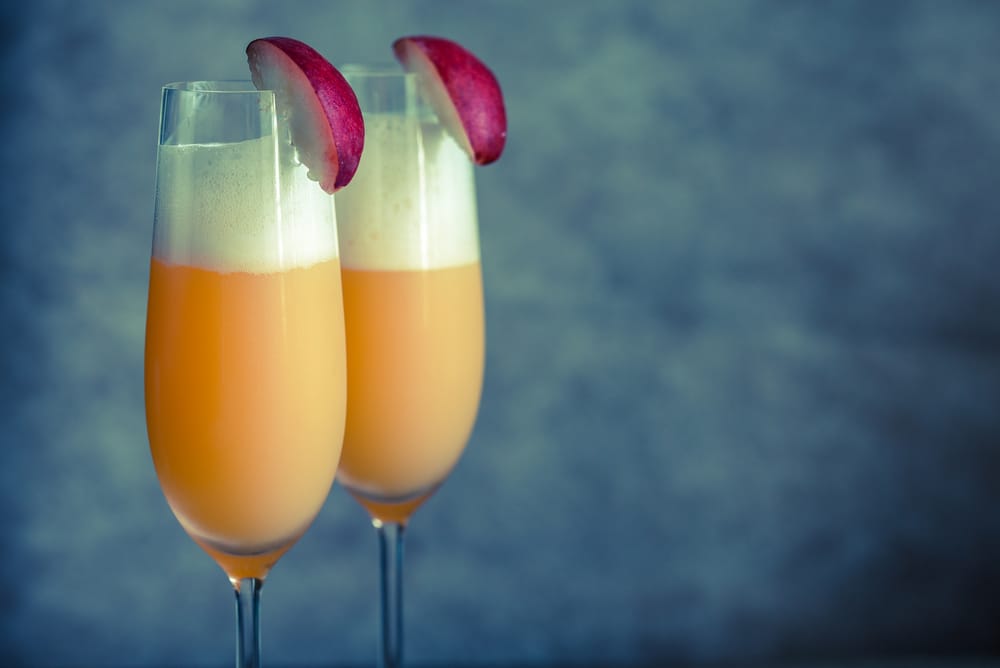 11. Bellini
A Bellini is served in a tall champagne flute. Your first taste is pure peach sweetness that feels like summer.
As the bubbles from the Prosecco pop on your tongue, you get a crisp, effervescent texture that lightens up the rich peach flavor.
The Bellini looks so classy and champagne-like when served in a flute, especially with a sliver of ripe, fresh peach as garnish.
Make sure to snap some pics of this beautiful pink drink! Any girly girl who loves the flavors of peach and bubbles needs to try this cocktail.
It's the perfect treat-yourself drink for a birthday, bachelorette party, or any celebratory occasion!
12. Singapore Sling
This legendary cocktail was created at the historic Raffles Hotel in Singapore. It has a fun story behind it too – supposedly, the bartender created it in 1915 as a new drink that ladies could enjoy at the bar.
To make it, bartenders combine gin, cherry brandy, Cointreau orange liqueur, pineapple and lime juices, grenadine, and other secret mixers.
The result is a complex, fruity concoction that will transport you to the tropical paradise.
Your Singapore Sling will arrive looking pink and tropical, garnished with a maraschino cherry and pineapple wedge.
That first taste is a complex blend of flavors – lightly boozy from the gin, sweet from pineapple and grenadine, tart from lime, and hints of cherry too.
As you keep sipping, different flavors emerge in the layers. It's exciting trying to pick out all the tastes.
This adventurous drink is sweet while still packing a punch.
13. Gin Martini
Of course, we can't forget about the classic martini! This sophisticated drink is a must-try.
Loved by James Bond, a gin martini is made by combining quality dry gin with dry vermouth and serving it chilled and straight up in a martini glass.
It's all about keeping it simple to let the botanicals of the gin shine.
Your first sip will be cool and bracing, with the piney juniper and herbaceous notes of the gin coming through.
A lemon twist garnish adds a brightness that enhances the gin's botanicals. If you prefer something a little smoother, try it with a hint of sweet vermouth.
This old school classic makes you feel instantly chic and elegant. The minimal ingredients let you appreciate the crisp flavor of expertly crafted gin.
A martini looks so dainty and delicate served up in a V-shaped glass – it's perfect for girly girls with refined tastes.
Drink this at a craft cocktail bar to really savor high-quality gin in a classic preparation.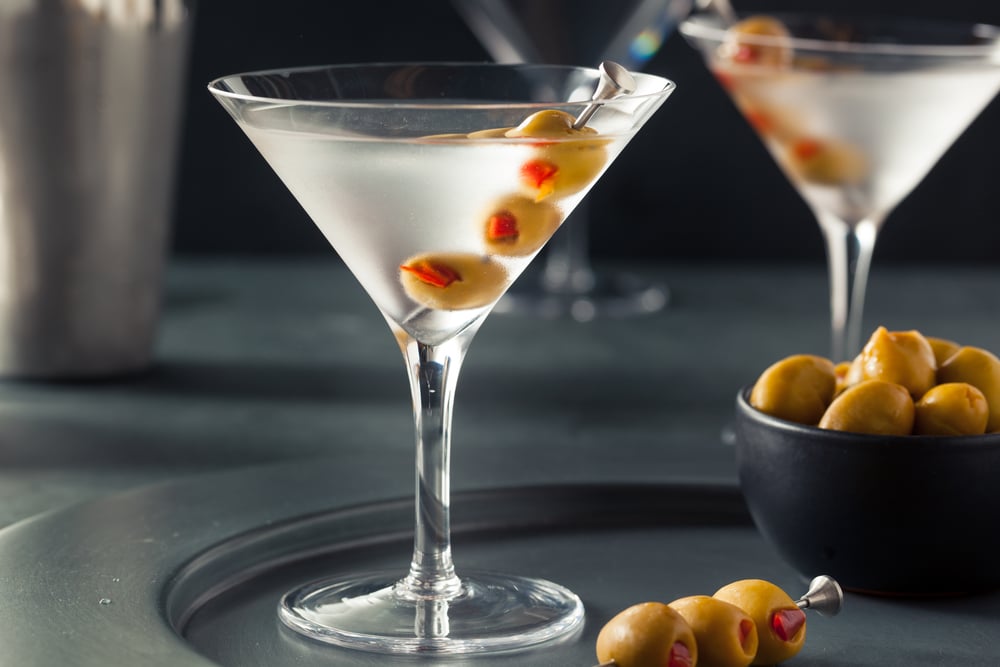 14. Vodka Martini
A fun twist on the classic is the vodka martini. Made by swapping vodka in for gin, this modern version has a smoother, cleaner taste.
The traditional way to order it is simply "Vodka martini, very dry, straight up, with a twist."
You'll first notice how smooth and creamy vodka is compared to the bite of gin. A premium vodka has subtle floral aromas and a hint of sweetness, making this martini go down very easy. The lemon twist adds a nice pop of citrus to balance out the sweetness.
This martini variation became super popular in the 90s and 00s. It's a great choice if you find gin too strong.
The vodka makes it lighter bodied and less juniper-forward, while still delivering that cool, crisp, old school martini vibe.
Try one when you want something refreshing with a touch of sophisticated flair.
15. Lemon Drop Martini
If you want a martini with a candy-sweet twist, try the delicious Lemon Drop!
This neon yellow cocktail is made by shaking vodka, lemon juice, and triple sec liqueur over ice and straining into a martini glass rimmed with sugar.
Your first sip will be sweet and tart, like a sugary lemon candy melting on your tongue. The sugar rim contrasts deliciously with the puckery lemon juice.
The triple sec adds orange and vanilla undertones to balance and round out the citrus.
This drink is seriously photogenic – its bright yellow hue looks like sunshine in a glass.
16. Chocolate Martini
Calling all chocolate lovers – this cocktail is for you!
A chocolate martini hits all the sweet notes by combining chocolate liqueur and vodka with a dash of cream. It's basically like liquid dessert.
You'll immediately smell the rich chocolate aroma as soon as your martini arrives, usually with a rim crusted in cocoa powder or chocolate shavings.
Your first velvety sip tastes just like a chocolate truffle – smooth, creamy, and decadent. The vodka adds a touch of warmth to complement the sweetness.
This sweet drink makes you feel indulgent, like you're spoiling yourself to a molten chocolate lava cake.
It's incredibly rich though, so it's best to take your time with it. If you have a major sweet tooth, this is the ultimate cocktail treat.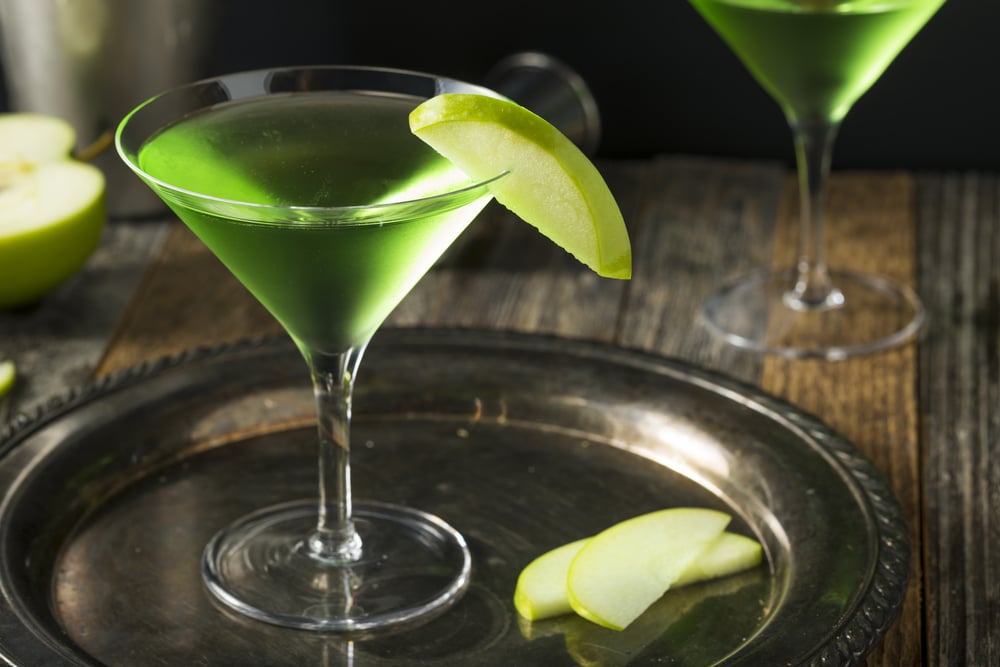 17. Appletini
If you want something fruity and fun, pop over to the Appletini!
This neon green cocktail is made by shaking vodka with apple schnapps and sweet-tart lemon juice.
It's typically strained into a martini glass and garnished with a thin apple slice.
Your first sip tastes like a sour green apple Jolly Rancher melting onto your tongue – candy sweet with puckery tart apple flavors.
As you keep sipping, you'll notice the alcohol kick from the vodka. Make sure to stir this cocktail thoroughly before drinking so the beautiful green color mixes throughout.
The Appletini is such a vibrant, happy looking drink. Its bright green hue is so Insta-worthy and looks great with any outfit.
And though it tastes like liquid candy, it still packs a boozy punch thanks to that vodka.
18. Paloma
Ready to take your tastebuds on a Mexican vacation? Try an icy cold Paloma cocktail!
This sweet-tart sipper is made with tequila, grapefruit soda, and freshly squeezed lime juice. It's typically served over ice in a salt-rimmed glass and garnished with a lime wedge.
The first thing you'll taste is the salt on the rim contrasting deliciously with the sweet grapefruit soda.
As you keep sipping, the grassy, herbaceous tequila comes through, followed by a bright pop of lime.
This cocktail is so refreshing on a hot day – the bubbly grapefruit cuts through the stronger tequila.
The Paloma often comes served in a cute glass bottle, making it super Insta-worthy.
19. Strawberry Lemonade Vodka
Nothing says summer like strawberries and lemonade! This girly cocktail combines fresh strawberry puree and lemon juice with vodka and simple syrup.
Typically served chilled over ice and garnished with a juicy strawberry or lemon slice.
The strawberries add juicy fruitiness that balances out the puckery lemon juice.
As you keep drinking, you'll get an undertone of vanilla and a light kick from the vodka too.
The sweet berry flavors make it super easy to drink. Plus, it looks so pretty in the glass with its pink hue!
Drink Responsibly!
Well there you have it – lots of delicious girly cocktail drinks to try on your next fun night out! Just remember to always drink responsibly.
Pace yourself, hydrate with water in between cocktails, and don't drink on an empty stomach. Having a great time with your girls is the priority.
The most important thing is that you feel safe, comfortable, and can get yourself home safely at the end of the night – whether that's by rideshare, public transit, or having a designated driver.
Never feel pressured to overdo it on the cocktails. Listen to your own limits and you'll have the best time!