Get ready to meet your new BFF – the iconic Jacquemus top!
Created by the one and only Simon Porte Jacquemus, these tops mix minimalist design with bold, eye-catching shapes to strike that perfect balance of sophistication and playfulness.
Whether you're dressing for a formal event or just a casual day out, you can find Jacquemus top that adds that fashion-forward edge to an otherwise laidback look.
Let's explore all the amazing ways to style it for any occasion!
Formal Event
When you need to dress to impress for a glamorous formal event, the Jacquemus top is the star of the show!
Make it the centerpiece of your look by pairing it with tailored high-waisted pants in a color that complements the top. Go for a sleek, monochrome vibe to create an elongated silhouette.
Add a pair of bold stiletto heels to maximize the drama. The height and poise will make you look and feel like you just stepped off a runway!
Since the Jacquemus top already packs visual impact, keep other accessories minimal. A delicate gold necklace or eye-catching statement earrings are all you need.
When it comes to your bag, grab a clutch in the same color family as your outfit. This keeps the palette cohesive while adding a dose of practicality. With your Jacquemus top as the focal point, you'll be red carpet ready in no time!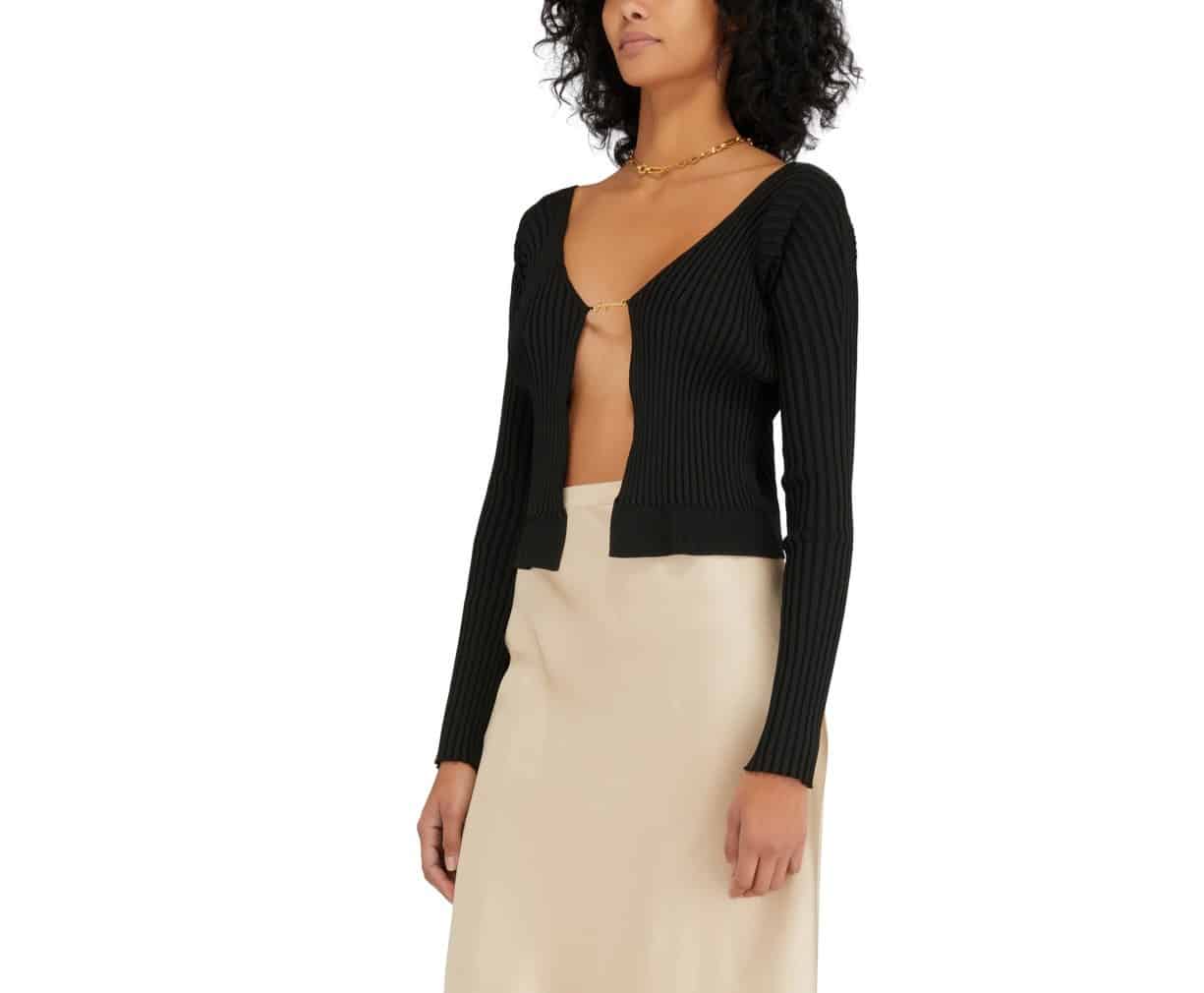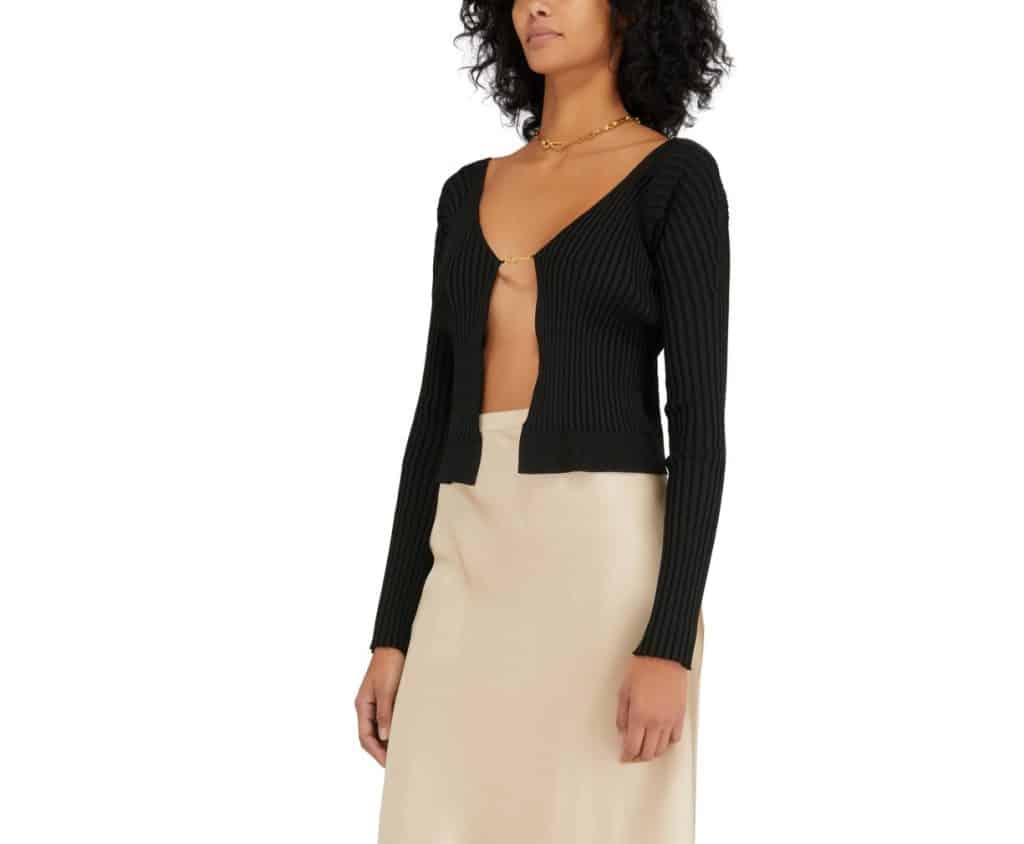 Casual Day Out
The beauty of the Jacquemus top is its versatility. It transitions seamlessly from formal occasions to laid-back daytime wear! For a casual day out, start by tucking the top into a pair of high-rise jeans. This creates a flattering silhouette while maintaining that carefree vibe.
Complete your outfit with stylish sneakers in a fun pop of color. Now you're ready to take on the day in designer style!
Head out for some window shopping or leisurely brunch with friends. Your Jacquemus top elevates the look while keeping total comfort.
Throw a crossbody bag over your shoulder to hold essentials like your phone, wallet and lipgloss. This adds practicality so you can focus on enjoying your day, whether you're indulging in retail therapy or exploring a new part of the city!
Evening Affair
As the sun goes down, it's time to dial up the glamor factor. When you have an evening affair or event, use layering to transform your Jacquemus top into a look that's evening chic.
Start by sliding it underneath a tailored blazer. This adds structure and sophistication. Make sure the blazer highlights the unique neckline or silhouette of your top. For the bottoms, wide-leg trousers create balance and flow to the outfit.
Pointed-toe pumps are a must for elongating your legs. Their sleek silhouette adds height and elegance to complement the top's daring details.
When it comes to accessories, think statement jewelry! Look for eye-catching earrings or a necklace that complements the neckline cut of your top. With this powerful layering combo, your Jacquemus top goes from day to evening in a glamorous instant!
Strolling Outdoors
If you're spending the day strolling through a park or outdoor market, your Jacquemus top effortlessly channels breezy, easygoing charm. For a relaxed vibe, pair it with denim cutoffs or shorts. The casual bottoms let the top shine as the stylish centerpiece.
On your feet, slide into comfy designer sneakers or sandals. They'll transition seamlessly from day to night if you decide to grab a bite at an outdoor cafe. A bucket bag is the perfect practical accessory for carrying sunscreen, snacks, your phone and other essentials.
With this combo, you can soak up the sunshine and scenery while serving designer realness.
Date Night
What better way to wow on date night than by breaking out your sensuous Jacquemus top? For an elegant silhouette perfect for an intimate dinner or evening out, pair it with a high-waisted pencil skirt and bold heels.
The streamlined skirt creates a statuesque shape to highlight your top's striking neckline or back details. Make sure to choose heels that elongate your legs and tie into the color palette of your look.
When it comes to accessories, keep them minimal but eye-catching! A diamond necklace or sparkling drop earrings draw attention to your face and your Jacquemus top's exquisite details.
Grab a sleek clutch to hold essentials for the evening. With this powerful combo, your top takes center stage for a date night look that's sure to stun!
Beach Getaway
Even on vacation, you can rock designer style thanks to the versatility of your Jacquemus top! For a beach getaway, start by layering it over a chic bandeau bikini or one-piece swimsuit.
The bold top makes your swimwear instantly fashion-forward.
Next, slip on a breezy, lightweight maxi skirt coverup in a tropical print or vibrant color. This adds dimension while still keeping you cool and comfortable under the sun. To embrace the island vibe, slide into strappy, bohemian-inspired sandals.
Don't forget your accessories! A wide-brim sun hat is essential for both shade and style. Look for one with a ribbon or bow for vacation elegance. Shell bracelets, hoop earrings, and a beach tote bag finish this look off to perfection!
Whether you're strolling the shoreline or grabbing a piña colada at a beachside café, your Jacquemus top elevates your whole ensemble. You'll turn heads without compromising comfort!
Garden Party
When the invite says garden party, your Jacquemus top lets you nail comfort and style. The secret? Pairing it with a fluid, feminie bottom half.
Try a floral high-waisted skirt or breezy A-line skirt in a pastel hue like pink, yellow or blue. The soft, dreamy tones complement a garden landscape while the silhouette adds movement and grace.
Strappy block-heel or pointed-toe flats work double duty, keeping you comfortable across lawn spaces while adding refinement. Top the look off with a whimsical wide-brimmed hat adorned with ribbons or bows. It brings everything together with a touch of Garden-party polish.
With its delicate, dreamy vibe, this look lets your Jacquemus top shine amidst the flowers and greenery. You'll be the embodiment of garden-party chic!
In a nutshell
You see? The versatile Jacquemus top is your new bestie, ready to complement your personal style for any occasion. Formal or casual, day or night, vacation or garden party – this piece adapts beautifully. With its masterful minimalist design and daring silhouettes, you can craft so many looks around your Jacquemus top. Wear it on repeat and own your next event in designer confidence!