Have you ever found yourself sitting at home on a Friday night, wondering why you don't go out more with your girlfriends?
Do you miss those carefree nights staying up way too late, laughing hysterically about absolutely nothing?
Life has a way of getting in the way of quality time with your closest friends. Work, relationships, kids, responsibilities – they all cut into the girls nights out you used to take for granted.
Before you know it, you've lost touch with those girlfriends who were once your sisters.
But it doesn't have to be this way! While you can't control the obligations in life that bog you down, you CAN take charge and make prioritizing your friendships a priority again.
And what better way than to bring the girls night fun to the comfort of your home?
A girls night in allows you to bond heart-to-heart without the hassle of having to drive home exhausted or shouting over the music in a crowded bar.
A fabulous girls night in bash revolves entirely around quality time and making memories with your very best girlfriends.
So get ready to laugh until it hurts, talk until the sun comes up, and rekindle those friendships that nourish your soul.
Use this guide to plan the most spectacular girls night in party ever!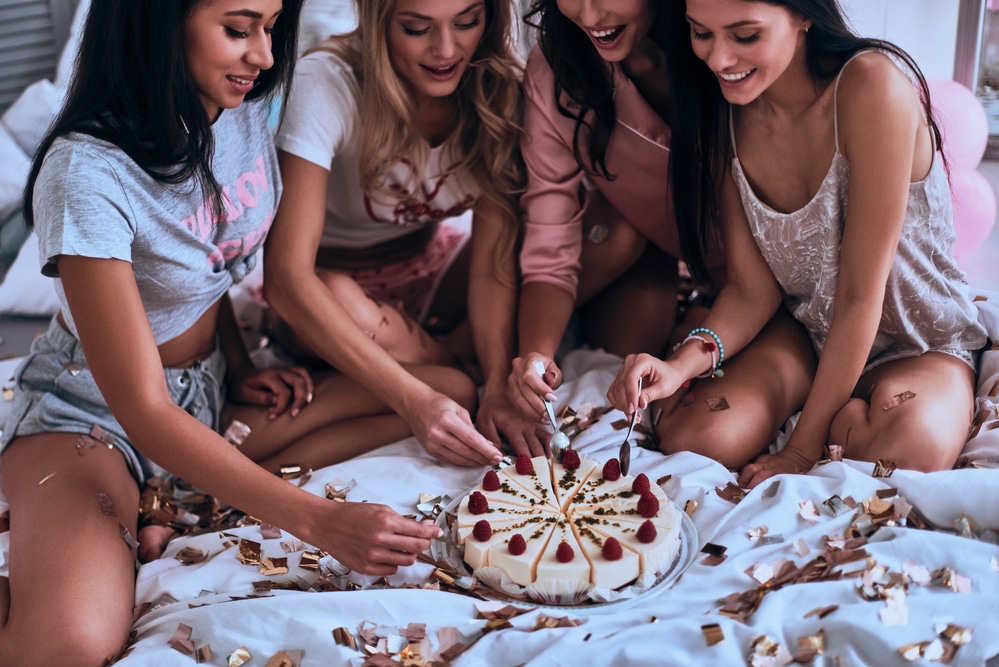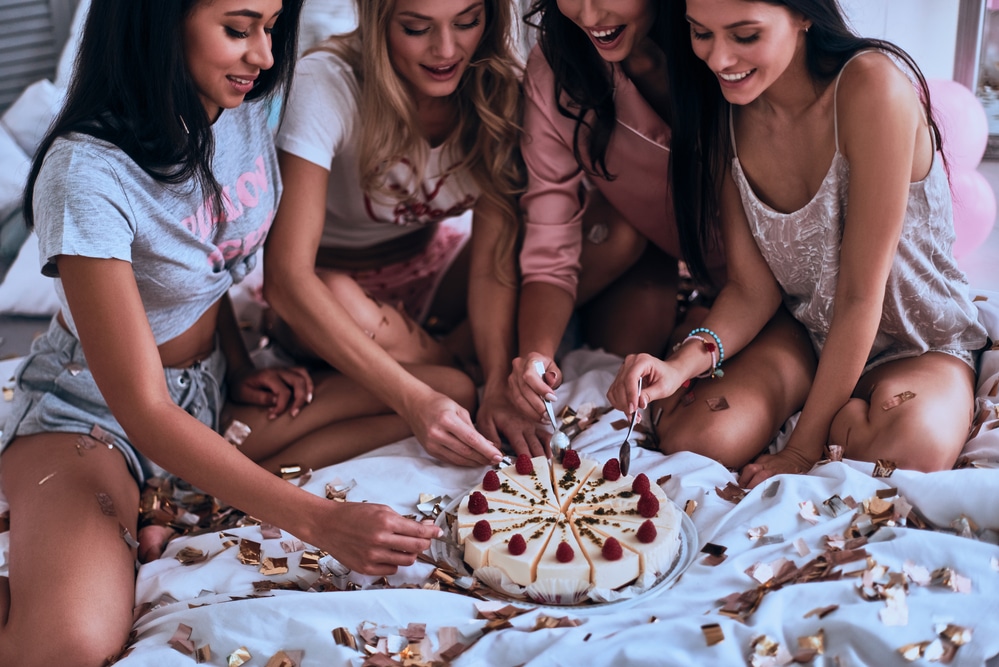 Plan Fun Activities
The activities are what make a girls night in extra special. Plan a variety of games, crafts, pampering activities and entertainment to keep the night flowing with fun. Consider these ideas when brainstorming the itinerary:
Movie Night
A movie marathon is a classic girls night activity. Let guests vote on feel-good chick flicks and romantic comedies to watch. Don't forget the tissues!
Makeovers
Set out nail polish, makeup, hair products and accessories for DIY makeovers. Give each other manicures, practice new hairstyles and test makeup looks. Use it as an excuse to pamper yourselves!
Games
From silly sleepover games like Truth or Dare to trendy new games you can buy or print out, there are tons of fun options! Do a Google search to find lists of games suited for a girls night.
Crafts
Get creative with crafts like making vision boards, jewelry, pillows, cards or customized tumblers. Browse Pinterest or Etsy for cute DIY project ideas you can do together.
Karaoke
Belt out your favorite tunes! Download karaoke versions of popular songs. Break out hairbrushes as microphones for a giggle-filled sing-along.
Photo Booth
Set up a DIY photo booth station with fun props like boas, silly glasses and signs. Snap lots of pics to remember the night!
Mix and match activities to design a schedule that fits the interests of you and your friends. And don't over-plan ? be sure to leave time for chatting and bonding too!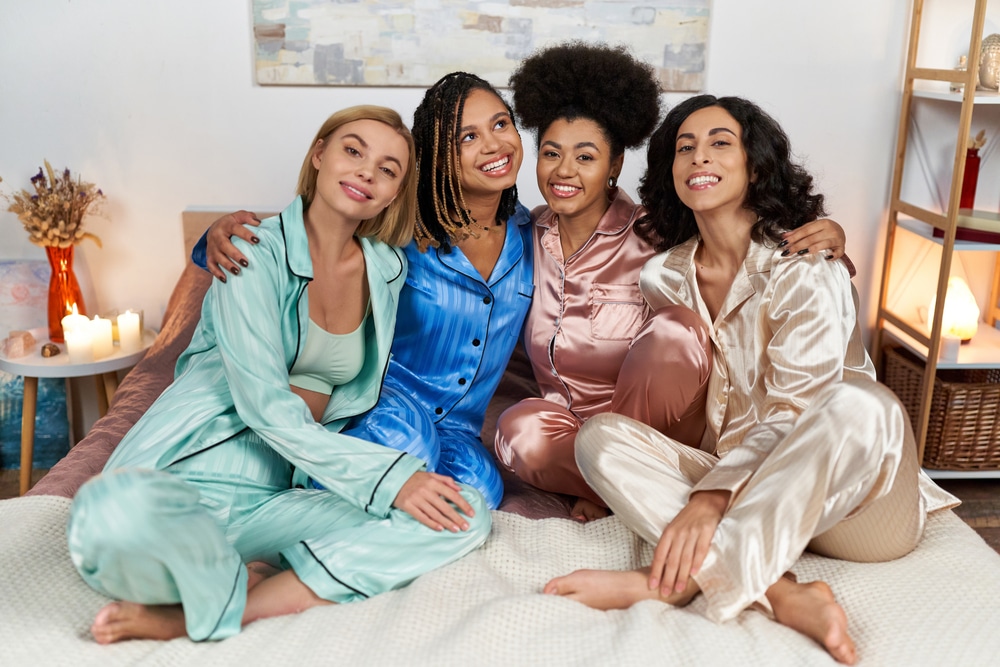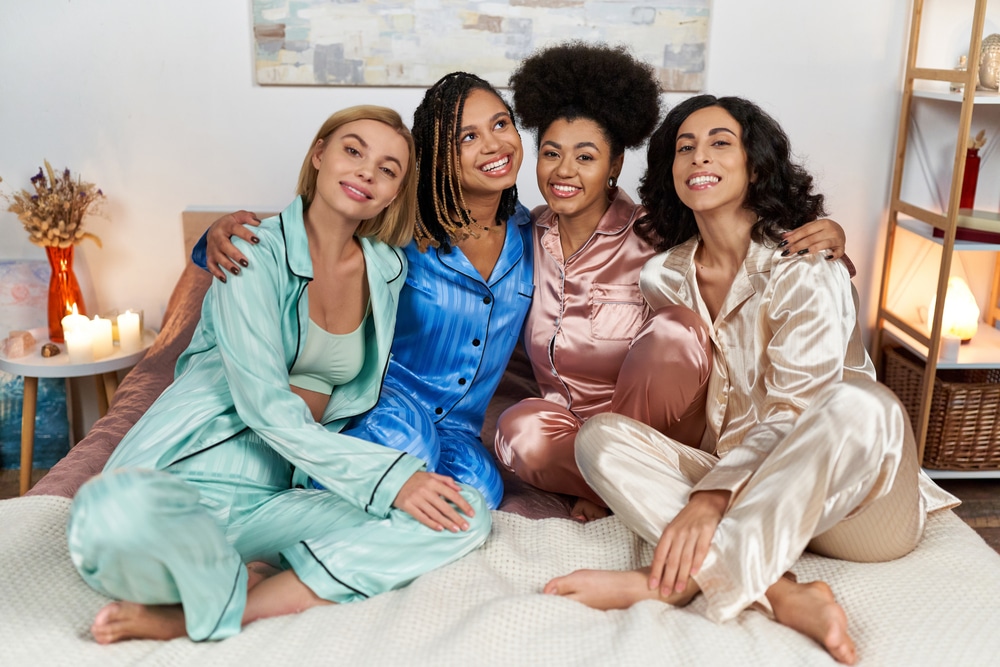 Prep Decorations
An easy way to get guests excited the moment they walk in the door is to decorate with fun girly touches. Use pink, gold, rose gold, glitter, tassels, flowers and more to give off major girls night vibes.
Here are some quick and cute decor ideas:
Hang string lights for a cozy glow
Display fresh flowers in vases
Use candles and lanterns as ambient lighting
Set out fuzzy pillows and blankets
Tie balloons, streamers or tassel garlands
Sprinkle confetti or glitter
Use floral or polka dot plastic tablecloths
Set up a customizable photo backdrop or selfie station
You don't need to go overboard with decor ? just a few touches here and there are enough to make it festive. The main event will be the laughter and memories made with your besties!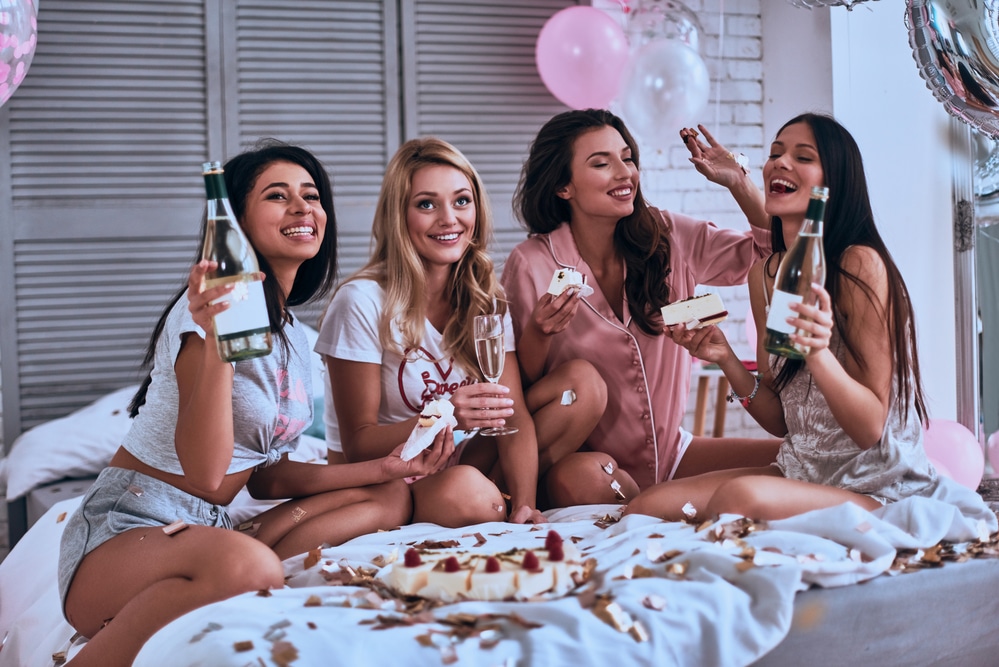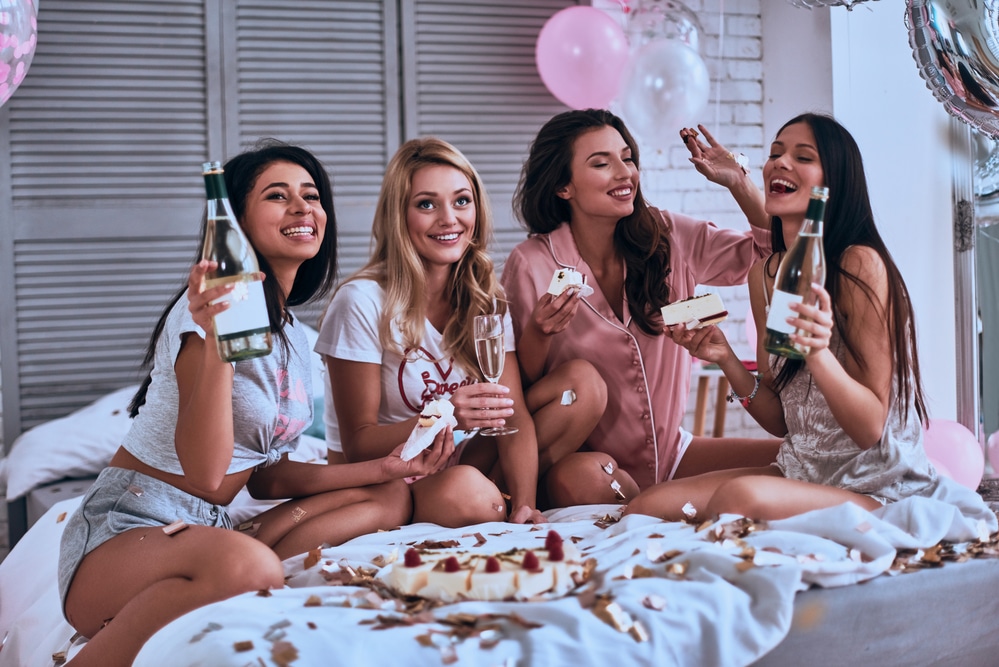 Provide Yummy Bites and Beverages
Of course, no girls night in is complete without tasty treats and sips! When prepping the food and drinks menu, opt for easy crowd-pleasing bites and cocktails that can be premade or whipped up quickly.
Food Ideas
Charcuterie grazing board with cheeses, meats, nuts, fruit
Bruchetta or flatbread bites
Quesadillas or pizza bites
Chips and guacamole or hummus
Veggies and ranch dip
Popcorn bar with fun toppings
Fondue station
Make-your-own tacos or sliders
Cupcakes, cookies, brownies or other sweet treats
Drinks Ideas
Custom cocktails or mocktails
Wine, champagne, and spritzers
Margaritas or sangria
Hot chocolate bar
Fizzy juices, lemonade, teas
Mason jar infused waters
Set everything up buffet-style so guests can nibble and sip throughout the night. Use colorful dishes and fun glassware to take it up a notch. Stock up on napkins and pour drinks into plastic cups or stemless glasses to prevent spills during activities.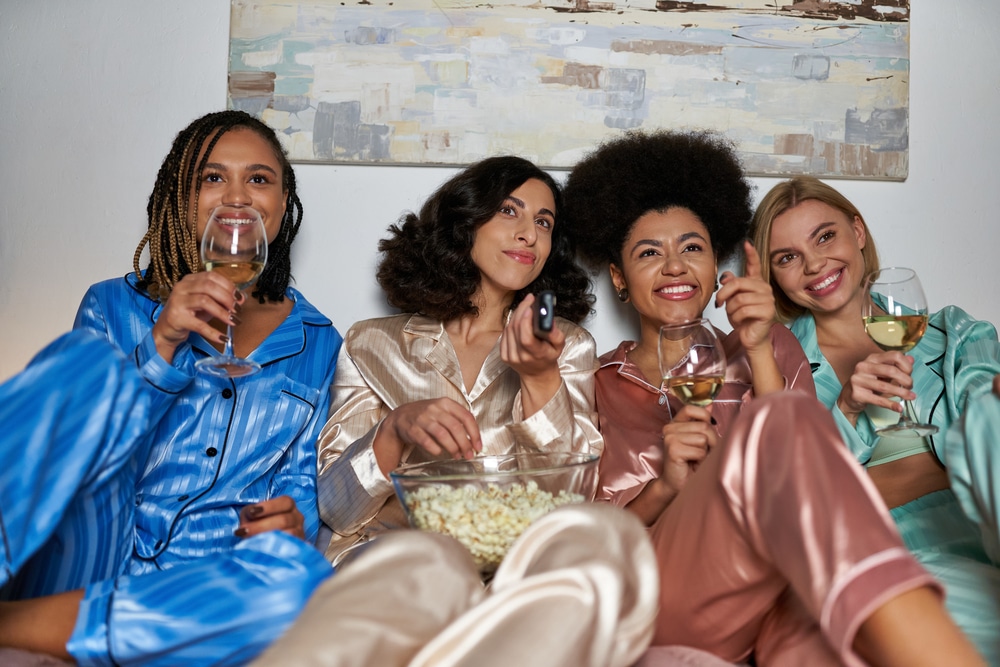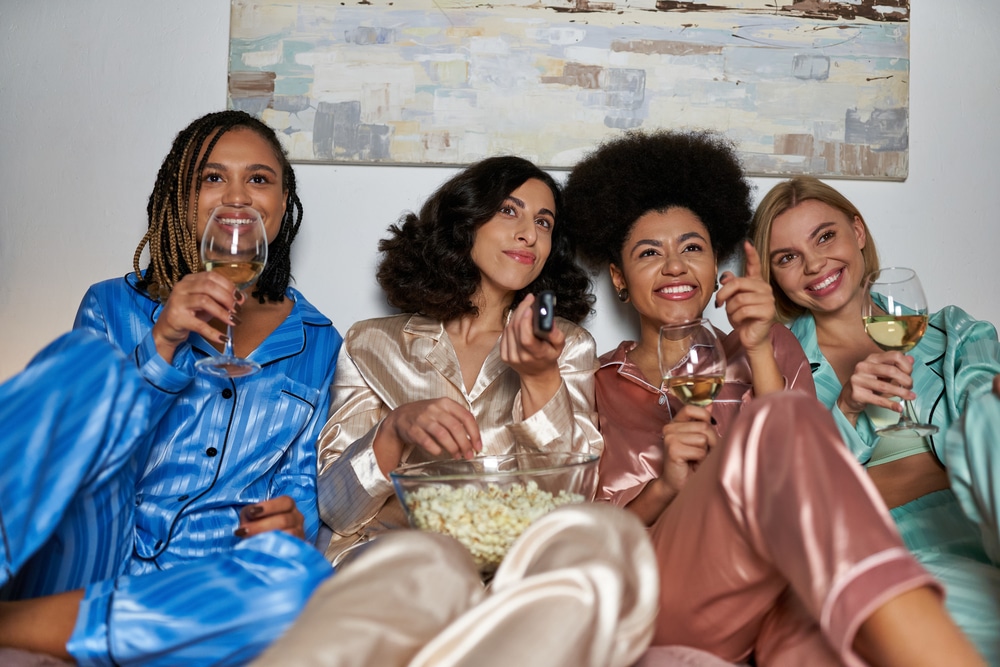 Make a Playlist
What's a party without music? Create a girls night soundtrack filled with songs that will get the good vibes going. Some playlist ideas:
Throwback jams from high school or college days
Chart-topping hits and dance tracks
Empowering female anthems
Sentimental and bonding tunes
Guilty pleasure songs everyone knows the words to
Make it collaborative by asking guests to add their song suggestions. Hook up the speakers, connect a streaming music service like Spotify and let the tunes flow all night!
Capture Lots of Photos
When the night winds down, you'll want to remember all the fun you had. Take lots of pics together throughout the evening to memorialize the experience and laugh about later.
Stage some posed photos in your party outfits and decor before things get too messy! Capture candid moments during activities, crafts and dance parties. Ask a friend to be the official event photographer to snap photos while you mingle.
Towards the end of the night, gather everyone together for a group shot. Afterwards, share all the photos on social media or a shared online album so everyone can relive the memories.
Have a Blast!
There you have it…everything you need to throw a spectacular girls night in bash! The most important part? Let loose, be silly, get a little wild and really cherish the quality time with your closest girlfriends.
Dance like nobody's watching, laugh until your stomach hurts, and make memories to last a lifetime. Stay up way too late talking about anything and everything.
Have an absolute blast celebrating your friendship! Don't forget to schedule the next girls night date before the end of the evening.