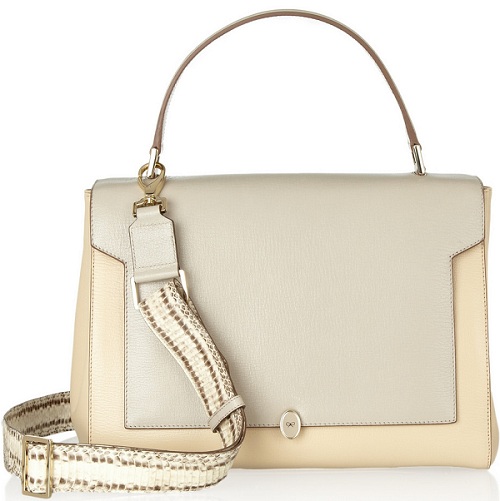 A bag with enough substance to make it a lasting addition to your wardrobe and not just a fleeting fling with fashion is difficult to come by.
The 'It' bag has, to a certain extent, plagued every handbag enthusiast's mind,  turning us towards a hot-right-now mentality to bag shopping, rather than seeking out that exclusive investment that'll make us look back on these expensive purchases with a sense of pride.
The Bathurst Bow Soft Satchel from veteran investment bag designer, Anya Hindmarch, had us double-taking when we realised its sheer potential for ending up in our wardrobes. Practically proportioned and doused in neutral hues, it appears to be more than just instant eye-candy, luring us in with its multi-purpose exterior.
But before being sold on the Bathurst, we decided to weigh up the reasons we're saying YAY and NAY to parting with our hard earned (plastic) cash:
Yay
Neutral colour: The pale colour-block design is every minimalist's dream come true, and with two different detachable handle styles, there's plenty of wardrobe versatility.
2-in-1 bag: If you're drawn to ladylike bags, Anya Hindmarch is your go-to label. Good news is the Bathurst gives you both: a feminine top handle bag and a practical satchel option.
Spacious: The gusseted sides and roomy suede-lined interior will ensure you can fit in all the essentials, with room to spare.
Nay
Stain magnet: We all know, veering into pale/white territory can be as stylish as it can be disastrous. If you're going to make good daily use of the Bathurst Satchel, the cream exterior may take a stain-ridden battering, frankly leaving you heartbroken.
Price: A luxe investment means coughing up copious amounts of cash, and at £1,567.11, we're not exactly going to say it's a satchel at a snip!
Not a day-to-night option: For the money you'll be pouring into snapping up the Bathurst, getting maximum use out if it will be your top priority. But given its large dimensions and not-so-cocktail appropriate style, it'll only serve you well until you leave the office. If only there was a concealed, pull-out clutch inside…
Will you be snapping up the Bathurst? Shop the bag here.
This post appeared first on MyFashionLife.com. We claim no credit for any images posted on this site unless otherwise noted. Images on this website are copyright to their respectful owners and credited to the original source where possible.