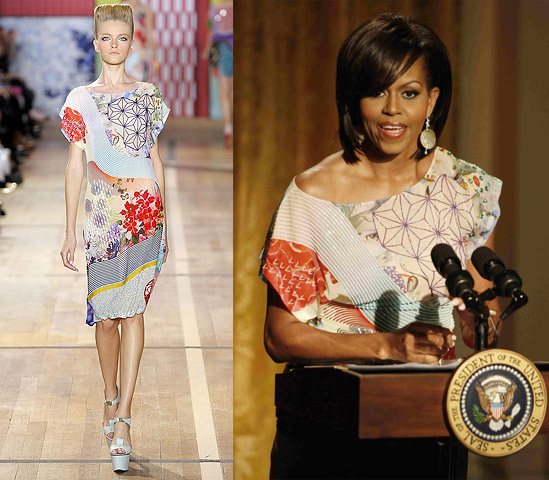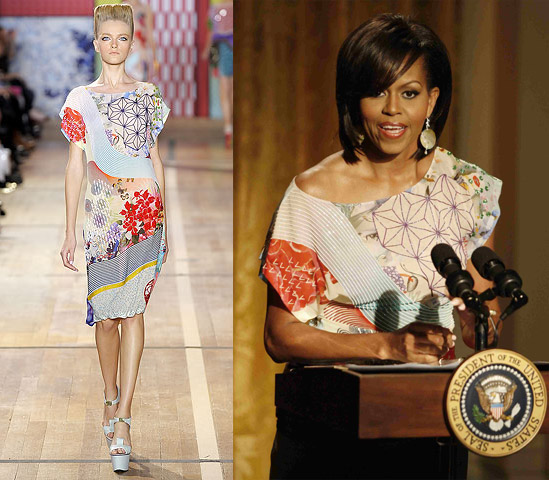 Michelle Obama is a phenomena, she has managed to create her own look and pioneer young designers throwing them into design superstardom. And for her latest style outing the First Lady was seen wearing a British designer.
Michelle wore a gorgeous Spring/Summer 09 Basso & Brooke top to the White House Evening of Poetry and Music. She teamed her gorgeous top with a pair of white Maison Martin Margiela cropped trousers along with some statement silver shoes.
It is exciting to see her wearing Basso & Brooke who are a fabulous design duo but who have yet to gain the status of designers such as Matthew Williamson or Jonathan Saunders.
Unsurprisingly the designers behind her fab top were pretty excited, Basso & Brooke told Vogue.com:
"We were amazed when we saw the picture, She is such a strong, stylish lady – redefining a woman's wardrobe – and for her to select us is an honour. The evening was a music and poetry event, and we think it worked perfectly for that."
It was a great look, a perfect blend of dressy casual and fashion forward.
What do you make of Michelle's style? Do you like the designers she chooses?
[Source]