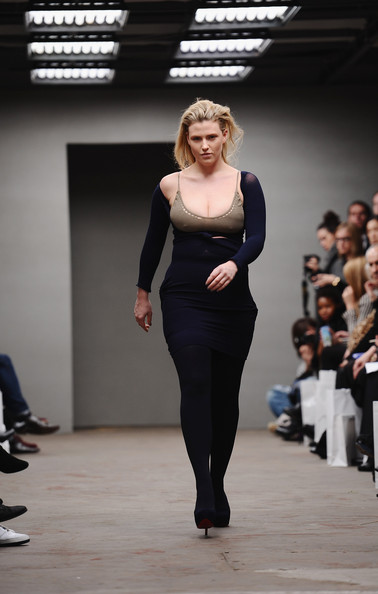 Last season, Mark Fast caused a controversial ruckus when he used plus-size model Hayley Morely to open his spring show. This season, she's back with a bang. And a bum.
Size 14 Hayley hit the catwalk for Mark Fast again at London Fashion Week on Saturday as part of his campaign to use 'real' women on the runway, and she's steadily securing support.
"I had hundreds of messages of support from young girls and young women, saying thank you for being a more real model, the 21-year-old told the Daily Mail. "I think that finally there is someone young and they feel they can relate to more than a size six model. It makes me proud.
Mark Fast is also sticking by his decision to break away from the standard skinny sample size, proving that his signature skin-tight cobweb knits work on girls with curves, too.
"Hayley is a wonderful, sexy, gorgeous woman, says the London-based designer. "It is important for me to continue using curvier models because there needs to be an understanding that my clothes are for all body shapes. There are real women out there that want to be able to escape into the fantasy of fashion just like everyone else regardless of their size.
And what with the CFDA's current campaign to use models of a healthy age and weight, it's an argument becoming fast-acknowledged.