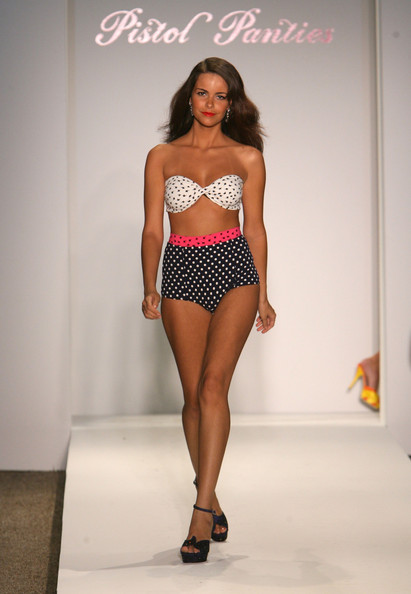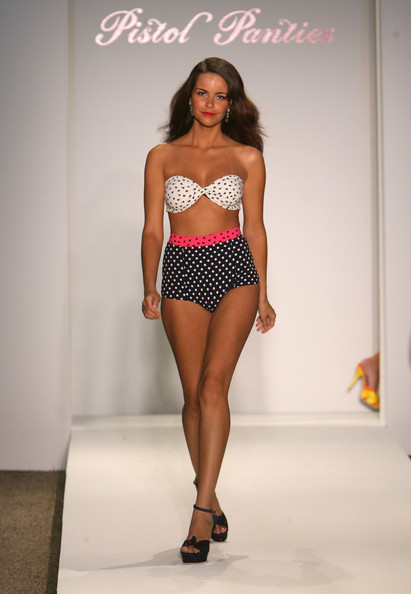 Pistol Panties' Deborah Fleming sure has got plenty to smile about. Following the current success of her swimwear in the US, she's set to create a collection for John Lewis.
We've long prayed Pistol Panties would make its way to a wider marketplace, and it looks like our wish may have come true as the the American designer behind the brand launches her first swimwear collection , a 'Disco' diffusion line , for the British high street.
"John Lewis is a British high street favourite making it the ideal place to introduce the Pistol Panties brand to a wider audience," Fleming told Vogue UK of her venture, which hits stores May 1.
"Designed with real women in mind, the collection is inspired by the curvy pin-up girls of the Fifties and the Lycra-clad starlets of Studio 54 from the Seventies – but with a modern twist. Featuring supportive underwired halterneck tops and hip-slimming tiered briefs, Disco will provide women with the unique Pistol Panties 'figure-fixing' effect."
A little luring, non? Especially with prices starting at £20.
"I'm delighted Pistol Panties have designed Disco for John Lewis, says Helen Spencer, the department store's lingerie and swimwear buyer. "An exciting addition to the John Lewis swimwear offer, our customers will find it an irresistible choice for summer 2010."
Disco by Pistol Panties will hit John Lewis stores in May, marking a much-welcomed move into warmer weather.