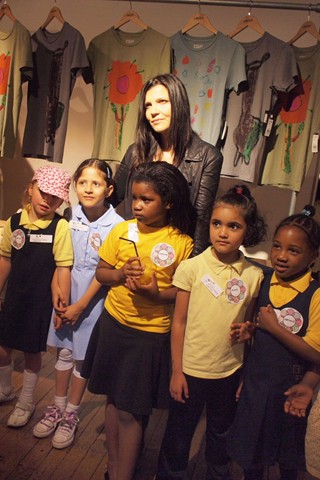 If you like your fashion to have a conscious, we're sure you love Edun – the eco-friendly fashion line aimed at helping trade in Africa – which, you'll be glad to hear, has just launched its latest collection in Liberty with a capsule range of T-shirts designed by Kenyan school children to boot.
And they may just be the sweetest charity tees you'll ever own.
"Kibera, where the school is situated, is one of the largest slums in Africa and is home to more than 100,000 orphaned children," Edun's co-founder Ali Hewson, who set up the label with her rock star husband Bono five years ago, told Vogue UK. "The people who run the school are very dedicated, and the children so enthusiastic, we felt compelled and inspired by their energy. With these Ts we are able to provide funding for basic school supplies, hot lunches and healthcare."
The T-shirts, complete with cute sketches of giraffes, zebras, dancers, flowers and village life are available exclusively from Liberty for £45, where proceeds will go directly towards supporting the school.
We're heading out to get ours today – shopping for a good cause is our favourite kind.