Last Updated on 20th July 2010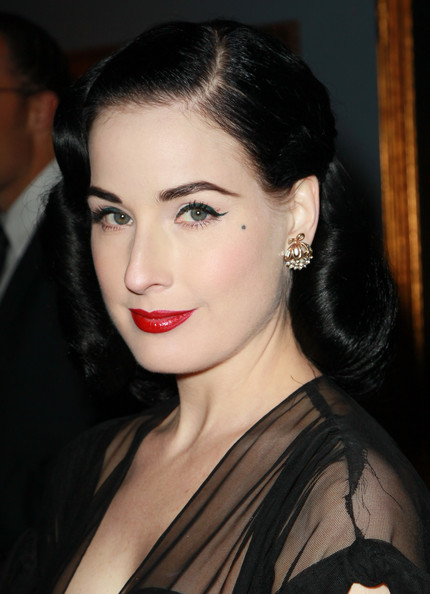 Sometimes, even the most polished of stars like to dress down once in a while – we saw Leighton Meester, aka Blair Waldorf, aka queen of sleek city styling in a T-shirt the other day – but not Dita von Teese.
As if the queen of all things glamorous would ever be seen dead in anything but the very best vintage and slick of rouge lippy. Which is why she's just made our week.
Asked if she ever feels like slipping into a pair of tracksuit bottoms, the burlesque star casually replied, "No never. Why would I do that? Who wants to purposefully feel crappy?"
No one, Dita – we applause your dedication. Speaking of which, by the way, her dedication is less than you might imagine, because apparently, she can achieve her look in next to no time.
"I have a lot of friends that have a very natural look and it takes just as long," she tells Vogue UK. "They straighten their hair, wear all that bronzer and beige lipstick and apply 50 coats of mascara to make themselves look natural. I'm doing the same thing just with different colours. I set my hair which is actually quicker than a blow dry. I get ready just as quick as any other woman I know."
A testament, perhaps, to being so in tune with her own style. Needless to say, she doesn't rate stylists particularly highly.
"Every celebrity today seems to hire a stylist to choose their clothes," Dita said. "I admire women like Daphne Guinnessand the late Isabella Blow – women that took risks and have their own personal style without having to pay someone to do it."
If you want to learn from the best, you know what to do.