Last Updated on 9th September 2010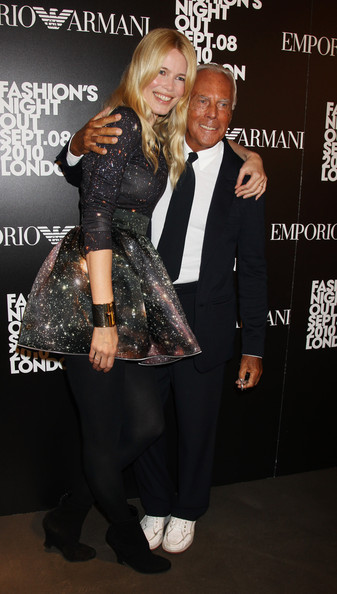 With one hell of a challenge to better last year's first Fashion's Night Out, London played host to a huge shopping extravaganza yesterday evening for its part of the global initiative, proving to be more successful than ever – despite the drizzle.
Ah yes, in true British style, an hour before kick off the heavens opened – but thankfully, they closed again just as quickly right on time for kick-off.
Cue Giorgio Armani and Vogue's Alexandra Shulman, who threw a suitably starry launch party – the glitziest by far – to get fashion's ball rolling, welcoming the likes of Stella McCartney, Matthew Williamson, Claudia Schiffer and Gwyneth Paltrow, to the crowds' delight.
Moving on, we spied One Night Only performing at Burberry, had cooking lessons in Browns, tripped over endless shoes in Kurt Geiger, watched Rupert Sanderson dance with Donald Waugh from Bugsy Malone, and heard some rather er, questionable karaoke in Mulberry (whilst spying on some champagne-drinking teenagers getting thrown out).
There were Chanel manicures in Selfridges, photobooths in the Chanel store, design lessons from Christopher Kane, Erdem and Jonathan Saunders in Harvey Nichols, Alice Dellal Dj-ing in Louis Vuitton, Daisy Lowe was at House of Fraser launching the new Biba line, Moschino had an interactive window display to play with, and Manolo Blahnik was at Liberty launching his new collection.
And there was plenty more, of course. Bigger than last year with more people than you'd think possible (weaving through the crowds made Bond Street double in length), it's safe to say this year's FNO was quite the success.
We're just glad we don't have to walk far today.