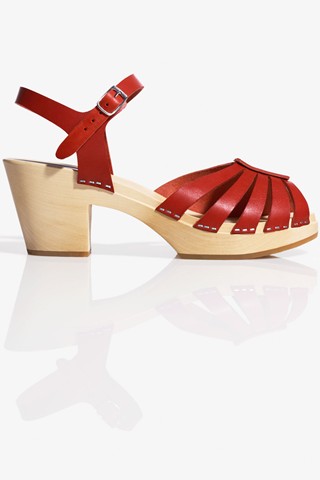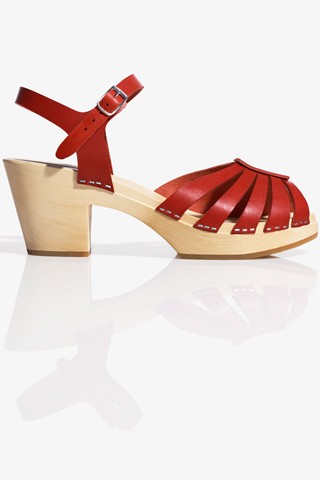 Normally reserved to the cobbled streets of Sweden – until last year, perhaps – the original wooden clog is putting its stamp back on preppy footwear for spring, and thanks to fellow fashion natives H&M, clog company Swedish Hasbeens is about to become purse-friendly when the pair join forces to create a one-off collection for the high street store.
Following in the fashion forward footsteps of Lanvin, Jimmy Choo, Sonia Rykiel and Stella McCartney– all previous fashion biggies to collaborate with H&M – the Swedish footwear brand have some pretty shoes to fill. But with the likes of Sarah Jessica Parker and Maggie Gyllenhaal previously wearing their designs, it seems success is already a sure-fire hit.
"We believe very strongly in making better shoes for a better world. We want to make fashion more fun, creative and friendly to both the environment and people," Emy Blixt, founder of Swedish Hasbeens, tells Vogue UK, "and we have loved designing for H&M! It's a fantastic opportunity to spread the idea of Hasbeens and make these shoes available to more people around the globe."
From strappy red sandals to crisp white espadrilles and camel-coloured lace-up wedges, the exclusive line boasts something for everyone next season – and with price tags ranging between £34.99 to £39.99, we expect fashion fans will find it hard to resist these clumpy wooden styles.
"I love the genuine feeling you get from Hasbeens, from the wood and the leather, and also how they take something traditional and Swedish and make it contemporary and modern," adds H&M's head of design Ann-Sofie Johansson. "These Hasbeens for H&M fit perfectly with the Seventies bohemian look that's so important this coming season."
The Swedish Hasbeens collection is set to hit UK H&M stores on April 20th – a perfect answer to a fresh, fun sandals this summer.