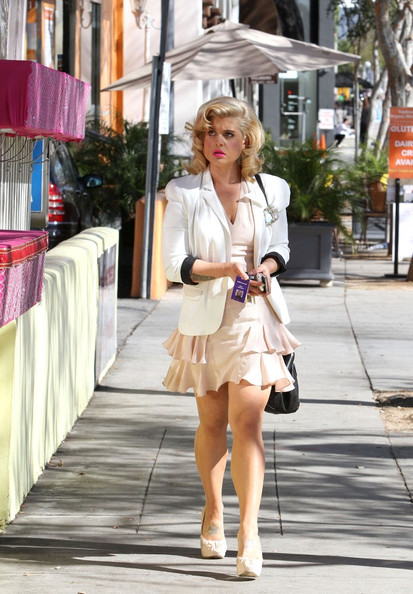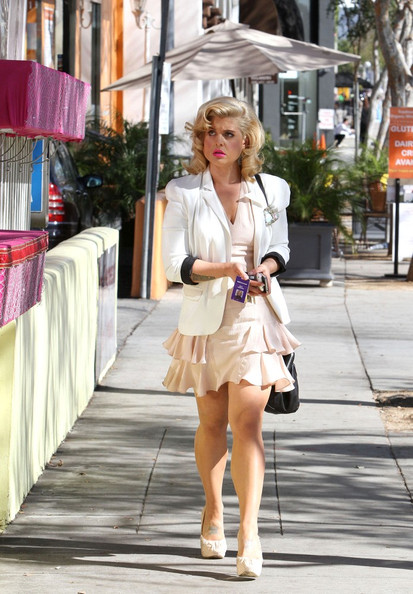 Now, Kelly Osbourne hasn't always been hailed as a style icon – some of her early grunge get-ups were hardly at the height of fashion – but lately it seems Ms. O has put her iffy sartorial senses behind her in favour of a more feminine wardrobe.
And in a bid to up her fashion ante, the 26-year-old is looking to the best for her latest batch of fashion inspiration – Marilyn Monroe, no less, and judging by her recent get-up at The Ivy in Los Angeles on Monday, Kelly's nailed the Hollywood icon's style right on the head.
Showing off a sweet Fifties look with a pink blush layered dress, a white tailored blazer, equally adorable matching pumps and sweep of punchy pink lipstick – not forgetting the signature soft blonde curls – Kelly looked remarkably lady-like; pampered and preened to perfection.
As the new face of Madonna's Material Girl line, the rock 'n' roll offspring certainly looks set for great fashion-filled things in 2011, not to mention film with appearances in two Hollywood blockbusters relased later this year.
But we want to know what you think – is Kelly's new look the real her, or is this just another layer of her chameleon skin?