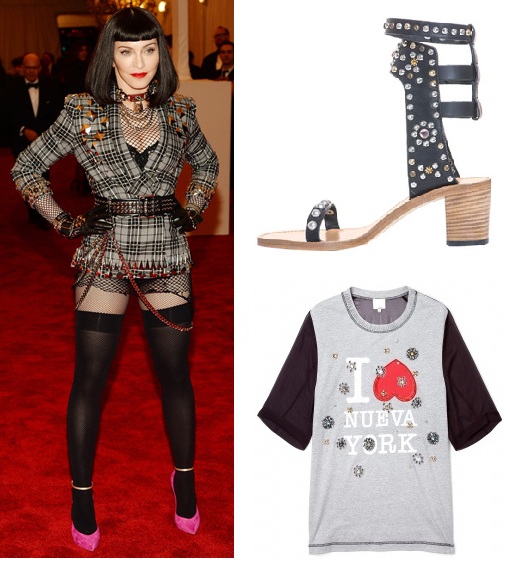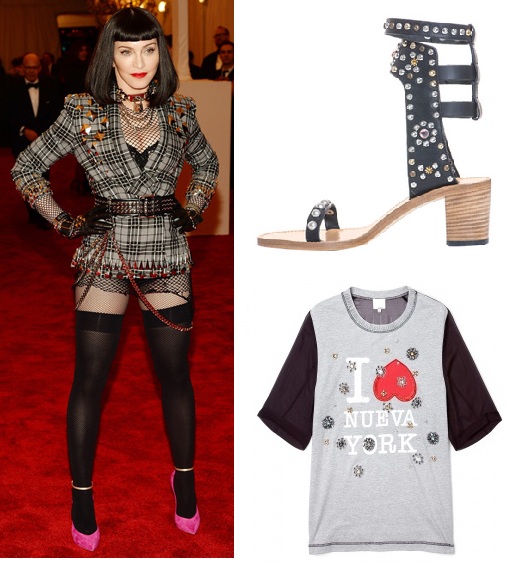 Going up
Punk fever: The punk revival was well and truly felt at this year's Met Ball, with added thanks to Miley Cyrus's outlandish barnet and Madonna's flesh flashing shenanigans. But will it last? We hope the magical era is here to stay for good, so we can break fashion rules and paint our (not so flat) stomachs with anti-gun slogans. Check out our Punk inspo moodboard for your fix.
Gatsby fever: Taking a detour from crazy hair and garish outfits, the other era the fashion world is currently dabbling in is the Roaring Twenties. With Baz Luhrmann's The Great Gatsby set for release next week in the UK, expect a rise in opulent hair accessories, art deco prints and more flapper dresses you can shake a jazz dance move at! Shop our top Gatsby-inspired pieces here.
Festival kick off: Although the major headliners are taking place smack bang in the middle of summer, several niche festivals are taking place this month, which can only mean one thing; getting your festival wardrobe into gear. Check out our top 10 picks here.
Embellished tees: Luxe tees have been gaining momentum amongst the fash pack for some time now, so when we laid our peepers on the embellished 3.1 Phillip Lim Nueva York tee , we were sold at hello.
The new low sandal: Or, dubbed the 'Elvis' sandal, thanks to the rhinestone detail; embrace summer's new take on the gladiator sandal but with a flattering (read: pain-free) heel. Look to Isabel Marant for a high end hit, or Zara and Mango do equally stylish, pocket-friendly versions.
Going down
Glove sleeves: Come on, Kim! What were you thinking? Dressing to flatter your bump, we understand, is priority, but hand concealing doesn't really come in to it. Enough said.
Winter coats in spring: After experiencing a scorcher of a weekend, wearing very little to top up on our vit D levels, having to slip back into our coats in May is not on. When can we wear these spring beauties?
Vivienne Westwood being cut short at the Met Ball: Cutting of the very woman responsible for Britain's great punk fashion movement, and whose work prominently features in the Met exhibition, interviewer Billy Norwich committed a cardinal red carpet sin telling Dame Viv, 'we don't have more time'.
Over-accessorising: Katy Perry did it at the Lacoste L!ve party; Rihanna does it on the regular and Madonna did it at the Met Ball. Take note ladies: minimal accessories = maximum impact.
Bikini bods: Are you asking us to give up cupcakes, macarons and full-fat caramel lattes to slip into slinky bikinis and retro bodysuits? OK, we will, just not yet. (Not ever). *covers eyes as Kendall Jenner flaunts around sandy beach in skimpy bikini*