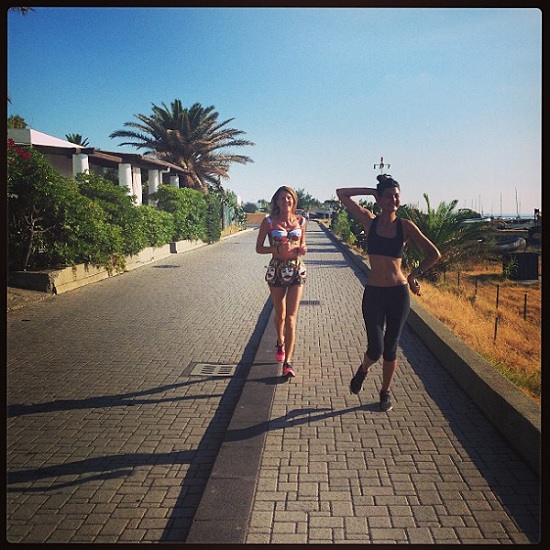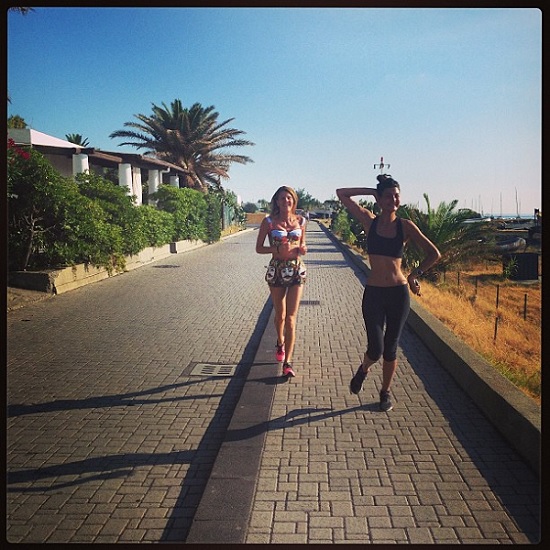 Sometimes, a brow-raising snapshot of someone committing an act of foolishness in the name of fashion is all it takes to get mouths moving at HQ. And this week, we're blaming our subtle rant on the woman who can effortlessly outdo Andre Leon Talley in bright pink socks and flat pumps: Anna Dello Russo.
When Fashionista reported the street style siren had been captured on Instagram jogging with her friend-in-fashion, Giovanna Battaglia (who was relevantly dressed), wearing a complete runway look from the Dolce & Gabbana spring 2013 collection, we couldn't quite comprehend the gravity of the matter. But it appears ADR's high-intensity routine called for a high end outfit, and well, we wouldn't expect anything else from ADR, really!
Famed for not shying away from wearing a complete designer look when attending a corresponding show during fashion month, Anna left our mouths agape with her appetite for staying stylish, even when working up a smelly sweat (but does Queen Anna's sweat even smell bad?), and forced the following question pop up in our ever enquiring minds: Is it really important to look fashionable when fighting the bulge?
OK, so ADR may have taken the meaning of 'fashionable' to a whole other level, but does looking at this snapshot of ADR pounding the streets in current season wares (and potentially risking insulting her dear Dolce friends) up the pressure to stay stylish in the gym? Does it really matter that you're sporting Stella McCartney x Adidas when doing the downward dog?
The sports-luxe trend has helped enmesh the worlds of perspiration and pap-worthy fashion, but we all know it's not about rocking a Wang mesh vest, or a Rihanna x River Island tank top when hitting the treadmill. As mother always said, sensibly does it nicely.
But designers and celebrites aren't the only ones to blame for upgrading the status of gym wear. Brands such as Sweaty Betty and Laranja are introducing us to a more refined way of dressing when heading our for a run, emphasising the need to look divine, even in a panting, post-10K run state! To top it off, running clubs and other collective sporting activities rapidly being adopted by the fashion world's elite are adding (fashion) fuel to the (sartorial) fire, turning the exercise arena into a hub for those who don't just take pride in their bodies, but in their sweat soaking apparel, too.
We're intrigued to know what you think on the matter of stylish sportswear. Do you simply slip into unsightly jogging bottoms and a tee battered from your dedication to fighting the flab, or do you consciously make the effort to look presentable when working out, in case of a chance encounter with the hunk from the rowing machine at the water fountain? Tell us below!