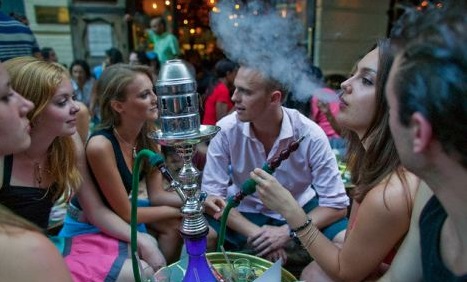 A Givenchy-clad Audrey Hepburn made smoking look so chic and cool in Breakfast at Tiffany's with her elegant cigarette holder, but fast forward to 2013 and the shisha pipe has become to go-to smoking device.
It originated in the Middle East, but has slowly taken over the country, with many famous faces admitting to being partial to a cheeky shisha session every now and again.
As with smoking regular cigarettes though, there have been many health concerns over shisha. Even though nicotine-less tobacco sounds pretty safe, it's believed that smoking shisha for an hour can have the equivalent effect on your lungs as smoking 100 cigarettes. Yikes!
However if you've found yourself hooked on the sweet taste of shisha, you don't have to go cold turkey and give it up completely, as the world's first caffeine infused electronic shisha cigarette – entitled Energy Shisha – just launched – and it's taking the UK by storm! The celebs have tried it and love it, so now it's our turn to get in on the action too!
E-Shisha does what it says on the tin, and works in a similar way to an energy drink; the only difference is that instead of drinking from a can, you just puff on your electronic device. Energy Shisha can last up to 300 puffs, which is the same as drinking 15 regular cans of your favourite energy drink.
Energy Shisha is regarded as a great lifestyle choice as it's a caffeine free way to keep you energised and revitalised without all the pesky negatives of energy drinks and coffee, i.e. sugar and teeth staining. The added benefit is that it can alleviate the use of cigarettes for a smoker, which can slowly but surely help a smoker kick the habit for good.
So, where can you get your Energy Shisha? Well, it's currently being sold at bars and clubs (just what you need when you want to party that little bit longer – and let's face it, who wouldn't want to extend the patty?) as well as online. If you shop online directly at theenergyshisha.com website though, you'll automatically be put into a monthly draw where you could be in with a chance of winning a brand new iPad. Pretty cool, we think!
What do you think? Do you want to try the latest trend for yourself?