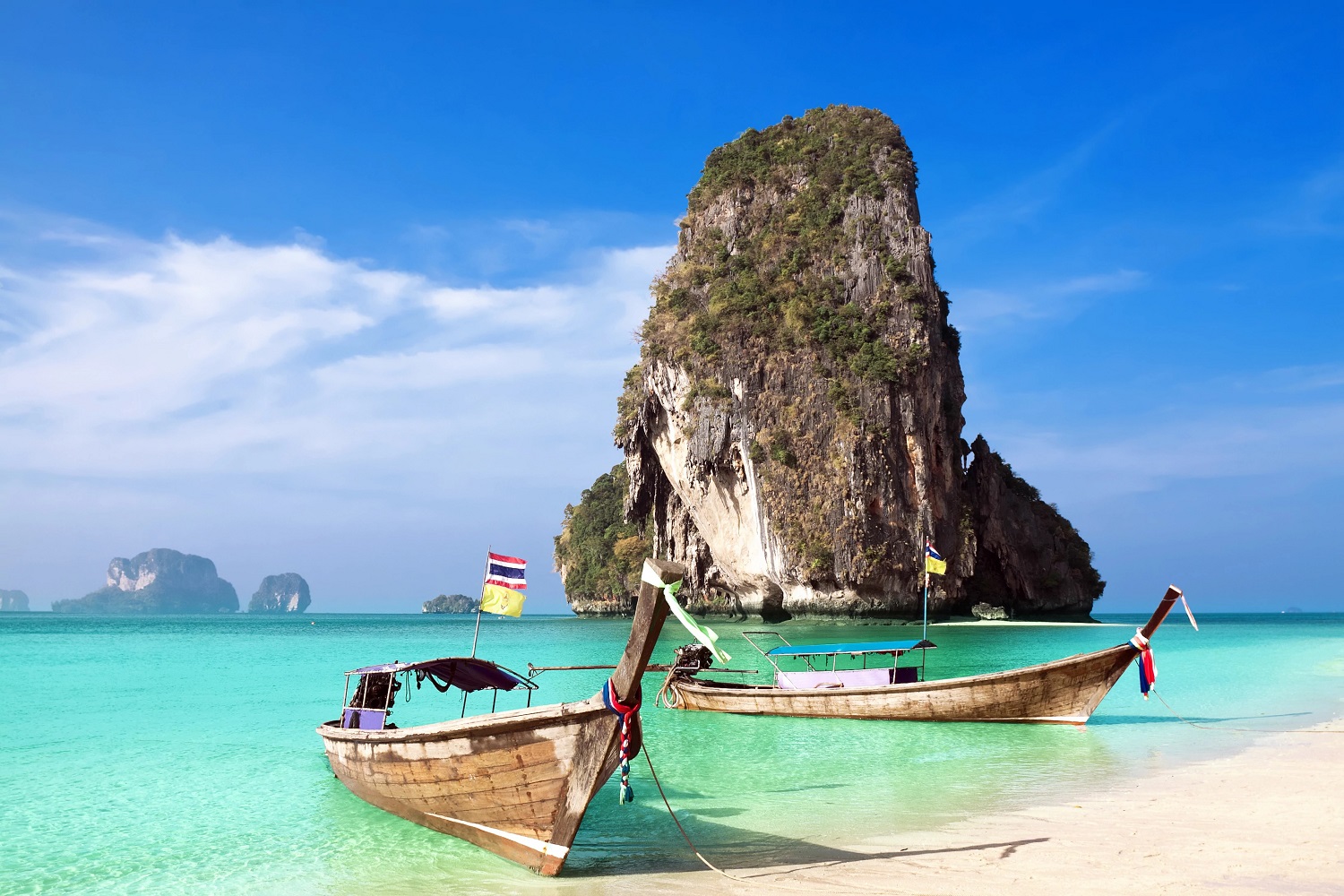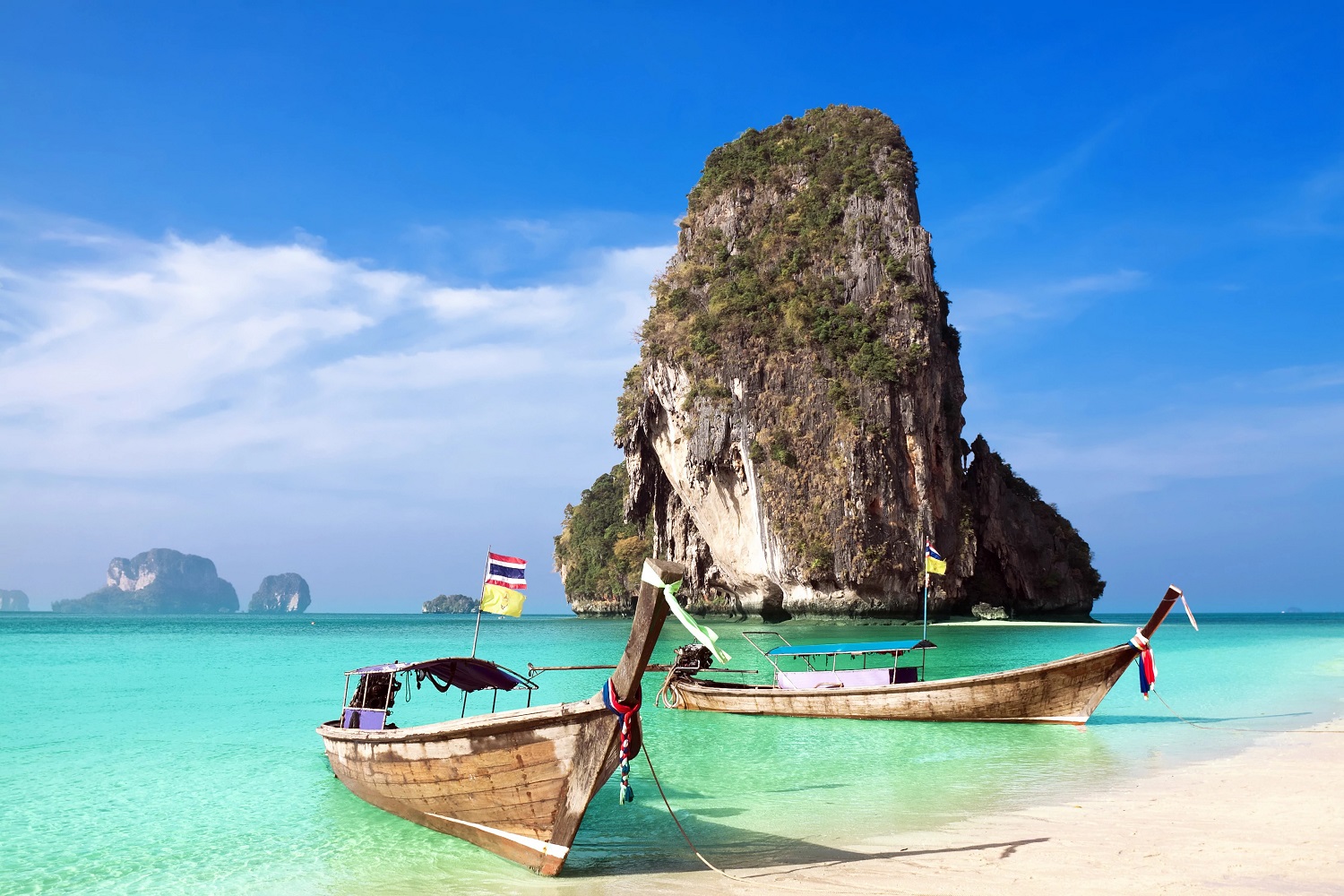 As if straight from a postcard, Thailand's beaches are synonymous with sugar-white sands, azure waters and swaying palms. Whether you want to relax among tropical scenery or party until the early hours, there's certainly no shortage of glorious shorelines. While most tourists flock to the south islands, the mainland has just as much to offer for those seeking their fill of sun, sand and sea. Here's a round-up of Thailand's best mainland beaches.
Pattaya Beach, Pattaya
If you're looking to experience the famous party scene first-hand head to Pattaya on the eastern Gulf Coast. Due to the selection of appealing beaches and vibrant nightlife, the city is one of the most popular places to stay in Thailand, especially with the young, raucous crowd. The busiest strip is the crescent-shaped Pattaya Beach, offering palm-fringed sands and a range of thrilling watersports including paragliding and windsurfing. There's also plenty of opportunities for beachside browsing in the nearby shops and numerous seafront restaurants dotted along the adjacent Beach Road.
Railay Beach, Krabi
Known for its idyllic scenery, Railay Beach is a true tropical paradise. Although technically on a peninsula, the beach is only accessible by a 20-minute long-tail boat ride from Krabi due to the towering limestone cliffs that prevent access from the mainland. Thanks to the area's remote location and lack of roads it has all the trappings of a desert island escape with its pristine shoreline, clear waters and lush jungle backdrop. Lazy days here can be spent digging your toes into powder-soft sand, kayaking around hidden lagoons, rock climbing scenic crags and sipping cocktails in bamboo beach huts.
Khao Lak Beach, Khao Lak
Home to a handful of quiet resort villages dotted along Thailand's west coast, Khao Lak offers more laid-back beach scenes compared to the busier strips on the Gulf Coast. The sleepy Khoa Lak Beach is a popular choice for families and is surrounded by lush jungles and vegetation. Although an increasing number of hotels and thatched-roof restaurants are popping up, the area's unspoilt beauty remains intact. From the beach you can also go on fantastic diving and snorkelling trips and discover an array of marine life beneath the waves.
Cha-Am Beach, Hua Hin
A three hour journey from Bangkok takes you to Cha-Am Beach, located just north of the stylish resort of Hua Hin. A popular weekend retreat for city-dwellers looking to escape the hustle and bustle, the sweeping shoreline has a peaceful vibe and is the ideal spot for couples who want to unwind and enjoy sunset strolls. You'll find a selection of seafront hotels and noticeably less tourist-driven activities than most beaches, meaning there's plenty of secluded spots to kick-back and bury your nose in a book. Some watersports are available, as well as horse riding, massage parlours and sun loungers for rent.
Of course, these are just a few examples of the must-visit beaches on Thailand's mainland, but they should give you a better idea of what's on offer besides the famous south islands.
[Image]