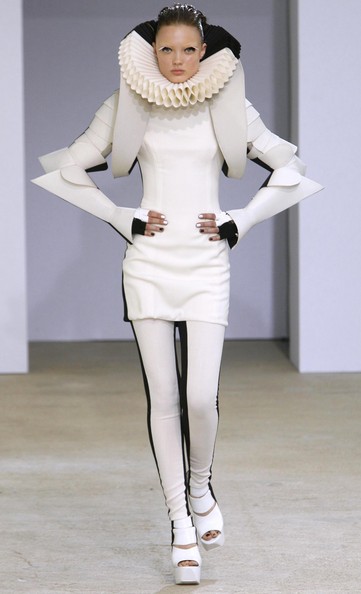 We've always wanted to know what really goes on in a designer's studio, and here's a chance to find out: Gareth Pugh is opening up his designing doors in the SHOWstudio shop next week.
The London-born designer famed for his architectural avant garde designs , who made his debut in Paris last year with his SS09 collection, earning fans including Róisín Murphy and Beyonce, no less , is setting up a temporary work space at Bruton Place, London, which plays home to the newly opened SHOWstudio store.
Across three days, Gareth will be creating an exciting one-off piece based on his S/S10 collection, which will be sold in the store. But, get this , you can watch the entire process. SHOWstudio will be broadcasting a live stream of the creation straight from the stylish work station between November 20th – 22nd (inclusive), Elle UK reveals.
We'd also recommend you take a day's detour to the SHOWstudio yourself to witness the dreamy display of props and pieces that have been designed for super-stylish shoots. It's a fashion-savvy, arty smarty's dream.
Visit www.showstudio.com to watch.