A home is not complete until it has some pictures on the walls.
Whether you want to transform your bare walls into a salon-style gallery wall or create a feature wall by hanging a large single art piece – we've got your back. 
There is a lot that goes into hanging pictures on the wall, it isn't simply quickly choosing a wall for your picture and hammering it.
As House and Garden mention in this article, "Hanging pictures, much like painting them, is a balancing act of spacing, colour, and proportion." They highlight the importance of placement and how crucial it can be "to the feeling given off in the pictures themselves."
Decide on a strategy
How many pictures are you hanging on the wall? Do the pictures have different shapes and weights? Do you have to drill on your concrete wall to hang the pictures?
Speedy Fixings, fixings specialist, recommends fitting wall plugs before hammering screws into your walls – wall plugs will give screws a firm and strong hold to hang your pictures.
Plus, it's important to consider the space. A large picture can overcrowd a small room and a small picture can get lost on a large wall, so think about the space, your pictures, and how these will work together.
In case you want to hang a gallery wall, this article on House Beautiful advises mapping "out the placement of each piece in advance using newspaper squares cut to match the sizes of the frames."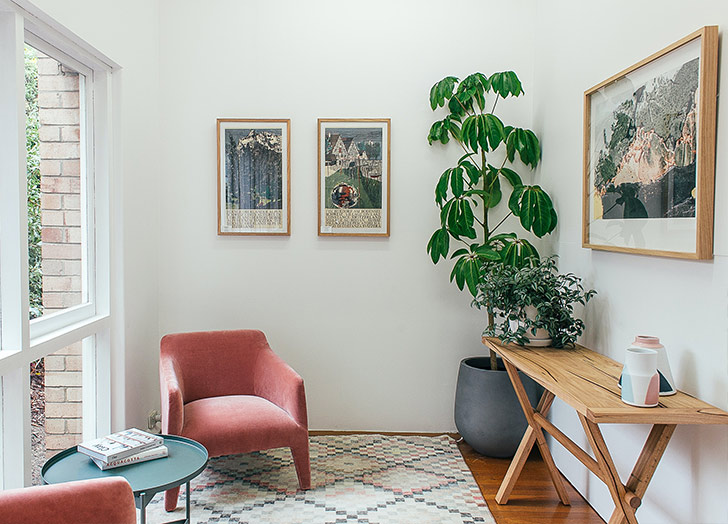 Get creative
Perhaps you're looking for different ways of displaying your pictures. Renovation Bay Bee suggests hanging art on these ceiling hooks by Speedy Fixings.
Ceiling hooks are a different and unique way of hanging pictures and art on walls.
If you want to display pictures but not hang them on the walls and want to keep rearranging them from time to time, go for a picture shelf. Install floating shelves and display your pictures leaning towards the wall.
Hang your pictures
Once you've figured out where to place your pictures and how to place them, it's time to hang them up. Do not eyeball your measurements, get a measuring tape and do it properly.
Usually, the centre of a piece of artwork should be hung at an average eye level, so position its centre 57 to 60 inches from the floor. And that's it! You've successfully hung a picture or a selection of pictures.