The design and appearance of your bathroom can instantly set your mood – and make an impression with guests visiting your home for the first time.
Accordingly, it's one of the most difficult rooms of the house to design and decorate. Your choices will have a big impact, and you'll have a lot of decisions to make along the way.
So what's the best way to decorate a bathroom?
Choose a Theme or Overall Style
Before you start looking at different materials or brainstorming about the pieces to include in the room, get yourself focused on an overall theme or style.
For example, do you want your bathroom to be sleek, clean, and modern? Or are you interested in something a little quirkier and fun?
Do you have any theme ideas in mind? For example, would you like your bathroom to remind you of the beach, or do you want to have plants and greenery in your surrounding?
Select the Right Materials
When people walk into your bathroom for the first time, they're going to notice the fixtures in your surroundings. They're going to look at the faucet, the countertops, the tub, and the toilet. For most of these features, you'll have a wide range of options in terms of materials.
For example, you might want something like cultured marble. Cultured marble is more durable than many of the options on the market, and it's non-porous, so it's easy to clean. It can also be customized into any shape and it offers a wide range of different textures and colors – so you can make it fit with almost any theme.
But cultured marble is far from the only material worth considering. You might prefer wood for a classic look, or tile if you're looking for something more conventional. You may also look at materials like marble, granite, glass, porcelain, or even quartz. Get a feel for the strengths and weaknesses of each of these options before making a final choice.
Pick Your Colours
After choosing your core materials, you'll need to pick the right colors for your bathroom. This will influence how you paint the walls, what colors you use for accents, and even your selection of towels, rugs, mats, and other fixtures. It's best to start with one or two strong colors, then select accent colors from there.
Are you looking for something minimalistic and neutral? Gray, white, and black are ideal. You may want something stronger or sharper, like a bright red or a cool blue. There aren't any right or wrong answers here, but it's important to have a dominant theme in mind before settling on anything else.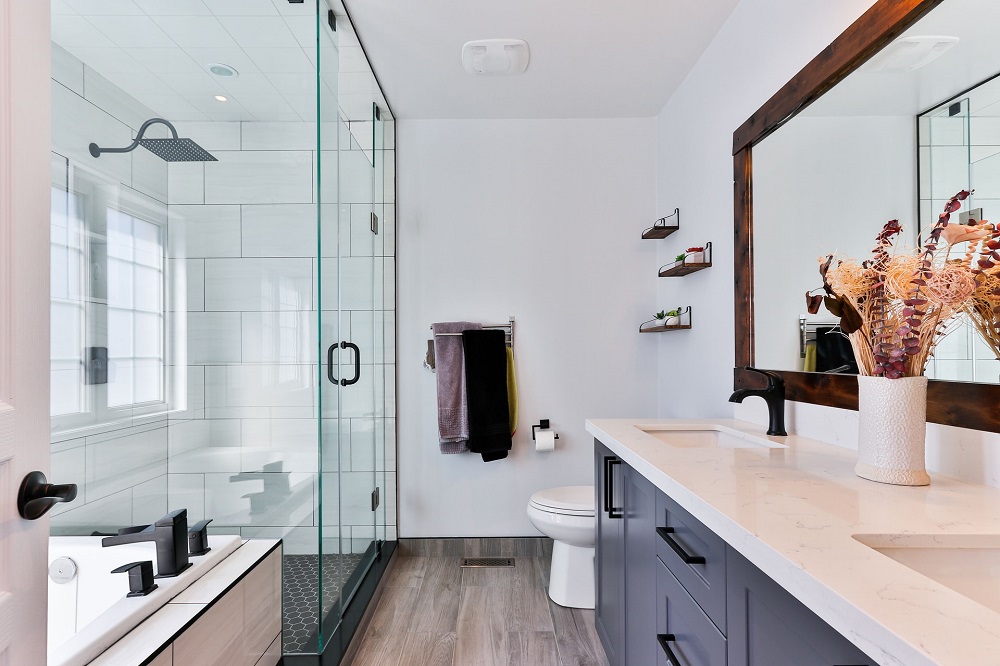 Invest in Lighting
Next, you'll need to think about lighting. The lighting of a bathroom can instantly make it prettier or compromise its aesthetics. Consider investing in bright overhead lighting to highlight and show off the best features of your space. You may also want indirect ambient lighting for a soft, cozy glow.
Don't put lights above the mirror or you'll cast unflattering shadows on your face and make it harder to do things like shave or apply makeup. Instead, consider mounting sconces at eye level on both sides of the mirror.
Curate Wall Art
If you have the wall space for it, look for a piece of art (or two) that captures the vibe you want to bring to the room. A piece of art can step up the classiness of any room, and the bathroom is no different. Just make sure it doesn't completely dominate the space or clash with any of your other décor.
Add Tasteful Accents
The best way to make your design choices pop is to add tasteful accents throughout the room. If you have a neutral color on the walls, consider adding a flourish of bright color somewhere to make that area explode with color. A little touch, like a houseplant or an extra shelf, can also bring more life to the room.
Commit to Ongoing Cleaning
No matter how well your bathroom is designed or how much time and effort you put into remodeling it, it's going to look awful if it's dirty. Commit to ongoing cleaning; squeegee the shower and mirror when you use them, wipe down surfaces daily, and do a deep clean at least once per week.
With the right décor, the right materials, and a sparkling clean finish, your bathroom is going to look amazing. It will take some work and creative brainstorming to get there, but it's well worth the extra effort.