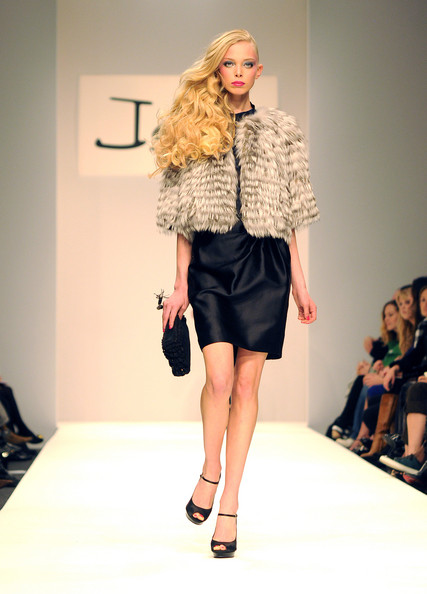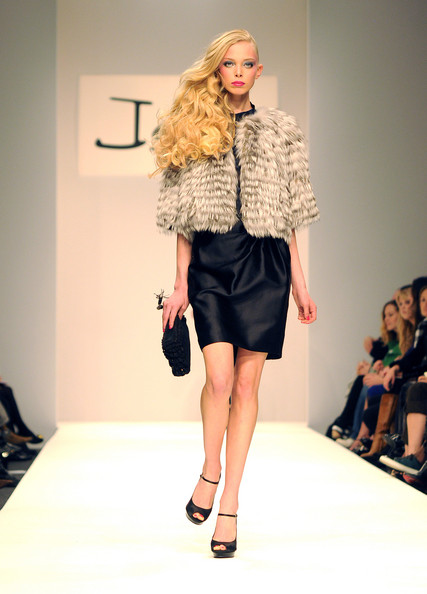 You may have noticed we've taken a back seat in this season's London Fashion Week , but that doesn't mean we haven't been casting our eagle eye over the collections. Now that it's well and truly over, let's round up what we've seen , and loved , in London this season. Oh, the wonders of live streaming.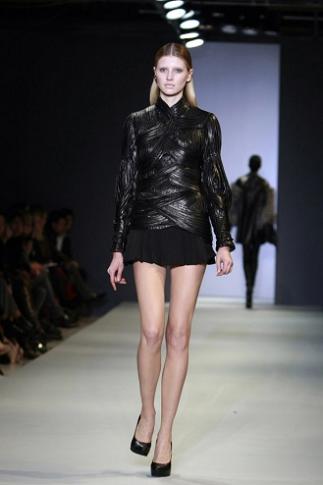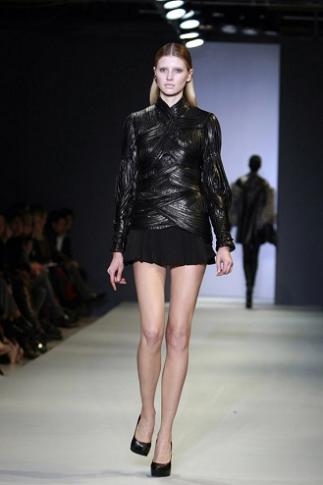 Who: Hakaan , a little-known addition to London's Fashion Week schedule.
What: Sharp tailoring and strong silhouettes in a limited scheme of black, white and camel. Mini bandage dresses, sharp-shouldered jackets, feather-filled skirts, diagonal stripe-panelled chiffon, over-sized fur gillets, slashed leather on dresses and trousers, and plenty of creative cut-outs on bottom-skimming hemlines.
Why: Until now he's remained relatively unheard of, but this season's collection is set to make him a fast fashion favourite. And so we hear, the likes of Kate Moss and Carine Roitfeld (who sat front row) are already fans, as is Lara Stone, who walked his , and only his , show.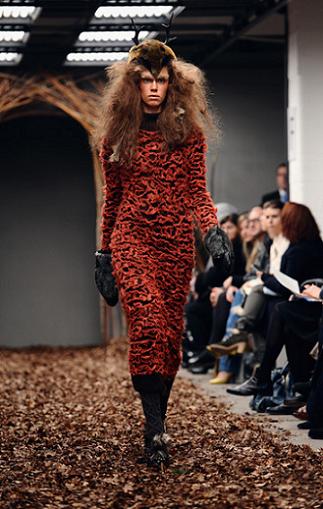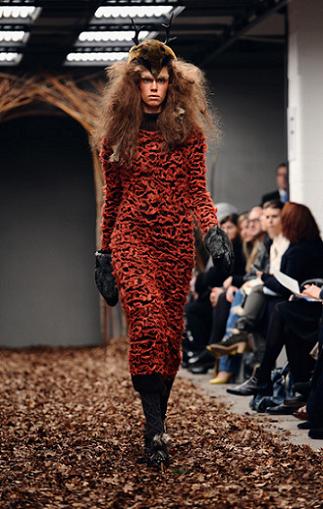 Who: Topshop Unique
What: Thigh-high chunky knit socks, emblazoned military jackets, fur-trimmed duffle coats and others in reversed sheepskin, shrunken leather jackets, classic English country tailored blazers, over-sized ankle-length cardigans, leather-patched trousers, and shop-loads of shearling broken with frilled chiffon dresses in delicate creams and blacks.
Why: The models walked on scattered bark and wearing antler and badger headwear designed by Emma Cook , the forest couldn't seem friendlier.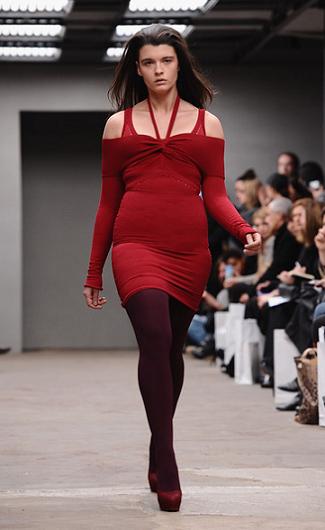 Who: Mark Fast
What: Signature bodycon cobweb knits in orange, khaki, navy and dusky pink, broken up with muted greys and golds; ensembles were twisted, knotted and draped as pleated suede miniskirts and matching cropped jackets appeared alongside asymmetric ruffles, layers of silk and punched textures.
Why: Not letting last season's controversy stir him one bit, he sent plus-size models ploughing down the catwalk , including favourite Hayley Morley , as part of his 'real women on the runway' campaign.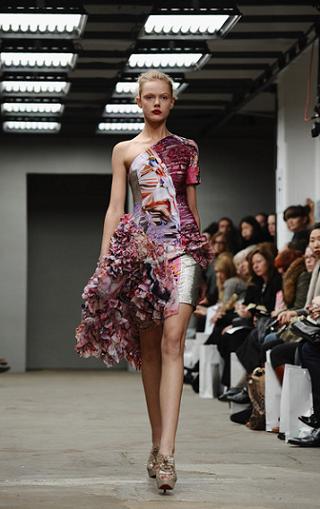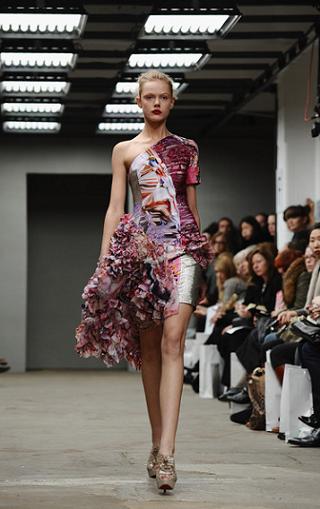 Who: Mary Katrantzou
What: Regal reds, blues and gold starred in Katrantzou's signature trompe l'oeil graphic prints. Elaborate jewel embellishments appeared on the chest of chiffon-topped dresses when jewellery wasn't portrayed in prints themselves. A vibrant palette of turquoise blues and oranges met girlish pinks and muted greys in soft swirls, cross-referenced prints, asymmetric one-sleeved dresses with diagonal hip details, and feminine quilted skirts teamed with crisp white shirts, whilst ruffles appeared on sleeves, hips, fronts of shirts and trains of dresses.
Why: Those vivid digital prints prove autumn is far from austere; it's a gem of a collection, and we mean that quite literally.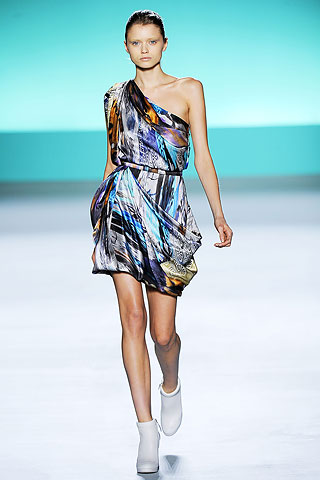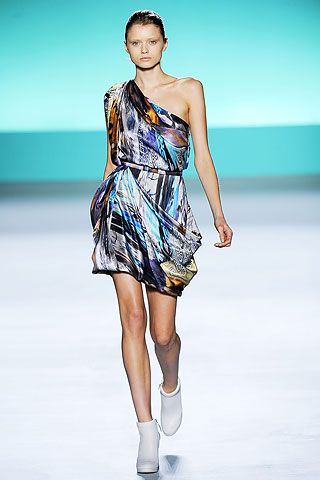 Who: Matthew Williamson
What: Experimental prints saw blacks, whites, oranges and blue in a fusion of patterns that worked across floating asymmetric dresses and those with a stiff ruffle to one shoulder. Bright cocktail dresses with a front-raised free-floating gathered skirt (which was seen on skirts in their own right), leather jackets with suede panelling and woolen ruffles, nude suede draped coats and others with fur trims, laid-back softly tailored trousers, hints of subtle metallics in dresses, and embellishments of ribbon and netting on shoulders, fronts of jackets and sleeves.
Why: Back for his second season in London, Matthew Williamson's autumn collection is luxe without the flash, though extravagance wasn't spared one bit.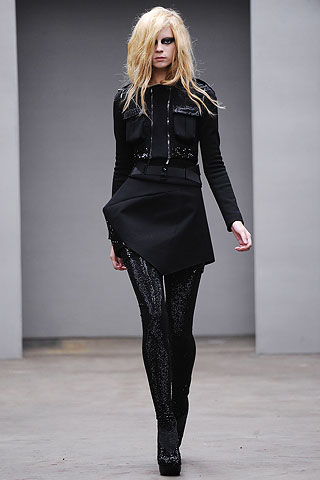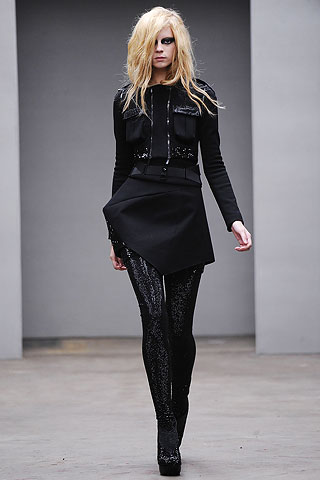 Who: Louise Goldin
What: Angular, structured and grunge-inspired: tough textures , quilted leather, zips, weaved-waffling and pvc , proved slick as protruding pads from shoulders and hips and geometric shapes appeared across stiff puffball dresses and sharp tulip skirts. Zip, belts, pvc piping, leather panels, studs, and metallic details were an asset to cropped fur jackets, armour-like long-sleeved dresses, lengthy leggings, hooded fur-trimmed coats and knee-length trailing dresses in between in a palette of black, navy, earth-green and gold.
Why: She's hot fashion stuff right now, and as she enters new turf in Topshop with those studded shoes, this girl-meets-grunge collection from Louise Goldin proves why she was the sole winner of this year's Fashion Forward Fund; we can't get enough.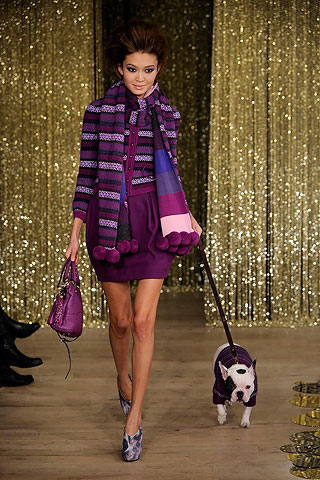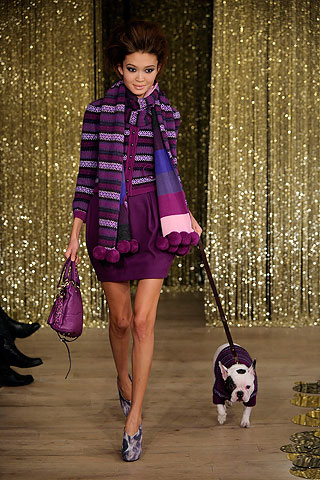 Who: Mulberry
What: Sheepskin poacher jackets, fur and cropped nude ruffle coats, pretty dolly skirts in electric blue silks, floral-patterned dresses and others in blurred leopard print, pom-pom striped scarves, ballerina pumps, stacked heels and boots from shoe to knee , met with everything from a pretty pink-plum palette to tomato reds, blues and blended nudes.
Why: Now that Luella's missing, Mulberry is filling her quintessentially quirky, girlie-shaped shoes with an ever-impressive ready-to-wear collection.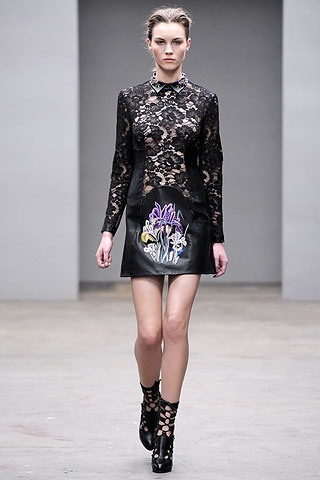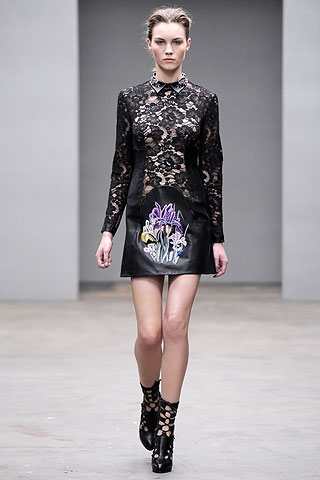 Who: Christopher Kane
What: Leather, lace and embroidered florals: mini kilts in black, sheer chiffon blouses with appliqued sleeves, tuxedo jackets, patent knee-length skirts, high-necked short sleeved leather dresses with lace panel inserts, lace topped dresses with leather bottoms finished with patent collars, and chiffon topped dresses with patent skirts , all finished with floral-blossomed applique work or jewel embellishments.
Why: You can spot the work of the Central Saint Martins graduate a mile off, and when he picks a theme, he sticks with it. Who else could design around Priscilla Presley "before Elvis got his hands on her and make embroidered leather look down-right cool?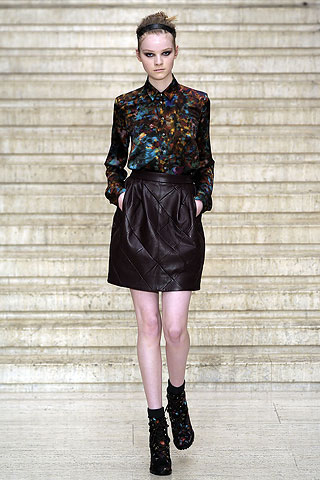 Who: Erdem
What: Silk prints in orange-gold, indigo and blue blurred patterns, dove grey lace, tulip skirts in silk and quilted leather, full-flowing floor-length dresses in silks and chiffons and leather trench coats in black or nude with sheepskin , all sprinkled with feminine finishes in the form of cute cutouts, ruffles and ribbon embellishments.
Why: Feminine cuts and flattering fabrics , he's bringin' sexy back, but it's graced with grown-up, girlish charm.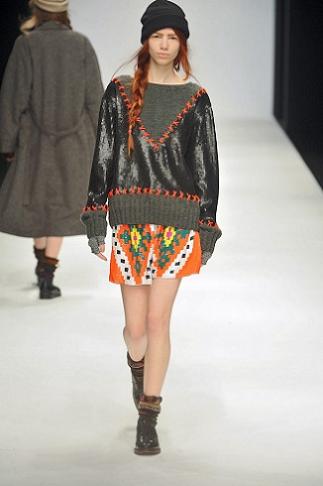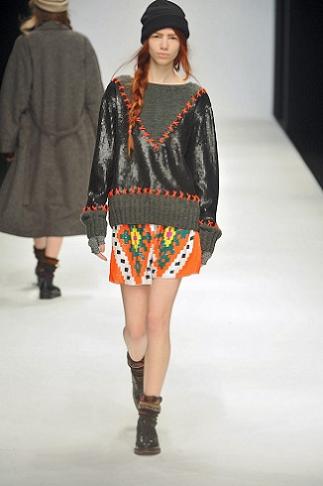 Who: Ashish
What: Sparkling heaven: from striped trouser suits to digital-patterned maxidresses , with sheer-topped harem jumpsuits, patterned over-size jackets, cable knit-inspired vests and long-sleeved shirts along the way , everything was smothered in sequins and layered with clashing knitted jumpers, ankle-length tailored coats and laid-back wide-legged bottoms.
Why: A complete mish-mish of patterns, luxe and laidback , in his typical relaxed aesthetic, the London-based boy adds sparkling spice to his simple sportswear aesthetic with an ever-impressive array of sequins.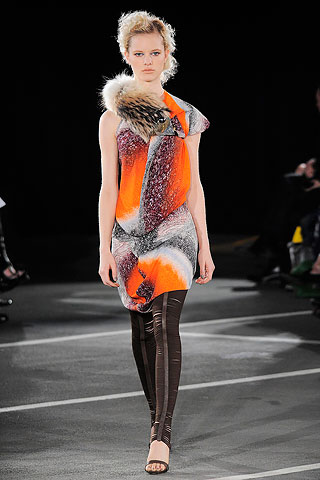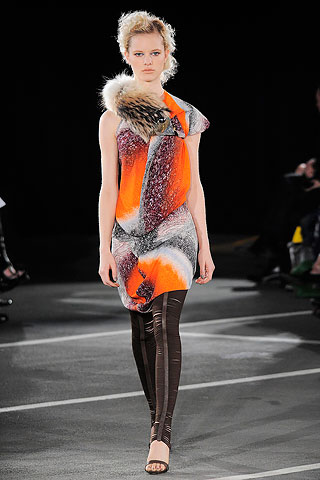 Who: Peter Pilotto
What: Graphic prints with tons of texture from subtle snakeskins, shiny metallics, tweed panels and fur finishes: leather leggings with lace inserts, skinny leather trousers in vivid orange and burnt red, shirt dresses and cropped tweed jackets saw strong tailoring, whilst chiffon textures and elements of embellishing integrated in softly draped dresses depicting muted tones and other, bolder bodycon constructions.
Why: Their cool clashing colours and prints offer a gorgeously playful-but-polished palette to work from next season , these boys have come on bounds.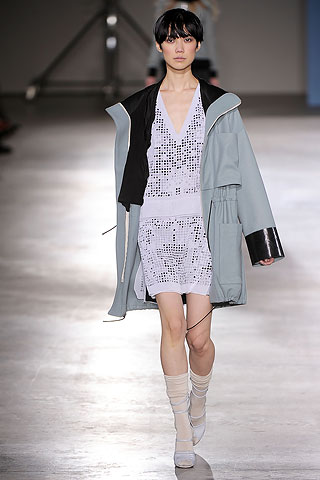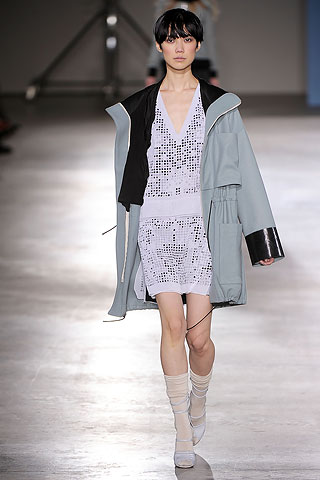 Who: Jonathan Saunders
What: A delicate palette of soft brushed-blues leading into stronger monochrome schemes splashed with rose pink and red appeared across chiffon-backed pinafore dresses, cropped coats, a drawstring mac with pvc panels, draped trench coats, an oversized T-shirt with large digital rose print, fringed knee-length skirts and punch-hole vests , all with lashed with leather, sheer chiffon, open pleats and various interpretations of re-occurring prints and patterns.
Why: His expert mix of colours and texture leant itself superbly to Saunder's sophisticated sportswear , it's both delicate and strong, and incredibly wearable.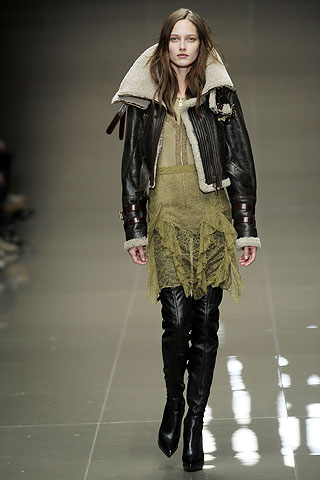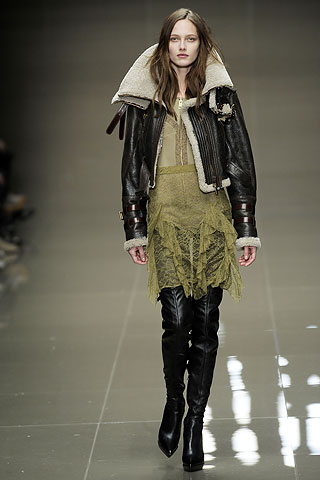 Who: Burberry Prorsum
What: Military mania: gold buttons, buckles and zips adorning almost everything; snakeskin thigh-high heeled boots and wearable buckled ankle versions, cropped leather sheepskin-lined aviator jackets, belted tulip military coats , some cropped , and others in fur and suede softened by lace minidresses in subtle greens and blouses in grey, and tube bandage dresses in ruffled rose silks and chiffons with hints of a regal navy and plum palette.
Why: Christopher Bailey proves Burberry's British classics can work time and time again with new-season twists as he streamed the collection live in 3D to millions across the globe. Plus it rained inside , we're talking full on thunder. Atmospheric.
[Images, Images]